Most Affordable Online Colleges & Degrees
Higher education can be an invaluable asset to students who are looking for professional advancement, higher wages, or a change in their career paths. Online programs are strong options for those who are also looking for flexibility when working toward a degree. OnlineU aims to support students in their personal and professional endeavors by highlighting the most affordable colleges offering online degrees at the associate, bachelor's, master's, and doctoral levels.
To help students make informed, cost-effective decisions about their online education, we also created a best affordable ranking that considers both upfront tuition costs and future earning potential. Four of the best affordable online schools are featured below. On this page you'll also find an introduction to online learning as well as information on how to find an affordable program and choose an online degree.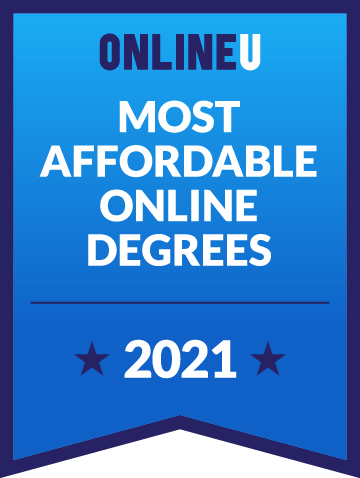 ---
---
Most Affordable Online Colleges For Bachelor's Programs
All tuition numbers were manually collected and verified
| Rank | School | Locations | Annual Tuition |
| --- | --- | --- | --- |
| # 1 | University of North Carolina at Pembroke | Pembroke (NC) | $5,067 |
| # 2 | Clayton State University | Morrow (GA) | $5,079 |
| # 3 | Valdosta State University | Valdosta (GA) | $5,463 |
| # 4 | Kennesaw State University | Kennesaw (GA) | $5,562 |
| # 5 | Georgia Southern University | Statesboro (GA) | $5,646 |
| # 6 | Western Carolina University | Cullowhee (NC) | $5,670 |
| # 7 | Eastern New Mexico University-Main Campus | Portales (NM) | $6,114 |
| # 8 | University of Wisconsin-Green Bay | Green Bay (WI) | $6,298 |
| # 9 | Western Governors University | Salt Lake City (UT) | $6,450 |
| # 10 | Arkansas State University | Jonesboro (AR) | $6,540 |
Most Affordable Online Colleges by Popular Subjects
Introduction to Online Learning
Whether you're thinking about earning a college degree or just taking a few college courses, going to school online is an option worth considering. Over the past couple of decades, it has become an increasingly popular choice. According to the National Center for Education Statistics, about one-third of today's college students are engaged in some form of distance learning, with 16.6% of them opting to take all of their classes online.
E-learning classes usually use an online learning management system, such as Canvas, Blackboard, or Moodle, to enable students to view and complete coursework over the internet, and classes can be delivered either in an asynchronous or synchronous format.
Before you sign up for classes, it's important to understand the options available to you. Many traditional, non-profit or state-operated community colleges and four-year universities give you the ability to earn associate, bachelor's, master's, and doctoral or professional degrees, as well as certificate programs, completely online. These educational institutions usually provide the same resources—such as financial aid, academic advising, tutoring, and library services—for online students as they do for on-campus students. There are also some non-profit schools that operate exclusively online, as well as for-profit schools offering online programs, and these institutions may or may not provide additional services.
E-learning classes usually use an online learning management system, such as Canvas, Blackboard, or Moodle, to enable students to view and complete coursework over the internet, and classes can be delivered either in an asynchronous or synchronous format. Asynchronous classes typically allow you to log in at your convenience and submit coursework according to preset deadlines, while synchronous classes require you to log in on specific days and times so you can participate live. Some schools also feature hybrid or blended courses, which combine elements of on-campus courses with online coursework.
On this page, we're providing answers to all of your most important questions about online learning. We dive into the credibility and costs of online colleges, and how to choose the right type of online program that will help you meet your goals.
Online Degrees Quick Facts
You can earn associate, bachelor's, master's, doctoral, or professional degrees, as well as certificates, completely online.
Are Online Colleges Legitimate?
Wondering whether a degree from an online college or university will be considered legitimate is a valid question. If you're going to invest time and money into completing a program, you want to make sure your online degree will be respected among hiring managers and recruiters. You also want to ensure that it will be a stepping stone to a higher degree if you decide to continue your education. Although there are fraudulent businesses that simply sell college degrees—often referred to as "diploma mills"—there are also hundreds of legitimate online schools and programs providing real education and respected degrees.
The best way to determine whether an online degree is valid is to check the school's credentials. In addition to detailing the school's programs, graduation requirements, fees, and services, a college or university website should tell you whether the school is licensed and accredited, and by which agencies. (You can also double-check a school's credentials by visiting the U.S. Department of Education website or the Council for Higher Education Accreditation website.) If an institution's website is vague about these factors, or if it makes promises about getting a degree with little time or effort, it's probably best to bypass that school.
The Importance of Finding an Accredited Online Program
One of the most important qualities to look for when you're reviewing online program options is accreditation. To become accredited, a college or university must undergo an extensive, multi-year evaluation by an independent agency. The agency examines the school's programs, faculty, facilities, and student resources, comparing them against recognized standards of excellence before awarding accreditation to the school. The best online colleges are those that have been accredited by one of six authorized regional accrediting boards or by the Distance Education Accrediting Commission.
Choosing an accredited institution is important for several reasons:
Future employers may confirm that you earned your degree from an accredited institution as part of their standard background check.
Eligibility for financial aid is usually dependent on enrollment in an accredited school.
If you want to transfer credits you've earned at one college to another, it is likely that the second school will only accept credits from an accredited program.
Depending on the occupation you've chosen, you may need to earn additional certification or licensure after graduating, and your eligibility to do so may depend on whether you attended an accredited school.
A bachelor's degree from an accredited college or university is usually a prerequisite for earning an advanced degree.
OnlineU.org lists only accredited colleges and universities. We provide details about each school we rank, as shown below.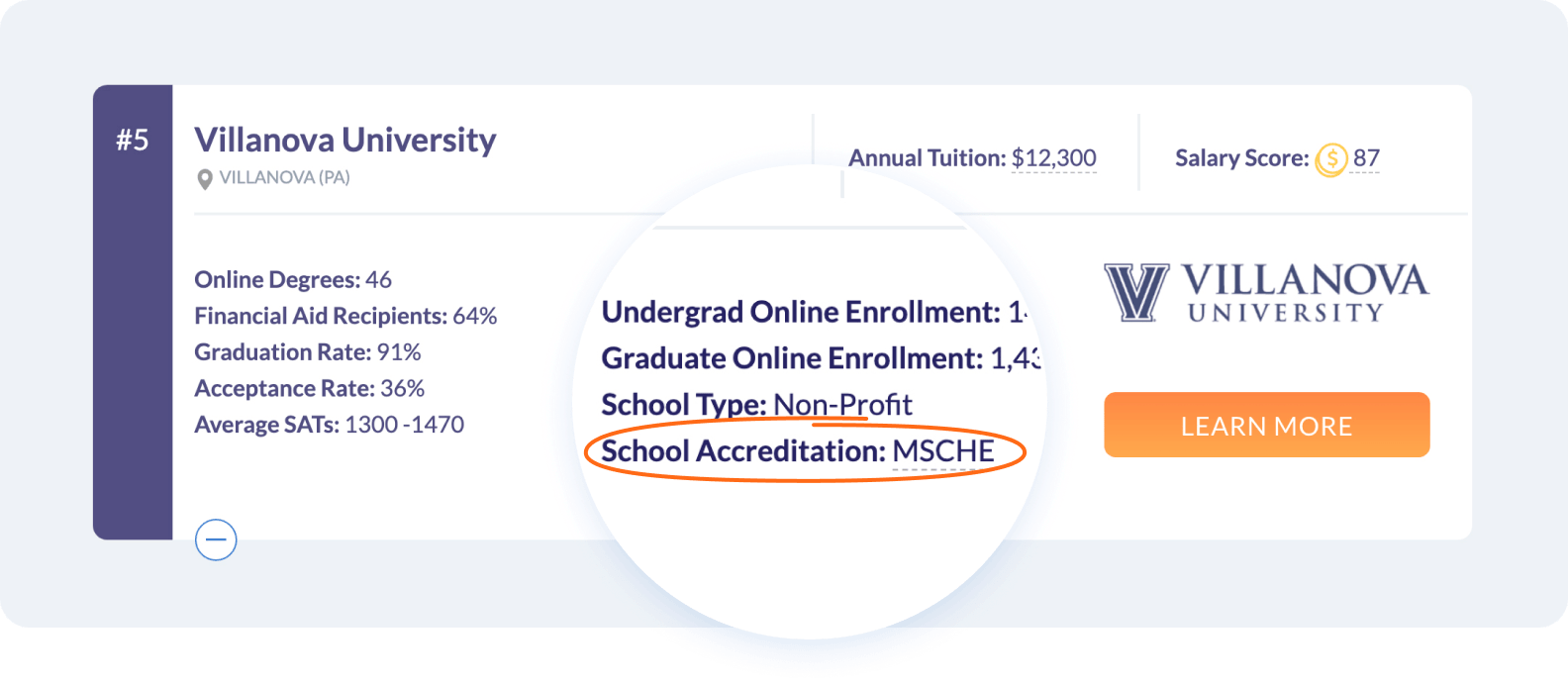 ---
Finding Affordable Options for Online College
Is It Cheaper to go to College Online?
In general, going to college online is cheaper than attending an on-campus program.
However, this isn't always the case, as cost depends on the school and the program, and the per-credit tuition rates vary widely from school to school. Some charge slightly less per credit for online courses, while others charge the same. In addition, some colleges charge the same price for all online students, while others charge lower rates for in-state residents and higher rates for out-of-state residents, just as they do for on-campus students. Finally, online colleges may charge online students technology fees for taking distance education courses, although they will typically charge in-person students other fees for taking on-campus courses.
Ultimately, considering getting an online degree gives you more options to choose from beyond those available where you live. When you conduct a school search, you'll discover many affordable online degree options.
Cost of Online Programs
Of the schools we researched in order to rank the most affordable online degrees, the median annual tuition rates at public institutions are $8,220 for associate degrees, $11,728 for bachelor's degrees, $10,448 for master's degrees, and $15,441 for doctoral programs. Of private institutions offering online programs, median tuition rates are $14,850 for associate degrees, $13,950 for bachelor's degrees, $11,475 for master's degrees, and $13,188 for doctoral degrees.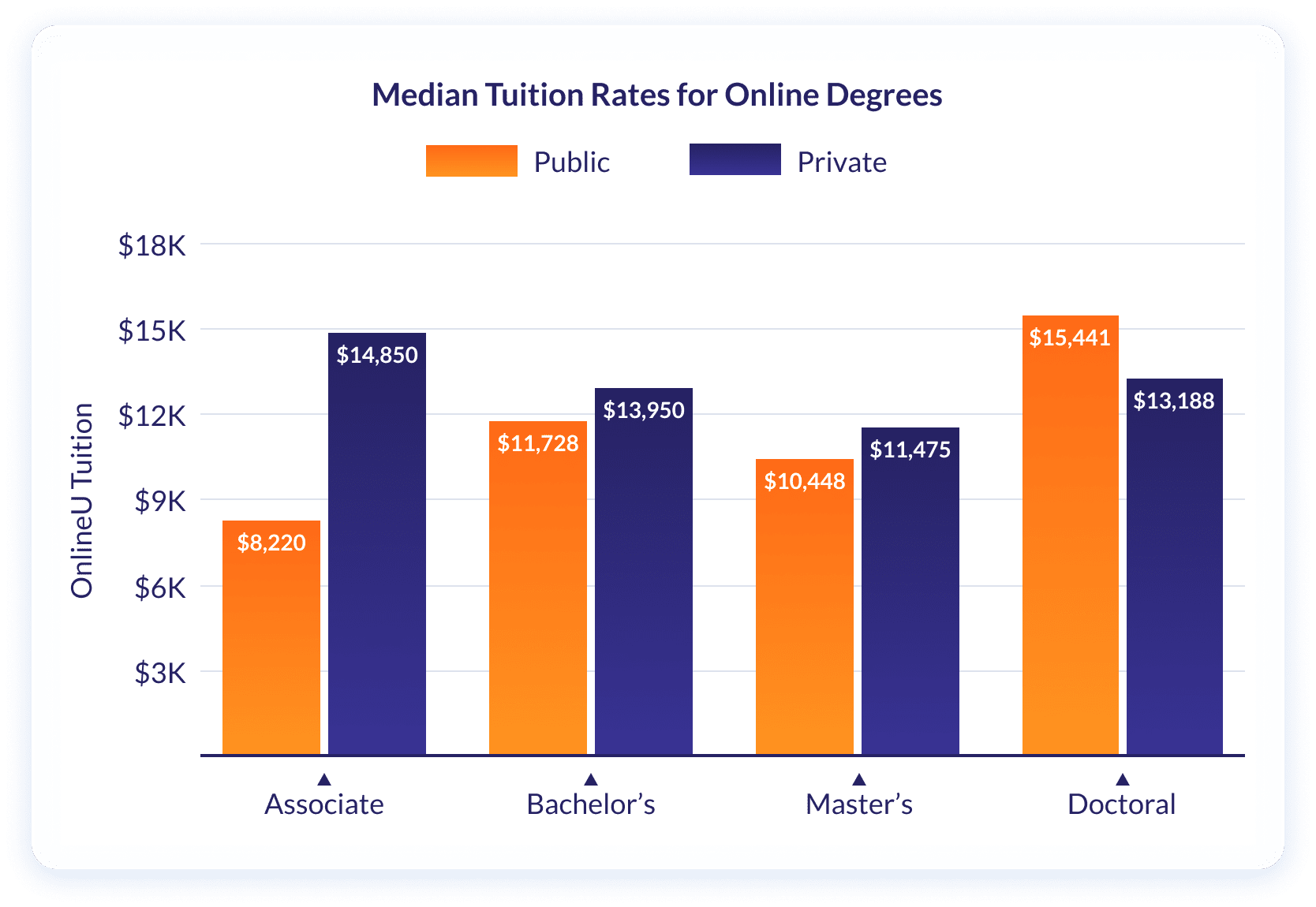 The total cost of an online degree varies depending on a number of factors, including program length and tuition rate. One way to get a more accurate comparison of online program costs is to determine per-credit tuition rates, and then multiply them by the number of credits required for the degree you'd like to earn. The cost per credit at the schools on OnlineU.org ranges from $81.21 to $2,075.
Associate degrees generally require about 50-60 credits to graduate, bachelor's degree programs average about 120-128, master's degrees range from 30 to 60, and doctoral programs require anywhere from 36 to 120 credits.
| Degree | Typical Number of Credits | Cost-Per-Credit of OnlineU Schools |
| --- | --- | --- |
| Associate | 50 - 60 | $81.21 - $530 |
| Bachelor's | 120 - 128 | $91.79 - $963 |
| Master's | 30 - 60 | $170 - $2,075 |
| Doctoral | 36 - 120 | $290 - $1,393 |
If you expand your search beyond the most affordable options, you'll find online and on-campus tuition fees for some bachelor's degrees totaling more than $100,000.
Of course, to determine the total cost of earning an online degree, you should factor in other expenses as well. Nearly all students will need to allow money for books and other supplies, as well as yearly and one-time-only fees charged by many schools, such as application, technology, and graduation fees. Some students may also need to account for childcare expenses. Less commonly, online learners may be required to travel locally to fulfill a requirement for in-person training, or they may be required to go to campus occasionally for orientation, workshops, or practicums. Transportation and accommodations may need to be added to the total list of expenses.
Most students, however, do not pay the full cost of earning a college degree. According to the National Center for Education Statistics, over the last 10 years or so, approximately 83% of full-time, first-time, degree-seeking undergraduate students receive some form of financial aid, regardless of what type of college or university they attend. The amount of per-student aid awarded each year varies widely from smaller grants of about $2,000 to complete aid packages totaling as much as $27,000. If your financial aid package includes a student loan, you'll probably want to calculate the amount of interest you'll need to repay, and incorporate that into the total cost of your online degree. Keep reading for more information on financial aid, below.
Funding an Online Degree
One of the benefits of opting for an online degree is that it opens up more choices, enabling you to find accredited online schools in a wide range of price points. Nevertheless, you may still need or want financial assistance to fund your college education. The good news is that your decision to go to school online or in person does not affect your eligibility for aid. As long as you're enrolled in an accredited program and meet all other eligibility requirements, you may be able to receive some form of financial aid.
There are many types of financial aid available, some of which are sponsored by the government, some by private organizations, and some by the schools themselves. The best types are those that don't need to be paid back:
Many students are awarded scholarships, grants, and fellowships based on need or merit.
If you're getting an online degree at a school that's within driving distance of your home, you may be able to earn a portion of your college expenses through an on-campus work-study program.
If you're working full-time or even part-time, your employer may offer a tuition reimbursement program covering some or all of your tuition expenses, especially if you're pursuing a master's degree.
Some schools have partnerships with various types of organizations that provide tuition assistance to those organizations' members or employees.
If you are or have served in the military, or are a dependent of a military service member or veteran, you may be eligible for tuition discounts.
The least favorable financial aid option is a federal or private student loan because loans have to be paid back with interest, although a loan is a good option if you don't get enough funding from all of the other sources. If you agree to a loan, federal loans generally have lower interest rates than private bank loans.
A helpful place to learn more about financial aid is on the website of the school or schools you'd like to attend. School websites usually have at least one full page describing the types of aid they offer, such as scholarships for online students or students in particular degree programs. You'll also find contact information for the school's financial aid office so you can speak to an advisor directly. General information about federal aid, including details about the Free Application for Federal Student Aid (FAFSA) form, is available at studentaid.gov.
Pursuing Higher Education For Free Online
Getting a college education for free certainly sounds appealing, and there are a couple of accredited online schools that are tuition-free. However, if you look closely at the financial details of these schools, you'll discover they charge other types of fees for using their services. It's important to fully understand all of the fees before deciding whether to attend this type of school.
However, if you're interested in taking courses purely for the sake of obtaining knowledge and not in pursuit of a degree, there are many free options. Some of the best-known schools—including Harvard, Wellesley, MIT, and many more—offer free online classes through platforms such as edX, Coursera, and Udemy. In some cases, you can opt to pay a small fee to obtain a certificate of completion.
---
Online Degrees and Programs
What Degree Can I Get 100% Online?
The full range of degree levels, from associate to bachelor's, master's, and doctoral or professional degrees, in a vast array of subjects can be earned entirely online. It may be more intuitive that subjects involving reading, writing, and discussion can be taught online. Yet in today's distance education environment, even courses involving lab work, like chemistry, biology, and other applied sciences, can be delivered using alternative methods. Many schools use a combination of at-home lab kits and virtual simulations to enable students to learn these subjects 100% online. However, to earn some degrees, you may need to complete a moderate percentage of your coursework in person at a facility near your home or possibly on campus. Nursing, social work, and counseling, for example, all require students to complete a minimum number of clinical hours in order to gain hands-on experience working with others. Schools offering these courses online often have a facilitator who can assist you in making the necessary arrangements to fulfill these graduation requirements.
Choosing an Online Program
Given that many programs are offered in the online format, choosing a subject to study in college and deciding which type of degree to earn are important decisions to make.
Some questions that may help you kick off this process are:
What are you passionate about?
What are your natural aptitudes? What do you have an affinity for?
What are your career and salary expectations after graduating?
If you have a specific career path or occupation in mind, one place to continue your research is on the Occupational Outlook Handbook website provided by the Bureau of Labor Statistics. This extensive site can provide you with information on preparing for a particular career, and can help you decide which level of education you'll need to meet your future goals.
Finally, you may not be sure of what you'd like to study, even after enrolling in a school. At the earliest stages of your college education, it is often okay to take time deciding on your field. One option for online undergraduate students who are unsure about future career goals is to choose a degree like psychology that can be used to enter a diverse range of fields, from counseling and social work to marketing and human resources management.
---
Are Online Colleges Worth It?
You may be wondering whether the time, energy, and money you invest in getting a college degree in general—and an online degree in particular—will pay off for you in the long run. While that decision is entirely personal based on your personal circumstances, data supports the value of a college education.
U.S. Census statistics show that between 2000 and 2018, the number of people with bachelor's degrees went from 29.8% to 48.2% and the number of people with advanced degrees went from 15% to 28.7%.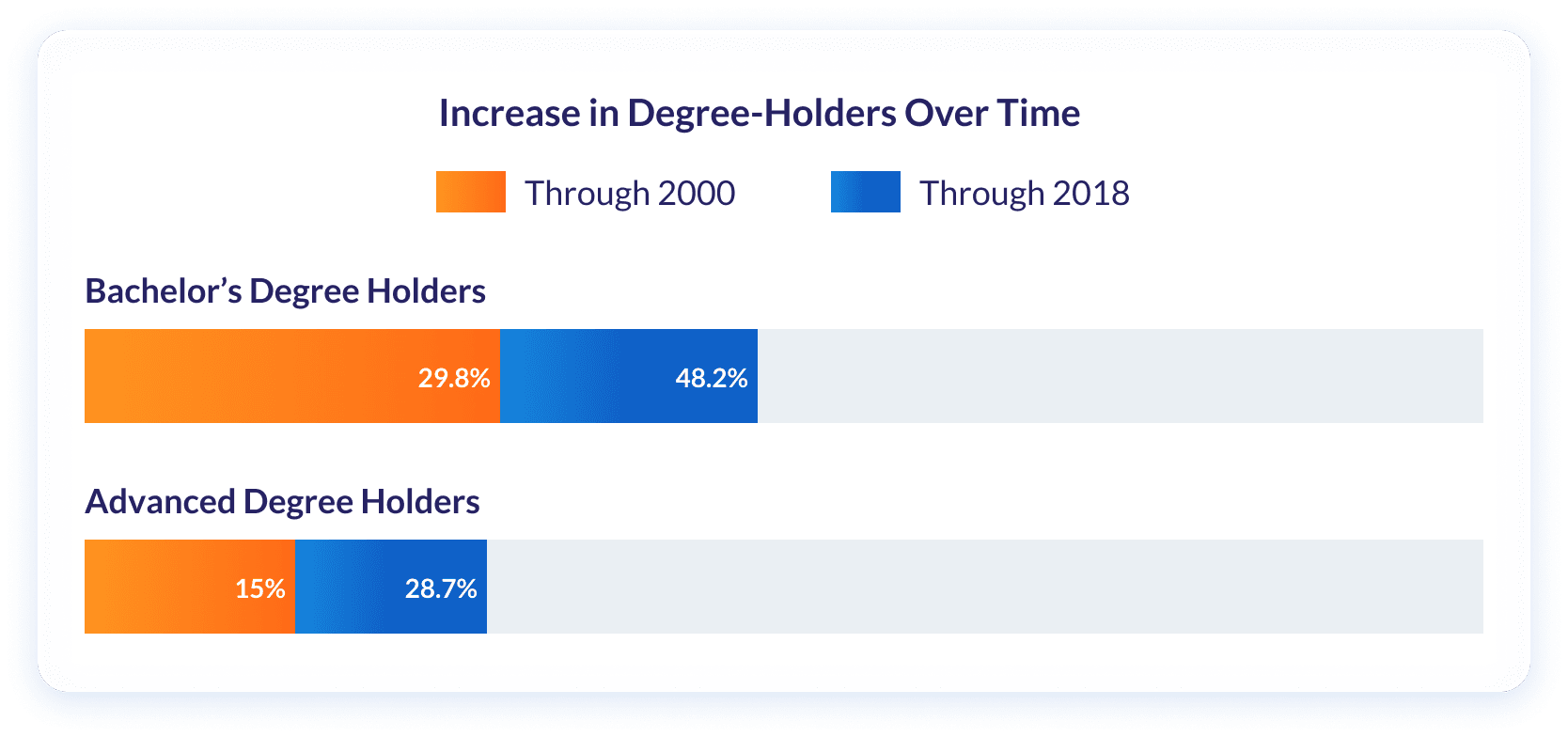 In today's job market, getting a degree levels the playing field, allowing you to compete against the majority of other job candidates. Other advantages of earning a degree include the prospect of higher salaries, an increased likelihood of landing professional jobs with valuable benefits, such as health insurance and paid vacation time, and more chances for promotion into higher-paying positions.
According to the Bureau of Labor Statistics, median weekly earnings for a person with a high school diploma are $746, as compared to $887 with an associate degree, $1,248 with a bachelor's degree will have you earning over $26,000 more per year for a total of at least $783,000 in additional income. Compared to the initial cost, a degree can yield a healthy return on investment.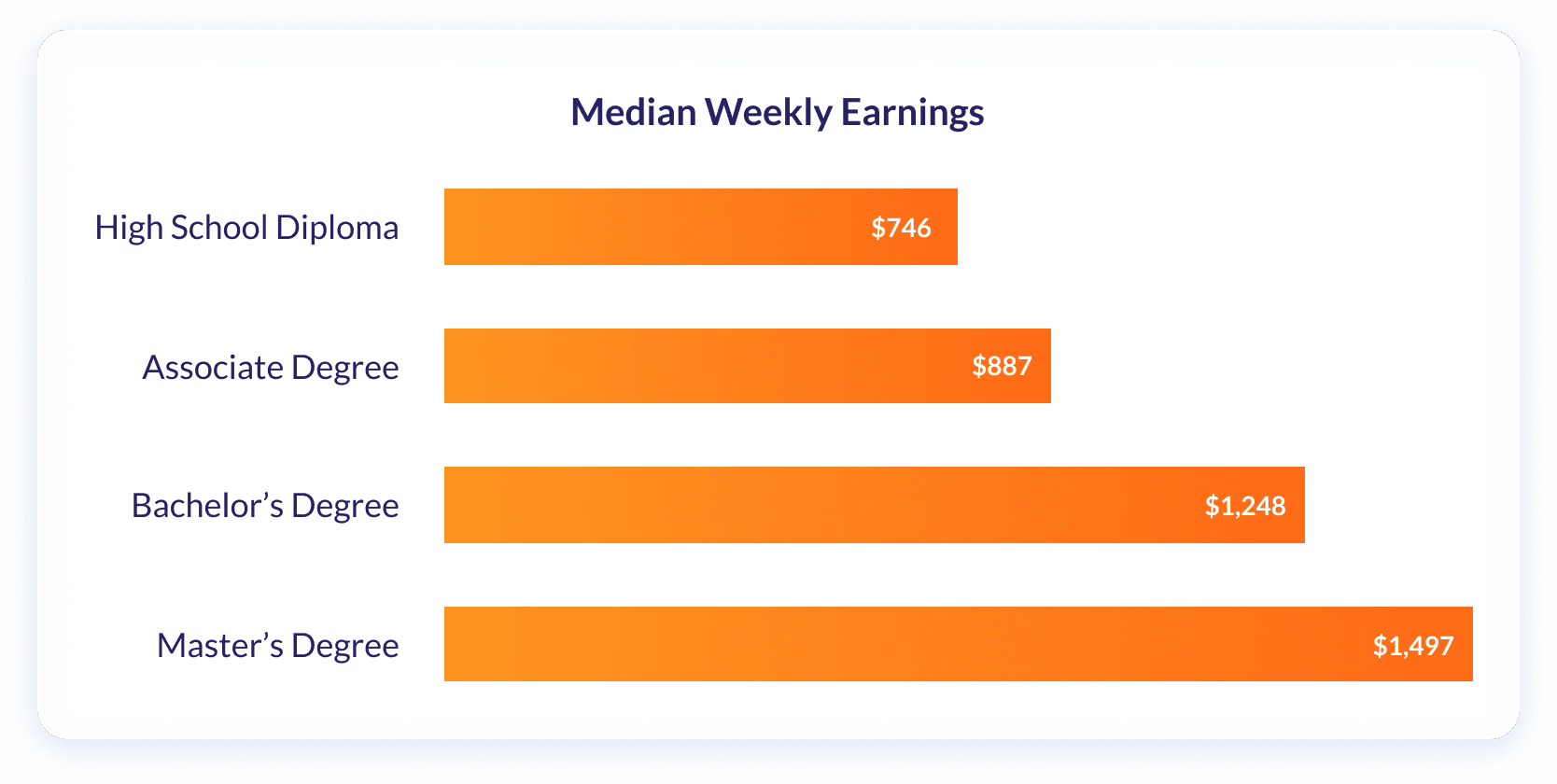 We've established that earning a degree overall may be worth it for you, but what about earning a degree online? Earning any type of degree through distance education adds several unique benefits to the experience:
More options. If you'd like to stay local while attending school, you probably only have a handful of choices in your area. By opening yourself up to online degree programs, you now have dozens of options. You're more likely to find online schools offering the program and concentration you want in a broader range of prices.
Respected credentials. As long as you attend a regionally accredited college or university, your online degree will command the same level of respect from hiring managers as a traditional degree. Many managers understand that to be accredited, the school must demonstrate that its online programs require the same academic rigor and yield the same outcomes as on-campus programs.
Flexible scheduling. One advantage of pursuing a degree online is that you can create your own weekly routine, working your studies and homework assignments around all of your other work and family obligations.
Ultimately, only you can decide whether pursuing an online college degree program is right for you. Depending on your goals and resources, you may prefer to have the traditional, on-campus college experience, or you may want to bypass college altogether. It's just smart to explore all your options before making a choice.