2020 Most Affordable Online Master's in Aviation Programs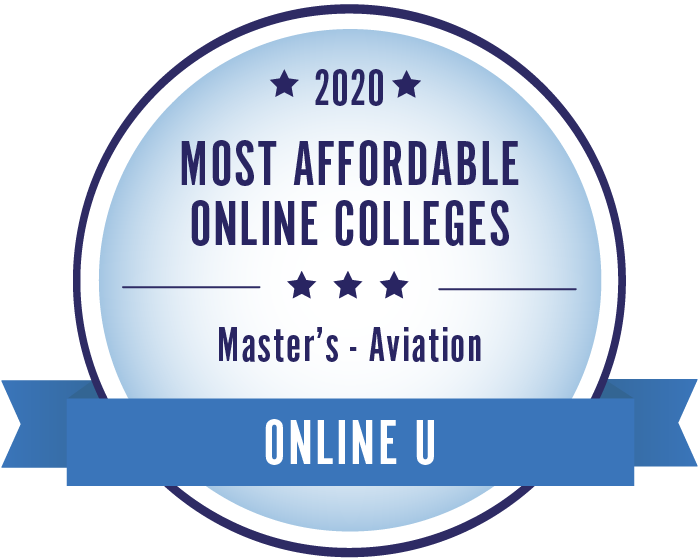 This list highlights 12 schools, all of which offer affordable online master's in aviation programs. The University of Central Missouri, our top-ranked school, has the lowest tuition on the list at only $5,854 per year. Second-ranked Delta State University is a similarly affordable option, with an annual tuition of only $6,255. Classes include Air Traffic Administration, Air Transportation, Applied Meteorology, Aviation Safety, Human Factors, and Multi-Engine Flight.
You can read more about our ranked schools below or browse our rankings of the most affordable online bachelor's in aviation degrees. View our methodology or learn more about OnlineU.
All tuition numbers were manually collected and verified
| Rank | School | Annual Tuition |
| --- | --- | --- |
| # 1 | University of Central Missouri | $5,854 |
| # 2 | Delta State University | $6,255 |
| # 3 | Florida Tech - Online | $9,000 |
| # 4 | University of North Dakota | $9,405 |
| # 5 | Capitol Technology University | $10,506 |
| # 6 | Purdue University - Main Campus | $11,625 |
| # 7 | Embry-Riddle Aeronautical University - Worldwide | $11,713 |
| # 8 | Thomas Edison State University | $12,024 |
| # 9 | Middle Tennessee State University | $13,428 |
| # 10 | Lewis University | $14,400 |
| # 11 | Oklahoma State University-Main Campus | $14,898 |
| # 12 | Kent State University at Kent | $21,952 |