2020 Most Affordable Online Bachelor's Degrees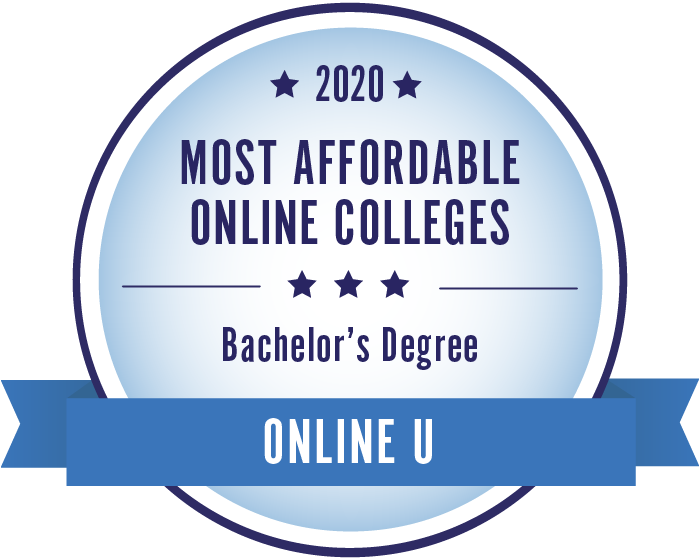 View Rankings by Subject »
We've compiled a list of schools offering the most affordable online bachelor's programs for prospective students to explore during their school search. The 25 schools on this list have tuition rates under $8,000 per year and each school offers at least 10 online bachelor's degrees. Tennessee State University, ranked #1, offers 23 online bachelor's programs. Tuition at TSU is $140 per credit hour and $4,200 annually. Aspen University is the second most affordable school, with an annual tuition rate of only $4,500, and offers a Bachelor of Arts in Psychology and Addiction Counseling, a Bachelor of Science in Early Childhood Education, and a Bachelor of Science in Nursing (RN to BSN), among others. In addition to our rankings, we've included answers to frequently asked questions about affordable bachelor's degrees.
You can read more about our ranked schools below or see our Overall Most Affordable Colleges. View our methodology or learn more about OnlineU.
All tuition numbers were manually collected and verified
Rank
School

Annual Tuition

Online Bachelor's Degrees
#

1

Tennessee State University

$4,200

23
#

2

Aspen University

$4,500

8
#

3

Clayton State University

$5,490

20
#

4

Western Carolina University

$5,670

12
#

5

Georgia Southern University

$5,766

16
#

6

Southern Utah University

$6,006

14
#

7

Tarleton State University

$6,044

17
#

8

Valdosta State University

$6,060

11
#

9

Minot State University

$6,087

16
#

10

University of the Cumberlands

$6,368

32
#

11

Western Governors University

$6,450

37
#

12

Fort Hays State University

$6,560

83
#

13

University of North Carolina at Pembroke

$6,752

28
#

14

Columbia Southern University

$6,900

32
#

15

Dickinson State University

$6,947

11
#

16

William Woods University

$7,050

12
#

17

Ohio University-Main Campus

$7,290

12
#

18

Mississippi University for Women

$7,424

15
#

19

Lamar University

$7,440

15
#

20

Eastern New Mexico University-Main Campus

$7,492

47
#

21

Fayetteville State University

$7,556

10
#

22

Athens State University

$7,626

26
#

23

Arkansas State University

$7,740

25
#

24

University of the Potomac

$7,785

61
#

25

Central Methodist University

$7,800

41
Frequently Asked Questions About Affordable Online Bachelor's Degrees
How much does it cost to earn an online bachelor's degree?
In general, online tuition is lower than tuition for on-campus programs at both private and public institutions, as our sister site has reported in its magazine. The average cost of a bachelor's degree at the accredited schools listed on our site is $14,170, but individual degree programs vary widely. During a school search, prospective students can estimate the total price by calculating the tuition cost per credit hour at a given school and extending this over four years (the average period of full-time study needed to complete a bachelor's degree). They should also add any fees noted on a school's website, such as technology fees, e-books, or equipment rental. Financial aid can help alleviate some of these costs.
What factors make an online bachelor's degree more affordable?
Tuition is the biggest factor to consider when searching for an affordable online college. Out-of-state online students at public schools can benefit from the fact that many state schools charge online students at the lower in-state tuition rate. A generous credit-transfer or credit for prior learning policy can also lower costs for college students by reducing the time needed to complete a degree. Most students receive some form of financial aid. In addition, students may consider any available needs- or merit-based scholarships or grants, which usually don't need to be repaid. Some grants are only available for in-state residents, whether they attend an online or on campus program. Our sister site's Guide to Financial Aid for Online Students breaks down the different types of financial aid and includes helpful resources for students navigating the process.
Will an online program confer all the benefits of earning a bachelor's degree?
Accreditation is the key factor in higher education at any degree level. Prospective employers (and their HR representatives) respect degrees from regionally and nationally accredited schools that have met standardized quality criteria. The stigma attached to online education is also fading as more students enroll in these programs: in fall 2018, 34% of U.S. undergraduates were taking at least one online class, compared to 20% in 2008. Further, employers usually won't know whether a candidate earned their degree online, on campus, or in some combination. According to the Bureau of Labor Statistics, a bachelor's degree helps workers earn an average of $461 more a week and decreases the chance of unemployment compared to employees with a high school education. Any degree is an investment in a student's future. Our sister site provides school rankings that are based on return on investment data to help prospective students make informed decisions about their education.