2020 Most Affordable Online Business Associate Degrees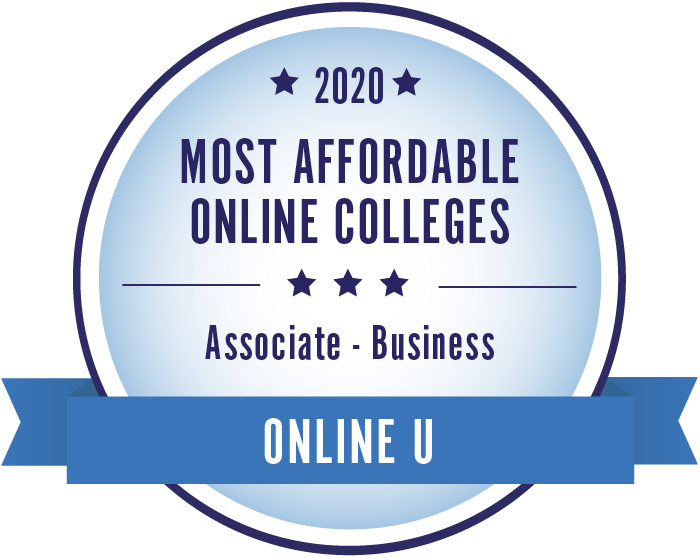 Ranked by affordability, these 24 schools all offer online low-cost associate degrees in business. Ranked #1, Florida SouthWestern State College charges $2,436 per year for their Associate in Science in Business Administration and Management. Available courses include Entrepreneurship Management, Personal Business Skills, and Computer Applications for Business. Ranked #2, the Broward College offers an AS in Business Administration at a tuition rate of $2,460 annually.
You can read more about our ranked schools below or browse our rankings of the most affordable online bachelor's in business degrees View our methodology or learn more about OnlineU.
All tuition numbers were manually collected and verified
Rank
School

Annual Tuition

#

1

Florida SouthWestern State College

$2,436

#

2

Broward College

$2,460

#

3

Highland Community College - KS

$2,624

#

4

Clovis Community College - NM

$2,664

#

5

Western Nebraska Community College

$3,150

#

6

Albany State University

$3,255

#

7

Bay Mills Community College

$3,325

#

8

Atlanta Metropolitan State College

$3,366

#

9

Navarro College

$3,390

#

10

Southeast Community College

$3,690

#

11

Waubonsee Community College

$3,900

#

12

Panola College

$3,930

#

13

Washtenaw Community College

$3,936

#

14

Delgado Community College

$4,017

#

15

Georgia State University-Perimeter College

$4,050

#

16

Cossatot Community College of the University of Arkansas

$4,110

#

17

Carl Albert State College

$4,177

#

18

Arkansas Northeastern College

$4,192

#

19

Central Community College

$4,320

#

20

Rappahannock Community College

$4,394

#

21

Northeast Community College

$4,448

#

22

California Coast University

$4,500

#

23

Pierce College at Puyallup

$4,575

#

24

Cochise College

$4,576