2020 Most Affordable Online Colleges for Business Degrees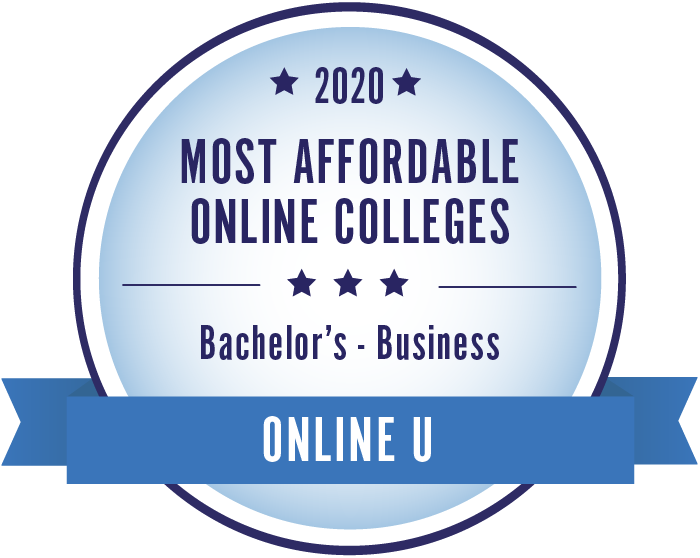 The list below highlights the most affordable online bachelor's degrees in business. Students may select a general business track or focus their studies in marketing, finance, or accounting, among other specializations. The Bureau of Labor Statistics (BLS) reports that business and finance professionals earned a median annual salary of $69,820 in 2019 and that demand for these occupations is expected to grow faster than average. In addition to our rankings, we've included information about business specializations along with answers to frequently asked questions about affordable business degrees below.
You can read more about our ranked schools below or see our other business rankings. View our methodology or learn more about OnlineU.
All tuition numbers were manually collected and verified
Rank
School

Annual Tuition

#

1

Aspen University

$4,500

#

2

California Coast University

$4,725

#

3

Clayton State University

$5,490

#

4

Western Carolina University

$5,670

#

5

California State University-Channel Islands

$5,742

#

6

(tie)

Georgia Southwestern State University

$5,970

#

6

(tie)

University of the Cumberlands

$5,970

#

8

Southern Utah University

$6,006

#

9

Tarleton State University

$6,044

#

10

Valdosta State University

$6,060

#

11

Minot State University

$6,087

#

12

Kennesaw State University

$6,180

#

13

Western Governors University

$6,450

#

14

Columbus State University

$6,510

#

15

Wichita State University

$6,708

#

16

Union College - KY

$6,750

#

17

University of North Carolina at Pembroke

$6,752

#

18

Fort Hays State University

$6,778

#

19

Columbia Southern University

$6,900

#

20

Dickinson State University

$6,947

#

21

William Woods University

$7,050

#

22

Georgia Military College

$7,110

#

23

Mississippi University for Women

$7,424

#

24

Lamar University

$7,440

#

25

Eastern New Mexico University-Main Campus

$7,492
Most Affordable Business College Details
For each school ranked above, we conducted manual research to provide prospective students with more details about the schools' business programs. Explore business class offerings, degrees offered, and accreditation information below.
Business Specializations
The following specializations are offered as online bachelor's programs at many schools. Depending on the chosen focus, online course requirements will vary for business students. For each topic below, median salary data and industry growth projections are provided by the Bureau of Labor Statistics (BLS), unless otherwise noted.
Frequently Asked Questions About Affordable Online Business Degrees
How much does it cost to get a degree in business?
Tuition rates depend on several factors, including the school's location (in-state versus out-of-state), school type (public, private, or nonprofit), and degree format (online or in-person). According to the College Board's report, the average cost of tuition and fees for a four-year public institution is $10,560 per year. Typically, students can expect to pay more if the school is out-of-state ($27,020) or private ($37,650). It is important to note that these fees do not include public or private aid that students may receive and the cost for books or living expenses. To help with affordability and reduce tuition costs, students can enroll in online programs, apply for financial aid, and maximize their number of transfer credits from community colleges and other institutions (if applicable).
How challenging are business programs?
Business programs that are accredited at the program or school level have similar academic standards. This is because accredited schools or programs are continually reviewed by independent third parties to ensure the quality of education. For example, the Association to Advance Collegiate Schools of Business (AACSB) is a nonprofit organization responsible for accrediting business degree programs that are committed to maintaining specific standards of excellence. In addition to accreditation, prospective students may consider an institution's acceptance rate and graduation rate. Other factors that may impact the difficulty of a program include whether classes are taken in a part-time or full-time capacity and if coursework is completed in a synchronous or asynchronous format.
Which business degrees lead to the highest salaries?
Generally, the occupations with the highest earning potential are in the fields of accounting and finance. According to the BLS, professionals in these fields earned a median annual salary of $69,820 in 2019. The top three business occupations were personal finance advisors ($87,850), management analysts ($85,260), and financial analysts ($81,590). It is important to note that high salaries are reflective of years of experience in the field in addition to a college degree. Graduates entering the field should expect to earn entry-level salaries at the beginning of their careers.