2020 Most Affordable Online Colleges for Business Degrees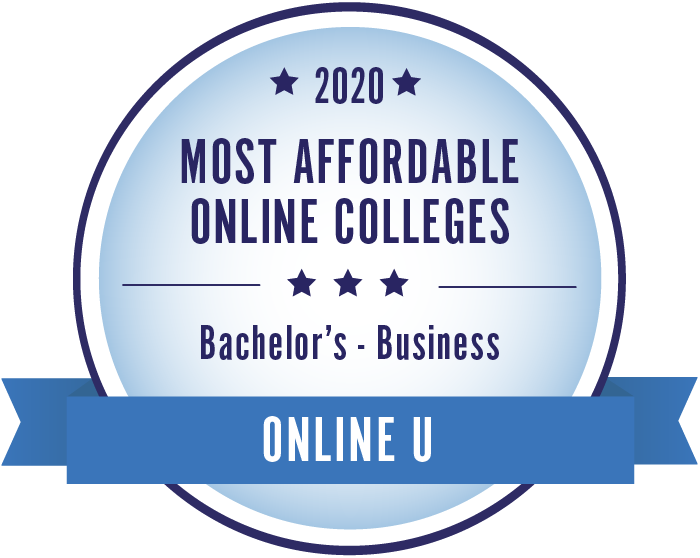 At every stage of business—from design to production to sales—there is a need for educated professionals. Students who envision a career in business can pursue many career paths, from general management to specializations in the management of operations or human resources. According to the Bureau of Labor Statistics, the median annual wage for all management occupations was $109,760 as of 2020, and an estimated 475,000 new management jobs are expected to emerge over the next decade.
The following is our list of the most affordable online bachelor's degrees in business. In addition to our rankings, we've included information about earning a degree online, common courses taught in a college of business, the cost of a degree, specializations in the field, and whether this degree will be worth it.
You can read more about our ranked schools below or see our other business rankings. View our methodology or learn more about OnlineU.
All tuition numbers were manually collected and verified
Rank
School
Annual Tuition

# 1
Aspen University

$4,500

# 2
California Coast University

$4,725

# 3
Clayton State University

$5,490

# 4
Western Carolina University

$5,670

# 5
California State University-Channel Islands

$5,742

# 6

(tie)

Georgia Southwestern State University

$5,970

# 6

(tie)

University of the Cumberlands

$5,970

# 8
Southern Utah University

$6,006

# 9
Tarleton State University

$6,044

# 10
Valdosta State University

$6,060

# 11
Minot State University

$6,087

# 12
Kennesaw State University

$6,180

# 13
Western Governors University

$6,450

# 14
Columbus State University

$6,510

# 15
Wichita State University

$6,708

# 16
Union College - KY

$6,750

# 17
University of North Carolina at Pembroke

$6,752

# 18
Fort Hays State University

$6,778

# 19
Columbia Southern University

$6,900

# 20
Dickinson State University

$6,947

# 21
William Woods University

$7,050

# 22
Georgia Military College

$7,110

# 23
Mississippi University for Women

$7,424

# 24
Lamar University

$7,440

# 25
Eastern New Mexico University-Main Campus

$7,492
Most Affordable Business College Details
For each school ranked above, we conducted manual research to provide prospective students with more details about the schools' business programs. Explore business class offerings, degrees offered, and accreditation information below.
Can You Earn a Bachelor's in Business Degree Online?
Yes, business is one of the most popular majors, and there are many online degree programs to choose from, including one from any of the 25 schools we've ranked above. There are various programs and concentrations in this field that are available online. You might choose a broad-based program in business management, or a program that offers a specific focus or concentration, such as international business, human resources management, or entrepreneurship.
How Long Does It Take to Earn a Business Degree?
Most full-time students take about four years to complete a bachelor's degree in business, assuming they attend a school that uses a traditional semester-based or quarter-based schedule, and this is true for both online and in-person programs.
Business Degree Quick Facts
Average Credits: 120
Average Duration: 4 years
However, several factors may affect how long it will take students to finish their programs.
Some students choose to attend school on a part-time basis, taking fewer credits per semester or quarter and thus requiring more years to fulfill all the necessary requirements.
Alternatively, students may be eligible for course credit based on prior AP high school courses, college courses, military training, and work experience, which reduces the total number of credits needed to graduate. Students who've already earned an associate degree, for example, generally only need an additional two years of coursework to earn a bachelor's degree.
In some cases, fully online programs can enable students to accelerate their studies and graduate faster. For example, some online schools have adopted year-round schedules that allow students to take intensified courses in seven- or ten-week sessions. By taking a full course load in every session, students may be able to graduate in two and a half or three years.
How Challenging Are Business Programs?
Business programs that are accredited at the program or school level have similar academic standards. This is because accredited schools or programs are continually reviewed by independent third parties to ensure the quality of education. For example, the Association to Advance Collegiate Schools of Business (AACSB) is a nonprofit organization responsible for accrediting business degree programs that are committed to maintaining specific standards of excellence. In addition to accreditation, prospective students may consider an institution's acceptance rate and graduation rate. Other factors that may impact the difficulty of a program include whether classes are taken in a part-time or full-time capacity and if coursework is completed in a synchronous or asynchronous format.
Online Business Courses
Business programs are designed to give students the basic knowledge and practical skills they'll need as professionals. To achieve this objective, students are often asked to engage in research, writing, group projects, and oral presentations, which are activities that simulate the types of work they might be asked to do on the job. In the process, students develop essential skills, such as analysis, problem solving, collaboration, and verbal and written communication.
Business Communications: In this course, students learn to use a professional tone and voice when writing different types of business correspondence, emails, reports, and other documents. They may also be required to create visual presentations, and to give oral presentations either individually or in groups. These projects allow students to learn the software programs commonly used in business.
Human Resource Management: This introductory course provides a broad overview of the many interrelated and often complex topics within human resources (HR) management. These include recruiting and hiring, training, compensation and benefits, legal issues, labor unions, and strategy. Students who are particularly interested in this subject may want to consider choosing HR management as a concentration so they can pursue this as a career.
Managerial Accounting: Often the companion course to financial accounting, which covers basic accounting methods and bookkeeping, managerial accounting teaches students to understand, interpret, and make decisions based on an organization's financial records. There is typically a heavy emphasis on terminology, as well as the significance of accounting in terms of planning and budgeting.
Marketing: Initially, students will be introduced to the basic components of marketing, often referred to as the "four Ps": product, promotion, price, and place (or distribution). As the course progresses, students learn how marketing efforts are used to build awareness and convert an organization's target audience into customers. Course materials also explain how marketing is related to other business functions, such as accounting, planning, operations, and production.
Principles of Management: Typically one of the first classes in a business administration program, this course provides an overview of basic managerial functions. Course materials will cover a broad range of related subjects, including the business environment, corporate culture, decision making, goal setting, individual behavior, and organizational structure. Additional topics may include strategy, leadership, ethics, and international business.
How Much Does an Online Business Degree Cost?
The cost of an online bachelor's degree in business varies widely, depending on a number of factors. Most bachelor's degree programs require 120 semester credits to complete, so total tuition costs for programs ranked on our list of affordable online business degrees can total anywhere from $18,000 to $30,000. Other online programs could total as much as $161,160 or more. These totals are based on the cost per credit, which starts at $150 and goes up to about $250 for the affordable options on this list. However, the per-credit tuition cost for other online business bachelor's degree programs can go as high as $1,343 and beyond.
Two factors that can help minimize the total cost of earning an online degree in business are prior learning credits and financial aid.
Other factors that influence per-credit fees are school type (public, private, or nonprofit), degree format (online or in-person), and whether the student is paying in-state or out-of-state fees. These amounts do not account for additional expenses, such as books, supplies, and technology, graduation, and other fees charged by most schools.
Two factors that can help minimize the total cost of earning an online Bachelor of Arts or Bachelor of Science degree in business are prior learning credits and financial aid. Many schools grant course credit for previous military and work experience, which reduces the number of credits a student needs to earn in order to graduate. Online students are also often eligible for financial assistance, such as scholarships and grants, that can help offset the expense of higher education. Active duty military members, veterans, and their dependents may be entitled to tuition assistance at military-friendly schools, and some colleges partner with various organizations to offer tuition discounts to the organizations' members or employees.
Financial Aid for Business Students
Federal financial aid programs are open to all students at accredited colleges and universities, whether they are pursuing their college degrees on campus or online. Many students need some combination of federal, state, and school-sponsored aid to cover the majority of their expenses. Grants, such as the Pell grant, and scholarships are preferable because they do not have to be repaid. However, your aid package may also include a student loan, which will need to be repaid with interest. Review the loan terms thoroughly before accepting, and keep in mind that federal student loans typically have better repayment terms than private student loans.
Federal financial aid programs are open to all students at accredited colleges and universities, whether they are pursuing their college degrees on campus or online.
To apply for these types of financial aid, you should complete and submit the Free Application for Student Aid (FAFSA). Once this form has been reviewed, schools will notify you regarding your financial aid offers. According to the College Board, the average total award for undergraduate students is $14,940, although amounts vary dramatically based on students' individual circumstances.
There are also private scholarships that require separate applications because they are not included under FAFSA. Private scholarships are usually sponsored by nonprofit organizations and for-profit businesses.
Online Business Specializations
The following specializations are offered as online bachelor's programs at many schools. Depending on the chosen focus, online course requirements will vary. For each topic below, median salary data and industry growth projections are provided by the Bureau of Labor Statistics (BLS).
Is an Online Business Degree Worth It?
A review of the Occupational Outlook Handbook reveals that a bachelor's degree is required for nearly all business management positions. These diverse opportunities cut across industries from engineering to construction to health services, and apply to multiple business functions, including operations, information systems, and human resources. If your ultimate goal is to obtain a management position in a growth field, you may want to consider earning a bachelor's degree in business.
Depending on your personal circumstances, getting a traditional college education may be a challenge.
Depending on your personal circumstances, getting a traditional college education may be a challenge. If so, an online degree could be more feasible. Attending classes virtually may give you greater flexibility in your schedule, enabling you to maintain a full-time job while earning your degree. Online programs can also be more affordable, and opening yourself up to this avenue increases the number of programs and price points you can choose from without having to relocate.
However, distance learning is not without its drawbacks. The nature of asynchronous online classes may require more self-discipline and motivation for some students. Depending on your school and program, it may be more challenging to get help in a course. Additionally, the absence of direct, face-to-face interaction with classmates may make it more challenging to develop a network of peers, which can be an important factor in future success.