2020 Most Affordable Online Colleges for Business Degrees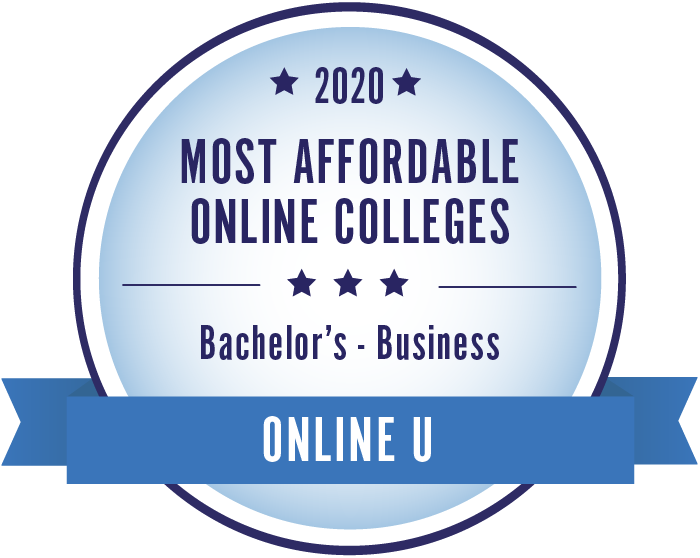 All tuition numbers were manually collected and verified
Rank
School
Annual Tuition

#

1

Aspen University

$4,500

#

2

California Coast University

$4,725

#

3

Clayton State University

$5,490

#

4

Western Carolina University

$5,670

#

5

California State University-Channel Islands

$5,742

#

6

(tie)

Georgia Southwestern State University

$5,970

#

6

(tie)

University of the Cumberlands

$5,970

#

8

Southern Utah University

$6,006

#

9

Tarleton State University

$6,044

#

10

Valdosta State University

$6,060

#

11

Minot State University

$6,087

#

12

Kennesaw State University

$6,180

#

13

Western Governors University

$6,450

#

14

Columbus State University

$6,510

#

15

Wichita State University

$6,708

#

16

Union College - KY

$6,750

#

17

University of North Carolina at Pembroke

$6,752

#

18

Fort Hays State University

$6,778

#

19

Columbia Southern University

$6,900

#

20

Dickinson State University

$6,947

#

21

William Woods University

$7,050

#

22

Georgia Military College

$7,110

#

23

Mississippi University for Women

$7,424

#

24

Lamar University

$7,440

#

25

Eastern New Mexico University-Main Campus

$7,492
Most Affordable Business College Details
For each school ranked above, we conducted manual research to provide prospective students with more details about the schools' business programs. Explore business class offerings, degrees offered, and accreditation information below.
Online Bachelor's in Business Programs
How Long Does it Take to Earn a Business Degree Online?
Most full-time students take about four years to complete a bachelor's degree in business, assuming they attend a school that uses a traditional semester-based or quarter-based schedule, and this is true for both online and in-person programs.
However, several factors may affect how long it will take students to finish their programs. Some students choose to attend school on a part-time basis, taking fewer credits per semester or quarter and thus requiring more years to fulfill all the necessary requirements. Alternatively, students may be eligible for course credit based on prior AP high school courses, college courses, military training, and work experience, which reduces the total number of credits needed to graduate. Students who've already earned an associate degree, for example, generally only need an additional two years of coursework to earn a bachelor's degree.
In some cases, fully online programs can enable students to accelerate their studies and graduate faster. For example, some online schools have adopted year-round schedules that allow students to take intensified courses in seven- or ten-week sessions. By taking a full course load in every session, students may be able to graduate in two and a half or three years.
Business Degree Quick Facts
Average Credits: 120
Average Duration: 4 years
How Challenging are Business Programs?
Business programs that are accredited at the program or school level have similar academic standards. This is because accredited schools or programs are continually reviewed by independent third parties to ensure the quality of education. For example, the Association to Advance Collegiate Schools of Business (AACSB) is a nonprofit organization responsible for accrediting business degree programs that are committed to maintaining specific standards of excellence. In addition to accreditation, prospective students may consider an institution's acceptance rate and graduation rate. Other factors that may impact the difficulty of a program include whether classes are taken in a part-time or full-time capacity and if coursework is completed in a synchronous or asynchronous format.
How Much Does an Online Business Degree Cost?
The cost of an online bachelor's degree in business varies widely, depending on a number of factors. Most bachelor's degree programs require 120 semester credits to complete, so total tuition costs for programs ranked on our list of affordable online business degrees can total anywhere from $18,000 to $30,000. Other online programs could total as much as $161,160 or more. These totals are based on the cost per credit, which starts at $150 and goes up to about $250 for the affordable options on this list. However, the per-credit tuition cost for other online business bachelor's degree programs can go as high as $1,343 and beyond.
Two factors that can help minimize the total cost of earning an online degree in business are prior learning credits and financial aid.
Other factors that influence per-credit fees are school type (public, private, or nonprofit), degree format (online or in-person), and whether the student is paying in-state or out-of-state fees. These amounts do not account for additional expenses, such as books, supplies, and technology, graduation, and other fees charged by most schools.
Two factors that can help minimize the total cost of earning an online Bachelor of Arts or Bachelor of Science degree in business are prior learning credits and financial aid. Many schools grant course credit for previous military and work experience, which reduces the number of credits a student needs to earn in order to graduate. Online students are also often eligible for financial assistance, such as scholarships and grants, that can help offset the expense of a college education. Active duty military members, veterans, and their dependents may be entitled to tuition assistance at military-friendly schools, and some colleges partner with various organizations to offer tuition discounts to the organizations' members or employees.
Salary and Job Outlook for Online Business Graduates
Which Business Degrees Lead to the Highest Salaries?
Generally, the occupations with the highest earning potential are in the fields of accounting and finance. According to the BLS, professionals in these fields earned a median annual salary of $69,820 in 2019. The top three business occupations were personal finance advisors ($87,850), management analysts ($85,260), and financial analysts ($81,590). It is important to note that high salaries are reflective of years of experience in the field in addition to a college degree. Graduates entering the field should expect to earn entry-level salaries at the beginning of their careers.
Online Business Specializations
The following specializations are offered as online bachelor's programs at many schools. Depending on the chosen focus, online course requirements will vary for business students. For each topic below, median salary data and industry growth projections are provided by the Bureau of Labor Statistics (BLS), unless otherwise noted.