2018 Most Affordable Online Colleges for Child Development Degrees
100%

of users found this page helpful
Was this page helpful?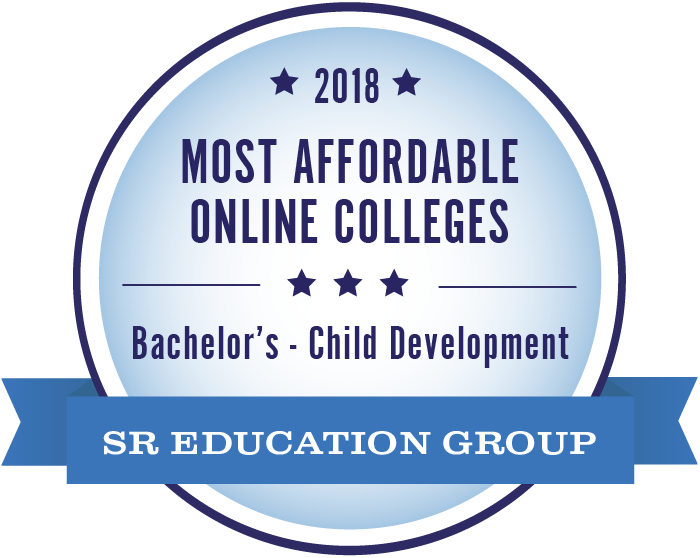 The most affordable online child development degrees can be found at these 24 colleges. With an average tuition of $11,138, all of these schools provide bachelor's degrees in child development at low tuition rates. Top-ranked West Virginia University at Parkersburg offers the lowest tuition on the list, $6,090 annually for a Bachelor of Applied Science in Child Development. Fourth-ranked SUNY Empire State College offers both a BA and a BS in human development with a child development concentration. Tuition at SUNY Empire State College is $8,000 per year.
You can read more about our ranked schools below or browse our 2018 rankings of the most affordable online master's in child development programs. View our methodology or learn more about SR Education Group.
All tuition numbers were manually collected and verified
Rank
College
Annual Tuition

#1

West Virginia University at Parkersburg

Annual Tuition

$6,090

#2

Fort Hays State University

Annual Tuition

$6,399

#3

Central Methodist University

Annual Tuition

$7,750

#4

SUNY Empire State College

Annual Tuition

$8,000

#5

University of Maine at Augusta

Annual Tuition

$9,207

#6

(tie)

Northwestern State University of Louisiana

Annual Tuition

$9,600

#6

(tie)

Southern New Hampshire University Online

Annual Tuition

$9,600

#8

University of West Alabama

Annual Tuition

$10,075

#9

Granite State College

Annual Tuition

$10,350

#10

Antioch University Online

Annual Tuition

$10,500

#11

Jacksonville State University

Annual Tuition

$11,488

#12

(tie)

Liberty University

Annual Tuition

$11,700

#12

(tie)

University of Massachusetts - Amherst

Annual Tuition

$11,700

#14

Wayland Baptist University

Annual Tuition

$11,780

#15

Stephen F. Austin State University

Annual Tuition

$11,850

#16

(tie)

Bay Path University

Annual Tuition

$12,000

#16

(tie)

Touro University Worldwide

Annual Tuition

$12,000

#18

New England College

Annual Tuition

$12,150

#19

Eastern Kentucky University

Annual Tuition

$12,270

#20

Concordia University - Saint Paul

Annual Tuition

$12,600

#21

Western Michigan University

Annual Tuition

$13,470

#22

Ashford University

Annual Tuition

$14,250

#23

Florida Tech

Annual Tuition

$15,810

#24

Argosy University Online

Annual Tuition

$16,680