2020 Most Affordable Online Master's in Civil Engineering Programs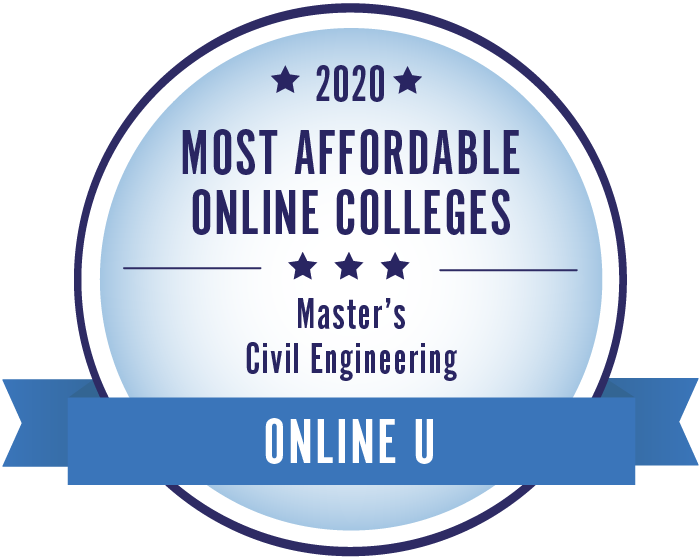 This list highlights 25 schools, all of which offer affordable online master's in civil engineering programs. Kennesaw State University, ranked #1, offers an online Master of Science in Civil Engineering for only $5,745 per year. Available concentrations include Environmental Engineering, Structural Engineering, and Transportation and Pavement Engineering. Second-ranked University of Virginia is a similarly affordable option, with an annual tuition of only $8,115.
You can read more about our ranked schools below or browse our rankings of the most affordable online master's programs. View our methodology or learn more about OnlineU.
All tuition numbers were manually collected and verified
Rank
School
Annual Tuition

# 1
Kennesaw State University

$5,745

# 2
University of Virginia

$8,115

# 3
Mississippi State University

$8,313

# 4
University of South Carolina - Columbia

$8,583

# 5
Old Dominion University

$8,925

# 6
University of Idaho

$9,330

# 7
Colorado State University - Fort Collins

$9,640

# 8
University of Alabama at Birmingham

$10,139

# 9
University of Central Florida

$10,422

# 10
Iowa State University

$10,425

# 11
The University of Tennessee - Knoxville

$10,710

# 12
Ohio University - Main Campus

$11,456

# 13

(tie)

University of Louisville

$11,460

# 13

(tie)

University of North Dakota

$11,460

# 15
Kansas State University

$11,473

# 16
University of Houston

$16,664

# 17
Ohio State University-Main Campus

$16,704

# 18
Missouri University of Science and Technology

$18,000

# 19
Michigan Technological University

$18,180

# 20
Norwich University

$19,392

# 21
University of Illinois Urbana - Champaign

$19,512

# 22
New Jersey Institute of Technology

$19,605

# 23
North Carolina State University

$20,185

# 24
Southern Methodist University

$20,250

# 25
Stanford University

$20,280