2018 Most Affordable Online Colleges for an Associate in Computer Science
0%

of users found this page helpful
Was this page helpful?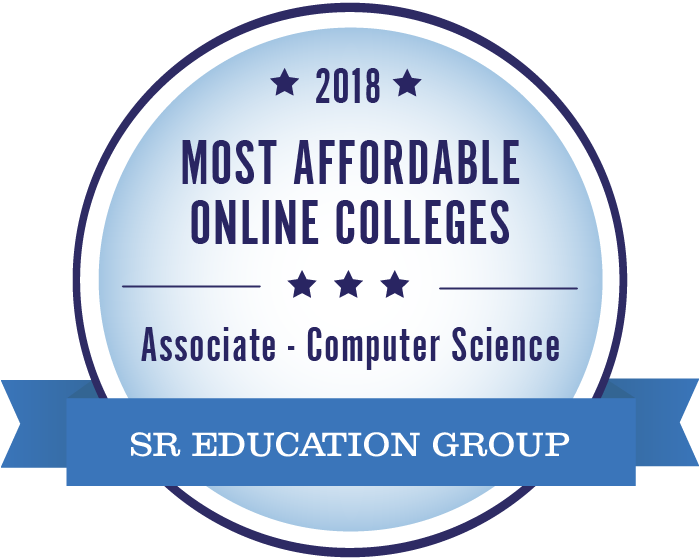 Students seeking affordable online associate degrees in computer science will find 21 excellent options on this list. Thirteen schools have annual tuition rates under $10,000, and the average tuition of the schools on this list is $9,894. Ranked first is Georgia State University-Perimeter College's Associate of Science in Computer Science, which is offered for only $4,050 per year. Classes in this program cover subjects such as data structures and theoretical foundations of computer science. Cowley County Community College and Metropolitan Community College, ranked second and third respectively, also offer associate degrees in computer science for under $5,000.
You can read more about our ranked schools below or browse our 2018 rankings of the most affordable online bachelor's in computer science degrees. View our methodology or learn more about SR Education Group.
All tuition numbers were manually collected and verified
Rank
College
Annual Tuition

#1

Georgia State University-Perimeter College

Annual Tuition

$4,050

#2

Cowley County Community College

Annual Tuition

$4,521

#3

Metropolitan Community College

Annual Tuition

$4,758

#4

North Hennepin Community College

Annual Tuition

$5,338

#5

Ivy Tech Community College-Central Indiana

Annual Tuition

$5,450

#6

Georgia Military College

Annual Tuition

$6,120

#7

South Texas College

Annual Tuition

$6,665

#8

Wallace State Community College-Hanceville

Annual Tuition

$8,092

#9

Allegany College of Maryland

Annual Tuition

$8,250

#10

Weber State University

Annual Tuition

$8,352

#11

Ulster County Community College

Annual Tuition

$8,960

#12

Jamestown Community College

Annual Tuition

$9,500

#13

Faulkner University

Annual Tuition

$11,715

#14

Park University

Annual Tuition

$11,970

#15

Bucks County Community College

Annual Tuition

$13,485

#16

Murray State College

Annual Tuition

$13,662

#17

Limestone College

Annual Tuition

$13,671

#18

Rogers State University

Annual Tuition

$13,761

#19

Florida National University-Main Campus

Annual Tuition

$15,750

#20

Salem University

Annual Tuition

$16,100

#21

Bluegrass Community and Technical College

Annual Tuition

$17,610