2018 Most Affordable Online Colleges for Computer Science Degrees
64%

of users found this page helpful
Was this page helpful?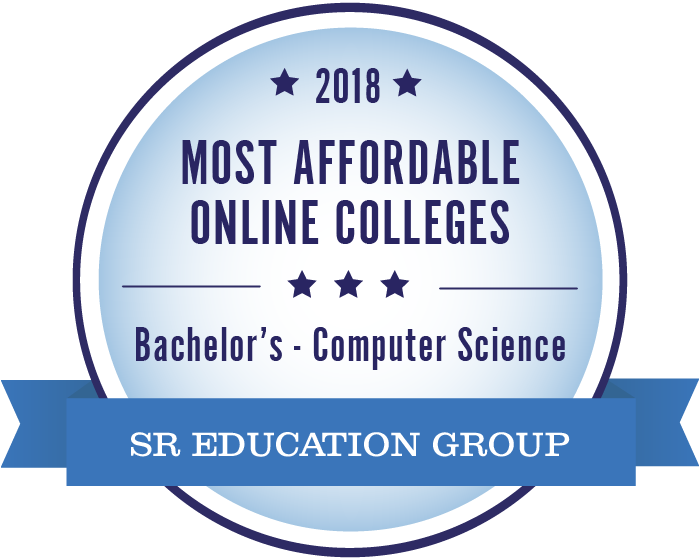 Students looking for affordable online bachelor's in computer sciences degrees will find 25 low-cost schools below. Sixteen of the 25 schools have annual tuition rates under $15,000, and the top-ranked school, Rasmussen College Online, offers a bachelor's in computer science for only $9,405 per year. Southern New Hampshire University Online, ranked #2, also offers a bachelor's program for less than $10,000 per year. Students at SNHU can take classes in Systems architectures, Data mining, Operating Environments, and Software Testing.
You can read more about our ranked schools below or browse our 2018 rankings of the most affordable online master's in computer science programs. View our methodology or learn more about SR Education Group.
All tuition numbers were manually collected and verified
Rank
College
Annual Tuition

#1

Rasmussen College Online

Annual Tuition

$9,405

#2

Southern New Hampshire University Online

Annual Tuition

$9,600

#3

Saint Leo University Online

Annual Tuition

$10,800

#4

Old Dominion University

Annual Tuition

$11,070

#5

Trident University International

Annual Tuition

$11,250

#6

Regent University Online

Annual Tuition

$11,850

#7

Park University

Annual Tuition

$11,970

#8

University of Illinois at Springfield

Annual Tuition

$12,105

#9

New England College

Annual Tuition

$12,150

#10

Concordia University - Saint Paul

Annual Tuition

$12,600

#11

Limestone College

Annual Tuition

$13,671

#12

Dakota State University

Annual Tuition

$13,818

#13

Lakeland University

Annual Tuition

$14,550

#14

Concordia University - Texas

Annual Tuition

$14,720

#15

(tie)

Thomas Edison State University

Annual Tuition

$14,970

#15

(tie)

University of Maryland University College

Annual Tuition

$14,970

#17

Franklin University

Annual Tuition

$15,779

#18

California State University Monterey Bay

Annual Tuition

$15,828

#19

Southern University and A & M College

Annual Tuition

$16,016

#20

Salem University

Annual Tuition

$16,150

#21

University of Advancing Technology

Annual Tuition

$16,200

#22

National University

Annual Tuition

$16,290

#23

Mercy College

Annual Tuition

$18,084

#24

Baker College Online

Annual Tuition

$19,110

#25

Lewis University

Annual Tuition

$19,200