2018 Most Affordable Online Colleges for a Master's in Computer Science
100%

of users found this page helpful
Was this page helpful?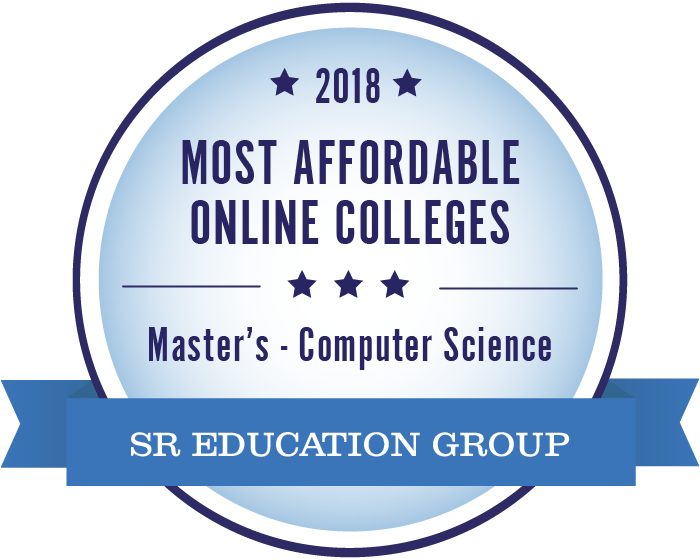 All 25 of these online schools offer highly affordable master's in computer science programs, with 15 of these schools' tuition rates coming in under $15,000. In first place is Georgia Institute of Technology's online M.S. in Computer Science for only $2,550 per year. Students at Georgia Tech can choose from concentrations such as computational perception and robotics, computing systems, and machine learning. University of West Georgia comes in second place with a tuition rate of $5,616. Classes at UWG include database systems, software development, and system and network administration.
You can read more about our ranked schools below or browse our 2018 rankings of the most affordable online bachelor's in computer science degrees. View our methodology or learn more about SR Education Group.
All tuition numbers were manually collected and verified
Rank
College
Annual Tuition

#1

Georgia Institute of Technology

Annual Tuition

$2,550

#2

University of West Georgia

Annual Tuition

$5,616

#3

Georgia Southern University

Annual Tuition

$6,150

#4

University of Illinois at Springfield

Annual Tuition

$6,516

#5

Dakota State University

Annual Tuition

$6,663

#6

Frostburg State University

Annual Tuition

$8,205

#7

Charleston Southern University

Annual Tuition

$8,500

#8

Old Dominion University

Annual Tuition

$8,608

#9

Colorado State University-Fort Collins

Annual Tuition

$12,528

#10

Lewis University

Annual Tuition

$12,720

#11

Franklin University

Annual Tuition

$13,180

#12

University of Michigan-Flint

Annual Tuition

$13,638

#13

Nova Southeastern University

Annual Tuition

$13,950

#14

University of Michigan - Dearborn

Annual Tuition

$14,040

#15

National University

Annual Tuition

$14,144

#16

University of Idaho

Annual Tuition

$15,270

#17

University of Bridgeport

Annual Tuition

$15,775

#18

The University of West Florida

Annual Tuition

$15,888

#19

Auburn University

Annual Tuition

$16,133

#20

University of Advancing Technology

Annual Tuition

$16,200

#21

University of Minnesota-Twin Cities

Annual Tuition

$16,928

#22

Purdue University - Main Campus

Annual Tuition

$18,870

#23

Hofstra University

Annual Tuition

$19,380

#24

Clarkson University

Annual Tuition

$20,175

#25

Southern Methodist University

Annual Tuition

$20,250