2018 Most Affordable Online Colleges for an Associate in Criminal Justice
0%

of users found this page helpful
Was this page helpful?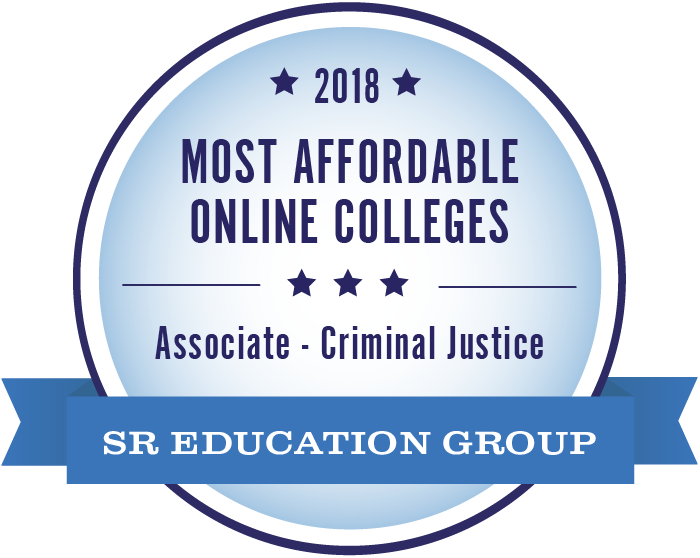 This list includes 25 schools that offer online associate in criminal justice degrees, each with an annual tuition rate less than $6,000. Highland Community College - KS holds the top spot, offering an Associate of Applied Science in Criminal Justice at an annual tuition rate of $2,528. The second spot is held by Cossatot Community College of the University of Arkansas, with a starting annual tuition of $3,150. The average tuition for all schools is $4,459.
You can read more about our ranked schools below or browse our 2018 rankings of the most affordable online bachelor's in criminal justice degrees. View our methodology or learn more about SR Education Group.
All tuition numbers were manually collected and verified
Rank
College
Annual Tuition

#1

Highland Community College - KS

Annual Tuition

$2,528

#2

Cossatot Community College of the University of Arkansas

Annual Tuition

$3,150

#3

Clovis Community College

Annual Tuition

$3,214

#4

Southeastern Illinois College

Annual Tuition

$3,376

#5

Mid-Plains Community College

Annual Tuition

$3,480

#6

Northeast Community College

Annual Tuition

$3,960

#7

Albany State University

Annual Tuition

$4,030

#8

Shoreline Community College

Annual Tuition

$4,257

#9

Genesee Community College

Annual Tuition

$4,360

#10

Arkansas Northeastern College

Annual Tuition

$4,410

#11

Peninsula College

Annual Tuition

$4,411

#12

Amarillo College

Annual Tuition

$4,530

#13

Metropolitan Community College

Annual Tuition

$4,575

#14

Lone Star College System

Annual Tuition

$4,770

#15

Fox Valley Technical College

Annual Tuition

$4,785

#16

Illinois Central College

Annual Tuition

$4,800

#17

Atlantic Cape Community College

Annual Tuition

$4,827

#18

Hutchinson Community College

Annual Tuition

$4,928

#19

Kentucky Community and Technical College System

Annual Tuition

$5,022

#20

Middle Georgia State University

Annual Tuition

$5,070

#21

Iowa Western Community College

Annual Tuition

$5,280

#22

Lanier Technical College

Annual Tuition

$5,340

#23

Northwest Mississippi Community College

Annual Tuition

$5,400

#24

Ivy Tech Community College-Central Indiana

Annual Tuition

$5,450

#25

Tidewater Community College

Annual Tuition

$5,524