2018 Most Affordable Online Colleges for Criminal Justice Degrees
100%

of users found this page helpful
Was this page helpful?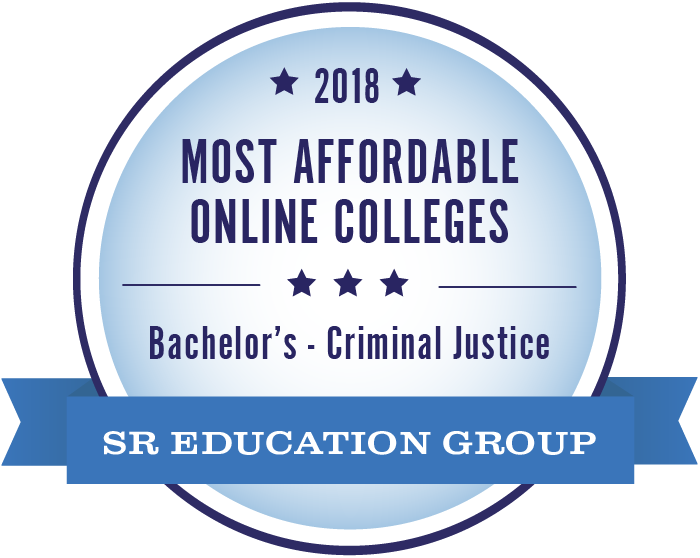 All 25 of these schools offer affordable online bachelor's in criminal justice degrees, each with an annual tuition rate under $10,000. The University of the Cumberlands holds the #1 spot on the list, with an annual cost of $6,368 for their online Bachelor of Science in Criminal Justice. Fort Hays State University is second on the list with an annual tuition of $6,399. FHSU offers three criminal justice degree pathways: a Bachelor of Art, a Bachelor of General Studies, and a Bachelor of Science.
You can read more about our ranked schools below or browse our 2018 rankings of the most affordable online master's in criminal justice programs. View our methodology or learn more about SR Education Group.
All tuition numbers were manually collected and verified
Rank
College
Annual Tuition

#1

University of the Cumberlands

Annual Tuition

$6,368

#2

Fort Hays State University

Annual Tuition

$6,399

#3

Georgia Southwestern State University

Annual Tuition

$6,480

#4

Westfield State University

Annual Tuition

$7,050

#5

Ohio University-Lancaster Campus

Annual Tuition

$7,200

#6

Valdosta State University

Annual Tuition

$7,500

#7

Fort Valley State University

Annual Tuition

$7,750

#8

(tie)

SUNY College of Technology at Delhi

Annual Tuition

$8,000

#8

(tie)

SUNY Empire State College

Annual Tuition

$8,000

#10

Clarion University

Annual Tuition

$8,092

#11

American Public University System

Annual Tuition

$8,100

#12

University of Central Missouri

Annual Tuition

$8,173

#13

Peru State College

Annual Tuition

$8,370

#14

University of Arkansas at Little Rock

Annual Tuition

$8,400

#15

Bemidji State University

Annual Tuition

$8,530

#16

Midwestern State University

Annual Tuition

$8,665

#17

Southeast Missouri State University

Annual Tuition

$8,752

#18

Missouri State University

Annual Tuition

$8,835

#19

Lynn University

Annual Tuition

$8,850

#20

Hampton University

Annual Tuition

$9,000

#21

Columbia College

Annual Tuition

$9,150

#22

Drury University

Annual Tuition

$9,269

#23

University of Northern Iowa

Annual Tuition

$9,330

#24

Wayne State College

Annual Tuition

$9,420

#25

California University of Pennsylvania

Annual Tuition

$9,570