2020 Most Affordable Online Criminal Justice Degrees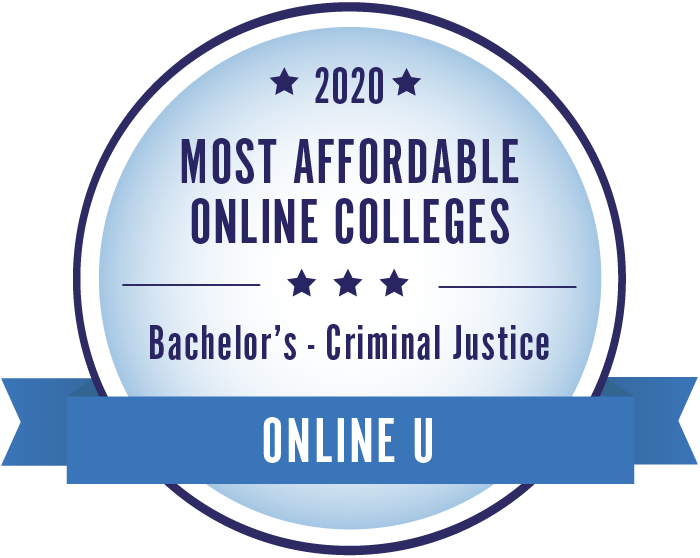 Our list below highlights the 24 most affordable online criminal justice programs offered by accredited colleges and universities, with annual tuition rates under $8,000. Criminal justice students study the law and the role of legal institutions in society and criminology. Graduates are prepared for careers as police officers or detectives, FBI agents, correctional or probationary officers, paralegals, or counselors, among others. Below, we provide information about career options for criminal justice professionals, funding a degree, and answers to frequently asked questions that may be helpful for online students.
You can read more about our ranked schools below or browse our rankings of the most affordable online master's in criminal justice degrees. View our methodology or learn more about OnlineU.
All tuition numbers were manually collected and verified
Rank
School

Annual Tuition

#

1

Metropolitan State University

$4,037

#

2

California Coast University

$4,725

#

3

Fort Valley State University

$5,363

#

4

Clayton State University

$5,490

#

5

Western Carolina University

$5,670

#

6

Georgia Southern University

$5,766

#

7

(tie)

Georgia Highlands College

$5,970

#

7

(tie)

Georgia Southwestern State University

$5,970

#

7

(tie)

University of the Cumberlands

$5,970

#

10

Tarleton State University

$6,044

#

11

Valdosta State University

$6,060

#

12

Kennesaw State University

$6,180

#

13

Fort Hays State University

$6,560

#

14

Wichita State University

$6,708

#

15

Columbia Southern University

$6,900

#

16

University of North Carolina at Pembroke

$6,977

#

17

Ohio University-Main Campus

$7,290

#

18

Lamar University

$7,440

#

19

Eastern New Mexico University-Main Campus

$7,492

#

20

(tie)

Abraham Lincoln University

$7,500

#

20

(tie)

Louisiana State University-Alexandria

$7,500

#

20

(tie)

Minot State University

$7,500

#

23

Fayetteville State University

$7,556

#

24

Arkansas State University

$7,740
Criminal Justice Career Options
The following are some common careers in the criminal justice field. Requirements for education and experience may vary for professionals across these roles.
Criminal Law Paralegal: Criminal law paralegals work within the legal system to support attorneys in criminal case proceedings by drafting motions and pleadings, interviewing witnesses, and conducting research. They may work for lawyers in private practices or within government agencies. Paralegals will typically need an associate degree to enter the field. However, many employers prefer or require that applicants hold a bachelor's degree. In 2019, paralegals earned a median salary of $51,740. The job outlook for paralegals is expected to grow at a rate of 10%, which is faster than average.
Law Enforcement Officer: Law enforcement officers work for governmental agencies at the local, state, or federal levels. In general, police officers are responsible for protecting lives and property, while detectives are tasked with collecting evidence and solving crimes. Police officers at the state level can work in patrol, transit and railroad, or fish and wildlife services. Federal agents can work for agencies such as the FBI or U.S. Secret Service. The requirements for these positions typically range from a high school diploma for local police officers to an undergraduate degree for state or federal agents. All officers need to pass specific examinations and attend a training academy; Federal service agents are required to complete more extensive training. The Bureau of Labor Statistics (BLS) reports that the 2019 median annual pay for police officers or detectives was $65,170 per year, and the occupation is projected to grow slightly faster than average.
Private Detective/Criminal Investigator: Private detectives or criminal investigators are full-time professionals who generally have previous work experience and a license in addition to a high school diploma or college degree. These professionals may be hired by individuals, attorneys, and businesses to gather information, collect evidence from a crime scene, and perform surveillance. Private detectives earned a median annual salary of $50,510 in 2019, and the occupation is projected to grow much faster than average, at a rate of 8%.
Probationary Officer/Correctional Treatment Specialist: Probation officers work with people who are on parole or probation while correctional treatment specialists - also known as corrections officers - work with those who are currently incarcerated. Beyond this distinction, the roles are similar, and involve assisting individuals in rehabilitation. Some duties include conducting evaluations, administering drug tests, and providing job training or other support services. Probationary officers and correctional treatment specialists earned a median annual salary of $54,290 in 2019. The demand for these jobs is expected to grow as fast as average. Workers in this field must hold a bachelor's degree and may be required to pass additional exams.
Substance Abuse and Behavioral Disorder Counselors: Counselors in this field may work in community health centers or prisons and help those who suffer from mental health problems, drug addiction, or alcoholism. Most counselors in this category will need at least a bachelor's degree to enter the field. Recent data from the BLS indicates that this job is in high demand, with an expected growth rate of 25% between 2019 and 2029. The median annual salary for substance abuse or behavioral disorder counselors was $46,240 in 2019.
Funding a Criminal Justice Degree
Prospective students of both in-person and online programs have many options when it comes to funding a college education. By filling out a Free Application for Federal Student Aid (FAFSA), students can qualify for federal student aid, including grants, loans, and work-study funds. Grants are a form of financial aid that does not need to be repaid in most circumstances, but loans must be paid back with interest after a student graduates. Federal work-study programs allow students to gain work experience at participating organizations while also earning money to pay for higher education costs. Private loans are available to students through banks, but this is often considered a last resort as these loans traditionally have higher interest rates and less flexible repayment options than federal loans.
Scholarships also do not require repayment and are offered by private and public universities, associations, and institutions. Our parent company, Optimal, awards $250,000 in scholarships to 50 recipients annually. Students interested in applying for scholarships should research and remain cognizant of deadlines and requirements. Several scholarships are available for criminal justice majors. For example, currently enrolled students are eligible for scholarships offered by the Criminal Justice Honor Society. The National Organization of Black Law Enforcement Executives (NOBLE) awards scholarships to high school seniors committed to a career in law enforcement.
The Public Service Loan Forgiveness (PSLF) program, offered by the U.S. Department of Education, is an alternative aid option for graduates who enter into public service careers. To qualify, individuals must be employed by a non-profit organization or federal, state, local, or tribal government agency. They must also make 120 monthly payments towards their federal student loans before being eligible for loan forgiveness.
Frequently Asked Questions About Affordable Online Criminal Justice Degrees
What will I learn in an online criminal justice program?
As a liberal arts major, a criminal justice degree program will cover topics in law, psychology, social justice, sociology, and public administration or policy. Students will take online courses about the three pillars of crime and justice: law enforcement, the courts, and corrections. Coursework will also cover topics related to criminal behavior, public safety, and research methods. Most bachelor's programs in this subject can be completed in three to four years, and prepare graduates for various specializations in criminology and criminal justice, while an associate degree will require two years of study.
Are there tuition discounts for active military or law enforcement personnel?
Many schools offer military tuition assistance to active military members pursuing in-person or online education. Valdosta State University (VSU), which is featured on our list of affordable online criminal justice degrees, covers 100% of tuition costs for active-duty personnel. To compare military or veteran benefits by school, students can use the GI Bill Comparison Tool offered on the U.S. Department of Veterans Affairs website. Law enforcement personnel should check with their intended college or university to determine if they are eligible for any tuition discounts. From our list, Columbia Southern University (CSU) offers a 10% tuition discount and no application fee for members of the National Sheriff Association.
Should I attend an accredited program?