2020 Most Affordable Master's in Criminal Justice Online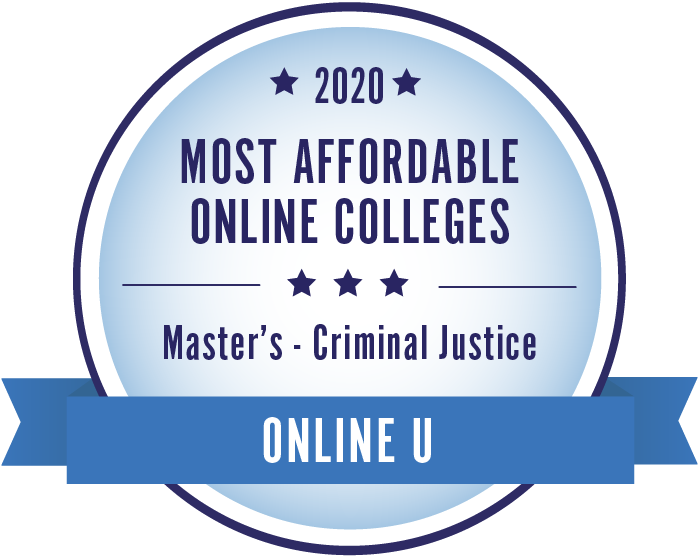 All 24 of these colleges and universities offer affordable online master's in criminal justice programs. Fort Hays State University, our top-ranked school, has the lowest tuition on the list at only $4,316 per year. In the #2 spot is Missouri State University, offering a tuition rate of $4,425 per academic year. Classes at Missouri State include Applied Research in Criminal Justice, Crime Theory and Policy, Criminal Justice Policy, Juvenile Justice, Law Enforcement and Community, and Legal Issues in Criminal Justice.
You can read more about our ranked schools below or browse our rankings of the most affordable online bachelor's in criminal justice degrees. View our methodology or learn more about OnlineU.
All tuition numbers were manually collected and verified
Rank
School
Annual Tuition

# 1
Fort Hays State University

$4,316

# 2
Missouri State University

$4,425

# 3
California Coast University

$4,485

# 4
Albany State University

$4,500

# 5
Northeastern State University

$4,518

# 6
Missouri Southern State University

$4,698

# 7
University of North Alabama

$5,250

# 8
Valdosta State University

$5,274

# 9
Columbus State University

$5,418

# 10
Wichita State University

$5,434

# 11
University of North Georgia

$5,454

# 12
Southeast Missouri State University

$5,475

# 13
Columbia Southern University

$5,670

# 14
Marshall University

$5,677

# 15
William Carey University

$6,000

# 16
Southern Illinois University - Edwardsville

$6,116

# 17
Midwestern State University

$6,219

# 18
Fairmont State University

$6,270

# 19

(tie)

Abraham Lincoln University

$6,300

# 19

(tie)

American Public University System

$6,300

# 21
University of Central Missouri

$6,586

# 22
Claflin University

$6,744

# 24
University of Arkansas at Little Rock

$6,894