2020 Most Affordable Online Dental Hygiene Programs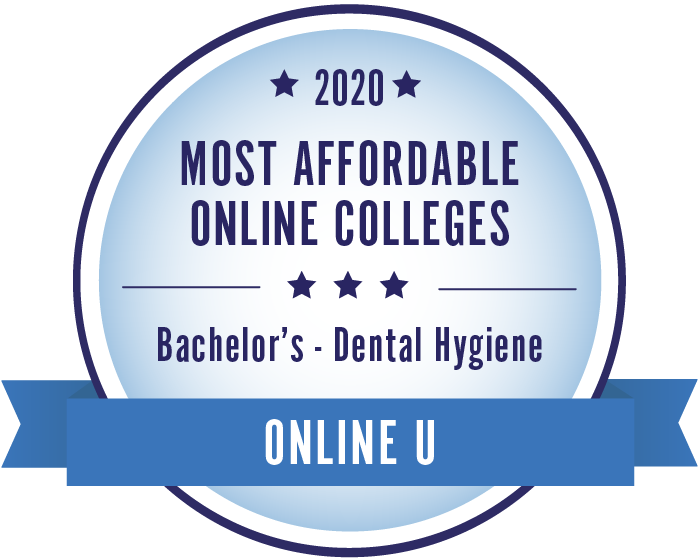 This list highlights 24 schools, all of which offer affordable online bachelor's in dental hygiene degrees. Clayton State University, ranked #1, offers an online Bachelor of Science in Dental Hygiene (RDH to BSDH) for only $5,490 per year. Pueblo Community College, ranked #2, has an annual tuition rate $5,732 for their Bachelor of Applied Science in Dental Hygiene (Degree Completion), offering classes such as Advanced Careers in Dental Hygiene, Clinical Teaching Methodologies, and Social and Behavioral Determinants of Oral Health.
You can read more about our ranked schools below or see our Overall Most Affordable Colleges. View our methodology or learn more about OnlineU.
All tuition numbers were manually collected and verified
| Rank | School | Annual Tuition |
| --- | --- | --- |
| # 1 | Clayton State University | $5,490 |
| # 2 | Pueblo Community College | $5,732 |
| # 3 | Tyler Junior College | $5,940 |
| # 4 | Wichita State University | $7,155 |
| # 5 | The University of Texas Health Science Center at San Antonio | $8,000 |
| # 6 | Minnesota State University at Mankato | $8,481 |
| # 7 | Ohio State University-Main Campus | $9,168 |
| # 8 | Missouri Southern State University | $9,172 |
| # 9 | Augusta University | $9,270 |
| # 10 | Southern Illinois University - Carbondale | $9,637 |
| # 11 | Georgia Highlands College | $10,790 |
| # 12 | University of New Mexico | $11,515 |
| # 13 | University of Louisiana-Monroe | $12,000 |
| # 14 | Old Dominion University | $12,210 |
| # 15 | Community College of Denver | $12,283 |
| # 16 | Oregon Institute of Technology | $12,593 |
| # 17 | St. Petersburg College | $12,773 |
| # 18 | Ferris State University | $13,361 |
| # 19 | Pennsylvania College of Technology | $15,159 |
| # 20 | Utah Valley University | $15,872 |
| # 21 | University of Bridgeport | $16,650 |
| # 23 | Farmingdale State College | $16,980 |
| # 24 | Vermont Technical College | $17,880 |