2020 Most Affordable Online Colleges for DNP Programs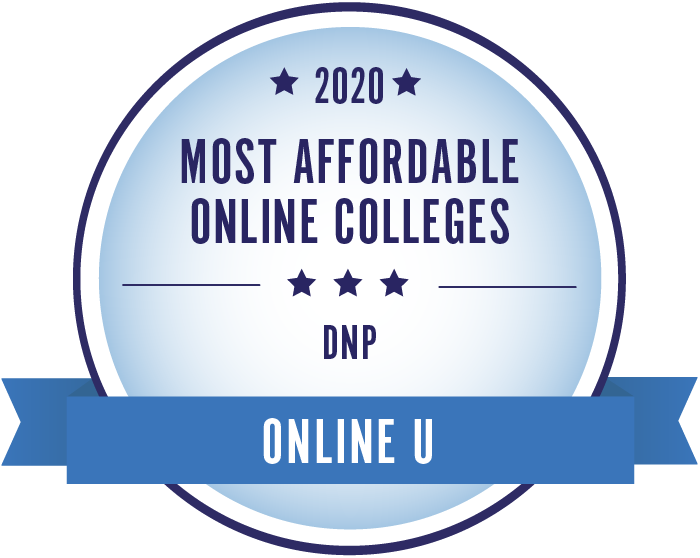 All 24 of these colleges and universities offer affordable online Doctor of Nursing Practice (DNP) programs. The DNP degree is the highest level of education attainable in nursing, and programs focus on patient care while providing an alternative to research-based Ph.D. programs. While many advanced practice registered nurses (APRNs) earn a Master of Science in Nursing (MSN), some may choose to obtain a DNP. Programs prepare nurses for career advancement in APRN roles and leadership positions in nurse education, administration, or research. The schools on our list feature flexible, lower-cost options for students interested in pursuing a doctoral degree. Many offer both BSN to DNP and MSN to DNP programs, with part- and full-time options available. On this page, prospective students will find information on common courses, funding a DNP degree, and answers to frequently asked questions.
You can read more about our ranked schools below or browse our rankings of the most affordable online nurse practitioner master's degrees. View our methodology or learn more about OnlineU.
All tuition numbers were manually collected and verified
Rank
School

Annual Tuition

#

1

University of South Alabama

$4,158

#

2

Wichita State University

$4,529

#

3

Aspen University

$4,725

#

4

University of Central Arkansas

$5,200

#

5

University of Missouri

$5,518

#

6

Missouri State University

$5,525

#

7

University of North Georgia

$5,625

#

8

Arkansas State University

$5,661

#

9

Jacksonville State University

$6,000

#

10

Georgia College & State University

$6,714

#

11

University of Southern Indiana

$7,069

#

12

New Mexico State University

$7,191

#

13

Delta State University

$7,501

#

14

University of Nevada - Reno

$7,525

#

15

Fort Hays State University

$7,600

#

16

The University of Texas Medical Branch

$8,187

#

17

Saint Francis Medical Center College of Nursing

$8,208

#

18

West Chester University of Pennsylvania

$8,208

#

19

Texas Woman's University

$8,379

#

20

University of Alabama

$8,400

#

21

The University of Tennessee - Chattanooga

$8,580

#

22

University of Arkansas

$8,609

#

23

Murray State University

$8,704

#

24

Northern Michigan University

$8,940
Common DNP Courses
Students of DNP programs will likely take some of the following courses, though specific course names may vary by school.
Funding a DNP Program
Earning a DNP degree is a significant financial investment, but there are opportunities to lower the total cost. The first step prospective DNP students should take is to apply for federal and state financial aid by filling out the FAFSA. This form is used by the federal government to determine how much money students will need, in the form of grants and loans, to pay for their education. Institutions also use this information to award school and program-specific scholarships and grants.
Scholarships and grants are one of the best ways to fund a degree program because they don't require repayment. Many schools offer graduate-level scholarships and grants, and funding specifically for nursing students. Prospective DNP students should check their school's financial aid webpage for more information about scholarships offered by their institution. There are also many nursing and healthcare organizations that offer scholarships and grants to nursing students, including the Health Resources and Service Administration, an agency of the U.S. Bureau of Health Workforce, which provides scholarships to nursing students who plan to work in facilities with nurse shortages. Other opportunities are offered by the American Association of Colleges of Nursing (AACN), the Association of periOperative Registered Nurses (AORN), and the American Association of Nurse Practitioners (AANP). The Maryland Action Coalition has compiled a list of additional grants and scholarships available to DNP students.
Many DNP students also qualify for loan repayment programs. The U.S. Department of Health and Human Services offers a Nurse Corps Loan Repayment Program that repays up to 85% of student loan debt for licensed registered nurses, advanced practice registered nurses (APRNs), and other nurse faculty members who work in either an accredited school of nursing or facilities with healthcare worker shortages. Some schools also participate in the Nurse Faculty Loan Program. This option is a good choice for DNP students who plan to go into nursing education – up to 85% of their student loans can be forgiven if they work in a school of nursing for four years post-graduation.
Those who work in government or nonprofit hospitals or healthcare facilities may also qualify for the Public Service Loan Forgiveness program. Under this program, the federal government forgives the remaining balance on any federal Direct Loans after 120 payments. Prospective DNP students should also check with their employer to see if any tuition reimbursement opportunities are available. Many employers will fund part of an employee's tuition, enabling them to pursue more education.
Frequently Asked Questions About Affordable Online DNP Programs
Do DNPs and NPs earn different salaries?
Nurse practitioners (NPs) are APRNs who work in a wide range of settings. They diagnose, treat, and emphasize overall health in patients by educating them on disease prevention, health management, and healthy lifestyle choices. Those who hold a DNP earn $6,000 more per year than nurse practitioners who hold an MSN, according to salary data from PayScale. Nurse Practitioner (NP) is a position within the healthcare field, while a DNP is a degree. A DNP and an MSN both qualify healthcare professionals for APRN roles. However, DNP graduates are prepared for more advanced nursing research and leadership roles or positions as faculty members or administrators in a school of nursing. A doctorate will be required to enter the field as a certified registered nurse anesthetist (CRNA), one of the highest-paid nursing positions, beginning in 2025. This change in education requirements will offer further financial incentives for nurses to earn a DNP.
How much does an online DNP program cost?
Online programs are often more affordable than their on-campus counterparts. While there is limited data on the average cost of an online graduate degree, bachelor's degrees are significantly more affordable online, especially for out-of-state students or those who attend private colleges and universities. The cost of a DNP degree can range from under $5,000 to more than $50,000 per year. Our list of the most affordable online DNP programs includes degrees with annual tuition rates under $9,000.
A DNP program will likely cost more for those who hold a Bachelor of Science in Nursing than it will for those who hold a Master of Science in Nursing. Many schools offer both BSN to DNP and MSN to DNP programs.
What factors should I consider when choosing a DNP program?
Accreditation is one of the most important factors to consider when choosing a DNP degree. Enrollment in an accredited Doctor of Nursing Practice program ensures that graduates will qualify for licensure and certification in whatever nursing position they choose to pursue. Employers may prefer to hire nurses who have completed a program accredited by the Commission on Collegiate Nursing Education (CCNE) or the Accreditation Commission for Education in Nursing (ACEN). These organizations are the only accreditors recognized by the U.S. Department of Education as accreditors for nursing programs. They ensure nursing programs are held to universal academic standards and meet specific industry requirements to better prepare nurses for healthcare roles.
Prospective students should also consider what DNP program options a school has available. There are many specializations within these programs, including adult-gerontological acute care, family nurse practitioner, nursing administration, neonatal nurse practitioner, nursing informatics, public health administration, women's health, and nurse educator tracks.
Students enrolled in a DNP program need at least 1,000 clinical practice hours. Those considering an online program should look closely at the requirements to ensure they can complete their nursing practicum locally. This is especially important for nurses who want to complete clinical hours at their current place of work.
Students who plan to seek APRN certification should check the eligibility requirements for their intended specialization when choosing a program. Each APRN certification has specific criteria for supervised clinical experience hours, program accreditation, and core competencies that must be included in the coursework.
Should I get my MSN or DNP?
Nursing professionals who currently hold a Bachelor of Science in Nursing may be considering either an MSN or DNP program. Choosing between these different levels of education is a personal decision that will depend on individual career goals and how much time and money a student is able to dedicate to their studies. Both degrees will allow nurses to become APRNs. Generally, earning a DNP is a better choice for nurses seeking roles in leadership, administration, education, or research. Earning an MSN can lead to specialized nursing roles.
The major differences between these two degrees are cost, length of time to completion, and salary benefits. Earning an MSN will likely take less time and cost less than earning a DNP, but may also mean lower average salary rates, depending on the specialty area or chosen career path. Earning a DNP will require more credit hours, take a longer amount of time, and may be more expensive, depending on the program. However, a DNP may be necessary for some positions and may qualify nurses for higher pay.