2020 Most Affordable Online Colleges Offering Doctoral Programs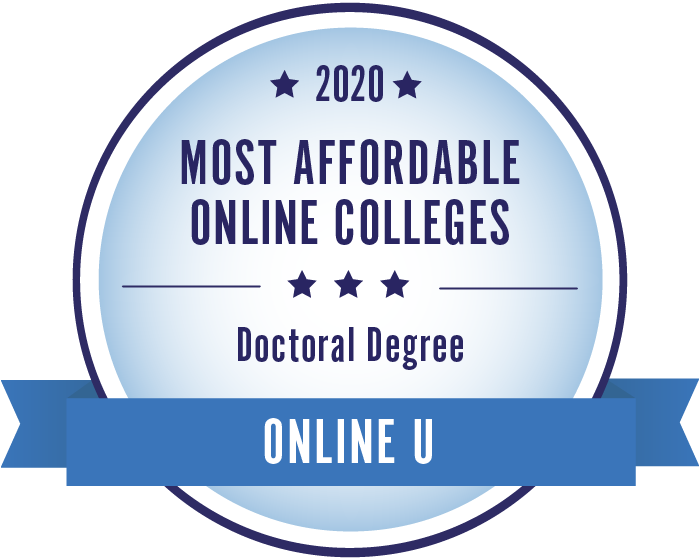 View Rankings by Subject »
With annual tuition rates under $14,000 per year, the 25 colleges and universities on our ranking list offer affordable online doctoral programs. People pursue doctorates for a number of reasons, including to conduct research, pursue leadership roles, and gain specialized knowledge. Earning a terminal degree may also lead to higher salaries, and PayScale reports that the average salary for doctoral degree holders is $98,550. Collectively, schools on our list offer doctorates in education, engineering, healthcare, and information technology, among other fields.
We've provided information about ranked schools, in addition to program-specific doctoral degree rankings, and a list of the Overall Most Affordable Colleges. We've also included answers to frequently asked questions about doctoral programs. View our methodology or learn more about OnlineU.
All tuition numbers were manually collected and verified
Rank
School

Annual Tuition

Online Doctoral Degrees
#

1

Valdosta State University

$4,395

3
#

2

Amridge University

$5,000

9
#

3

University of Missouri

$5,518

17
#

4

University of Arkansas at Little Rock

$5,745

4
#

5

Jacksonville State University

$6,000

5
#

6

University of Arkansas

$6,029

6
#

7

Bethel University - MN

$6,368

10
#

8

Aspen University

$6,750

8
#

9

University of Southern Mississippi

$7,186

8
#

10

New Mexico State University

$7,191

5
#

11

Troy University

$7,410

7
#

12

University of the Cumberlands

$7,500

71
#

13

University of Florida

$8,110

12
#

14

Murray State University

$8,160

14
#

15

Bay Path University

$8,550

30
#

16

Mississippi State University

$8,802

19
#

17

Old Dominion University

$8,925

12
#

18

Hampton University

$9,383

7
#

19

Auburn University

$9,450

2
#

20

University of Alabama

$9,660

6
#

21

University of North Dakota

$9,932

13
#

22

The University of Tennessee - Knoxville

$10,710

15
#

23

Northern Illinois University

$11,029

3
#

24

Virginia Commonwealth University

$11,200

6
Frequently Asked Questions About Affordable Online Doctoral Degrees
Are there financial aid options available for doctoral students?
Individuals considering an online doctorate degree have a number of options for financial aid. Like their on-campus counterparts, PhD candidates may pursue the types of financial aid that do not have to be paid back, such as grants, scholarships, fellowships, and federal work-study programs. Students may also be eligible for tuition discounts due to military service or for tuition reimbursement through their employers.
If none of these options are available, or if they do not adequately cover all financial needs, doctoral students can also apply for federally funded loans by filling out the FAFSA form or for private loans through banks and other financial institutions. Before applying, students can utilize the loan simulator at studentaid.gov to calculate a repayment plan.
When applying for financial aid, prospective doctoral students may specify whether they're planning to study full time or part time, the fact that they intend to enroll in an online program, and whether the school is regionally or nationally accredited. All of these factors may affect their eligibility for financial aid. Note that many schools also have financial aid counselors on staff who can assist students in developing a payment plan.
How do I obtain funding for my online PhD program?
Some colleges and universities provide financial assistance to students enrolled in PhD programs, especially research-related ones, through various forms of funding. Funding often takes the form of stipends for teaching, traineeships, or conducting research on behalf of the school, but these activities all require doctoral students to be on campus. Online PhD students may still be eligible for some tuition grants, school-sponsored fellowships, and health insurance benefits, but they may not be able to obtain a sufficient amount of funding directly from the schools they are attending. Like many of their on-campus counterparts, they may need external forms of financial aid.
What are the similarities between online and in-person doctoral programs?
There are many similarities between online and in-person programs at the doctoral level. In terms of admission requirements, applicants must have earned at least a bachelor's degree with a high GPA, have competitive GRE or other entrance exam scores, and provide positive references and personal essays. The fields and various types of degrees offered online are almost as extensive as their traditional counterparts. The curricula are also comparable, requiring similar investments of time and effort, and involving the same research methods. Provided students have attended credible, accredited schools, their online degrees should typically command the same respect as in-person terminal degrees.
What are some popular doctoral degrees to earn online?
Doctoral degrees in a vast array of fields are available through distance education programs. Some of the most commonly offered online PhD subjects include criminal justice, healthcare administration, psychology, engineering, counseling, information technology, business management, and organizational leadership. Even more popular are the Doctor of Nursing Practice (DNP) and the Doctor of Education (Ed.D.) degrees, two online doctoral programs that are available in many concentrations and specializations. This reflects the findings of the National Center for Education Statistics about all doctoral programs (both online and in-person), which show that the number of healthcare-related doctorates earned since 2001 has increased by 106% and the number of doctoral degrees earned in education since 2001 has increased by 103%.
What many of these programs have in common is their focus on practical application. Individuals who pursue these degrees are often working professionals, such as educators, nurses, and executives, who want to further their careers with enhanced leadership skills and knowledge. Because they're employed full-time, many prospective doctoral candidates prefer the convenience and flexibility of distance learning.