2020 Most Affordable Early Childhood Education Degrees Online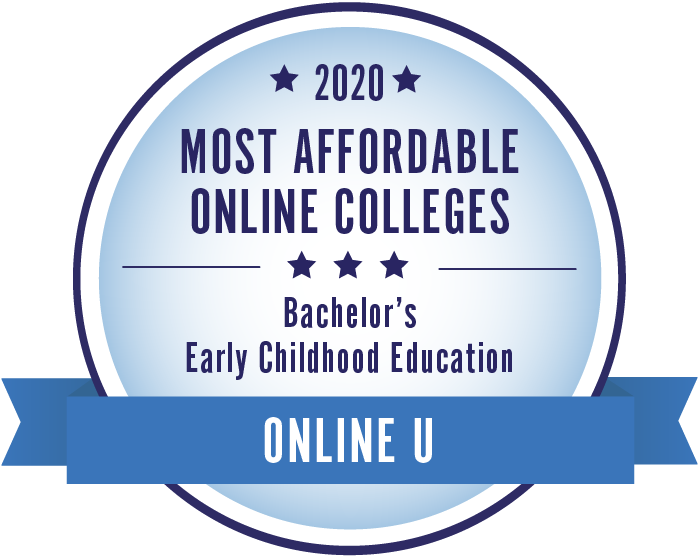 Ranked by affordability, these 22 schools all offer online low-cost bachelor's degrees in early childhood education. In first place, Aspen University is the most affordable school, with a tuition rate of $4,500. Classes for Aspen University's B.S. in Early Childhood Education include Children with Special Needs, Cultural and Linguistic Diversity, Developmentally Appropriate Practices in Preschool and School Age Settings, Infant and Toddler Mental Health, Play and Learning for the Preschool Child, and Professionalism and Growth in the Early Childhood Field. Western Carolina University comes in second place, with an affordable tuition rate of $5,670 per year.
You can read more about our ranked schools below or see our Overall Most Affordable Colleges. View our methodology or learn more about OnlineU.
All tuition numbers were manually collected and verified
| Rank | School | Annual Tuition |
| --- | --- | --- |
| # 1 | Aspen University | $4,500 |
| # 2 | Western Carolina University | $5,670 |
| # 3 | Northwestern College - IA | $5,695 |
| # 4 | University of the Cumberlands | $6,368 |
| # 5 | St. Catherine University | $6,675 |
| # 6 | Wichita State University | $6,708 |
| # 7 | Florida Gateway College | $6,915 |
| # 8 | Fort Hays State University | $6,997 |
| # 9 | Fayetteville State University | $7,556 |
| # 10 | Central Methodist University | $7,800 |
| # 11 | North Seattle College | $8,391 |
| # 12 | Bay Mills Community College | $8,550 |
| # 13 | Lynn University | $9,300 |
| # 14 | Texas Tech University | $9,540 |
| # 15 | University of North Carolina at Greensboro | $10,061 |
| # 16 | Mayville State University | $10,065 |
| # 17 | Iowa State University | $10,080 |
| # 18 | National Louis University | $10,260 |
| # 19 | University of Cincinnati | $10,342 |
| # 20 | Florida International University | $10,376 |
| # 21 | South Dakota State University | $10,537 |
| # 22 | West Virginia University | $12,780 |