2019 Most Affordable Online Education Degrees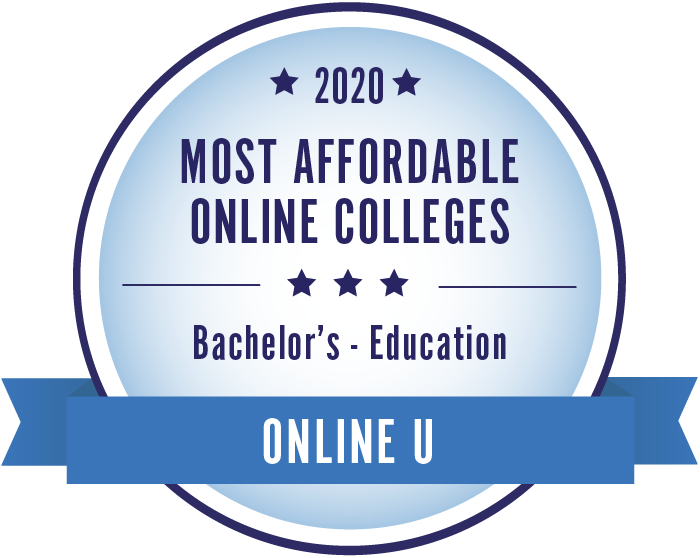 These 25 online colleges offer the most affordable education degrees. Sterling College - KS, our top-ranked school, has the lowest tuition on the list. For a BA in Elementary Education, tuition is $4,185 per year. Prospective students looking for education programs focused on specific subjects will find 10 options at Western Governors University, including programs focused on math education and science education. Students enrolled in education degree programs at Western Governors University can expect to take classes such as Assessment for Student Learning and Cultural Studies and Diversity.
All tuition numbers were manually collected and verified
Rank
College
Annual Tuition

#1

Sterling College - KS

$4,185

#2

University of the Cumberlands

$6,368

#3

Western Governors University

$6,380

#4

Fort Hays State University

$6,997

#5

The Baptist College of Florida

$7,130

#6

Central Methodist University

$7,500

#7

Valley City State University

$8,070

#8

University of Southern Mississippi

$8,218

#9

Florida International University

$8,993

#10

Mayville State University

$9,440

#11

Dakota State University

$9,861

#12

Granite State College

$10,650

#13

Stephen F. Austin State University

$10,860

#14

Mississippi State University

$11,036

#15

University of Missouri

$11,091

#16

Indiana Wesleyan University Online - Adult Education

$11,250

#17

Wilmington University

$11,532

#18

(tie)

Liberty University

$11,700

#18

(tie)

University of Arkansas at Monticello

$11,700

#20

Park University

$11,970

#21

University of Louisiana-Monroe

$12,000

#22

Mount Vernon Nazarene University

$12,338

#23

University of Nebraska at Kearney

$12,660

#24

Midway University

$12,750

#25

Kansas State University

$13,964
Most Affordable Education College Details
For each school ranked above, we conducted manual research to provide prospective students with more details about the schools' education programs. Explore education class offerings, degrees offered, and accreditation information below.
75%

of users found this page helpful
Was this page helpful?