2020 Most Affordable Online Education Degrees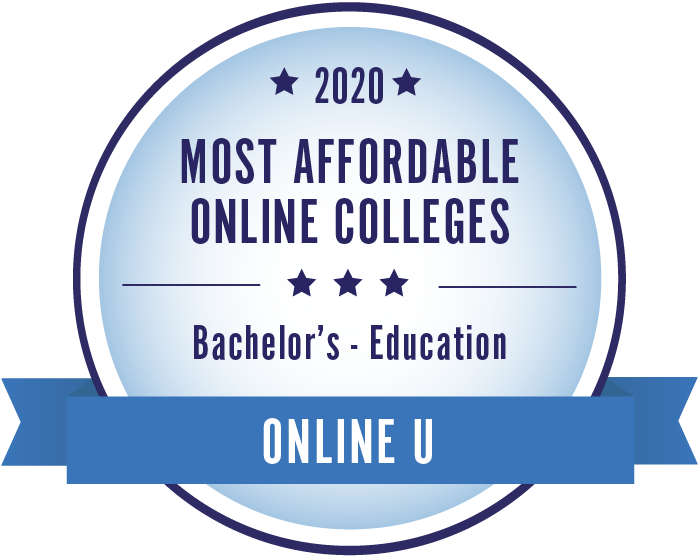 These 24 colleges offer the most affordable online bachelor's in education degrees. In first place, Tennessee State University is the most affordable school, with a tuition rate of $4,200. Ranked #2, the University of the Cumberlands offers a Bachelor of Science in Elementary Education at a tuition rate of $6,368 annually. Students can choose from concentrations in English/Communications, Social and Behavioral Studies, and Special Education. Courses for these programs include Basic Concepts Concerning Education, Classroom Management and Behavior, Concepts of Mathematics for the Elementary and Middle School Teacher, Effective Teaching Practices, and The Middle School.
You can read more about our ranked schools below or see our other education rankings. View our methodology or learn more about OnlineU.
All tuition numbers were manually collected and verified
Rank
School

Annual Tuition

#

1

Tennessee State University

$4,200

#

2

University of the Cumberlands

$6,368

#

3

Wichita State University

$6,708

#

4

Western Governors University

$6,750

#

5

Fort Hays State University

$6,778

#

6

Eastern New Mexico University-Main Campus

$7,492

#

7

Athens State University

$7,626

#

8

Arkansas State University

$7,740

#

9

Central Methodist University

$7,800

#

10

University of Arkansas at Little Rock

$8,400

#

11

SUNY College at Oswego

$8,480

#

12

University of Southern Mississippi

$8,624

#

13

Saint Mary-of-the-Woods College

$8,804

#

14

Utah State University

$9,001

#

15

Mayville State University

$9,150

#

16

Midwestern State University

$9,166

#

17

Lynn University

$9,300

#

18

University of Wisconsin-Superior

$9,455

#

19

Southern Illinois University - Carbondale

$9,637

#

20

Ouachita Baptist University

$9,750

#

21

Troy University

$10,140

#

22

(tie)

Arizona Christian University

$10,200

#

22

(tie)

Lees-McRae College

$10,200

#

24

University of West Alabama

$10,400