2018 Most Affordable Online Colleges for Elementary Education Degrees
100%

of users found this page helpful
Was this page helpful?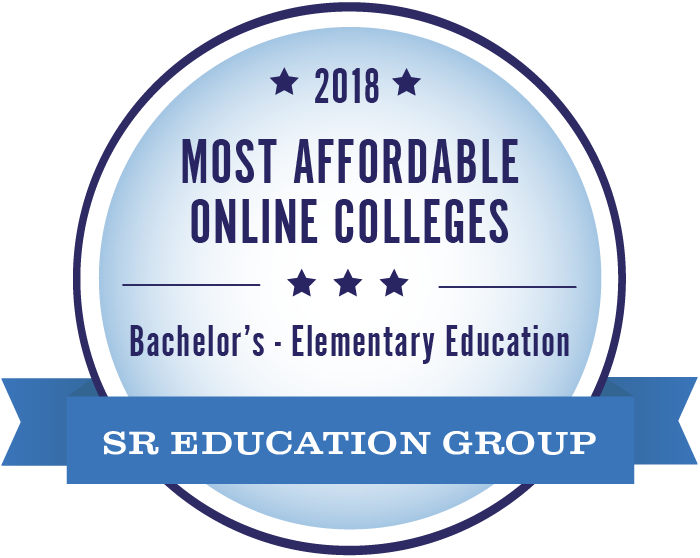 Students who are searching for an affordable online bachelor's program in elementary education will find a variety of options on this list. These 25 schools below have yearly tuition rates ranging from $6,368 to $14,070. Top-ranked University of the Cumberlands offers a Bachelor of Science in Elementary Education, as well as a Master of Arts in Teaching - Elementary Education. University of Wisconsin-Superior is ranked #9 for an annual tuition of $9,270 and offers both a Bachelor of Science and a Bachelor of Arts in Education, with Elementary or K-12 Art, Music, Physical Education as possible specializations.
You can read more about our ranked schools below or browse our 2018 rankings of the most affordable online master's in elementary education programs. View our methodology or learn more about SR Education Group.
All tuition numbers were manually collected and verified
Rank
College
Annual Tuition

#1

University of the Cumberlands

Annual Tuition

$6,368

#2

Western Governors University

Annual Tuition

$6,380

#3

Fort Hays State University

Annual Tuition

$6,826

#4

Central Methodist University

Annual Tuition

$7,500

#5

The Baptist College of Florida

Annual Tuition

$7,680

#6

Bemidji State University

Annual Tuition

$8,530

#7

University of Southern Mississippi

Annual Tuition

$8,818

#8

Northcentral University

Annual Tuition

$9,265

#9

University of Wisconsin-Superior

Annual Tuition

$9,270

#10

Granite State College

Annual Tuition

$10,350

#11

Sterling College - KS

Annual Tuition

$10,500

#12

Wilmington University

Annual Tuition

$10,890

#13

Mississippi State University

Annual Tuition

$11,010

#14

Dakota State University

Annual Tuition

$11,290

#15

Liberty University

Annual Tuition

$11,700

#16

North Greenville University

Annual Tuition

$11,850

#17

University of Louisiana-Monroe

Annual Tuition

$12,000

#18

Colorado Mesa University

Annual Tuition

$12,182

#19

Asbury University

Annual Tuition

$12,369

#20

Midway University

Annual Tuition

$12,750

#21

St Petersburg College

Annual Tuition

$12,773

#22

Bethune-Cookman University

Annual Tuition

$13,440

#23

Kansas State University

Annual Tuition

$13,856

#24

Colorado Christian University

Annual Tuition

$14,070

#25

Regis University

Annual Tuition

$14,100