2018 Most Affordable Online Colleges for a Master's in Elementary Education
0%

of users found this page helpful
Was this page helpful?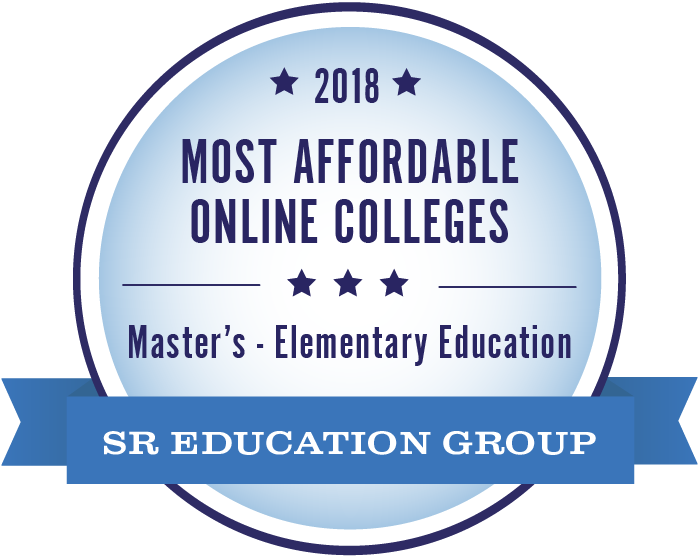 These 26 schools offer the most affordable online Master's in Elementary Education programs. With the lowest tuition, American College of Education is ranked #1 for an annual tuition of $3,995 and offers such as a Master of Arts in Elementary Teaching and a Master of Education in Elementary Education. Ranked #6, Western Illinois University offers a Master of Science in Education in Elementary Education with specializations in elementary curriculum and literacy education for a tuition of $5,604 per year.
You can read more about our ranked schools below or browse our 2018 rankings of the most affordable online bachelor's in elementary education degrees. View our methodology or learn more about SR Education Group.
All tuition numbers were manually collected and verified
Rank
College
Annual Tuition

#1

American College of Education

Annual Tuition

$3,995

#2

Missouri State University

Annual Tuition

$4,845

#3

University of Central Missouri

Annual Tuition

$5,103

#4

Southeast Missouri State University

Annual Tuition

$5,302

#5

William Carey University

Annual Tuition

$5,550

#6

Western Illinois University

Annual Tuition

$5,604

#7

University of Alabama

Annual Tuition

$5,775

#8

University of New Mexico

Annual Tuition

$5,806

#9

University of North Dakota

Annual Tuition

$5,925

#10

Jacksonville State University

Annual Tuition

$6,112

#11

Chadron State College

Annual Tuition

$6,277

#12

American Public University System

Annual Tuition

$6,300

#13

Gardner Webb University

Annual Tuition

$6,363

#14

Marshall University

Annual Tuition

$6,583

#15

Southern Arkansas University

Annual Tuition

$6,600

#16

University of the Cumberlands

Annual Tuition

$6,615

#17

University of Alabama in Huntsville

Annual Tuition

$6,732

#18

Minnesota State University at Mankato

Annual Tuition

$6,909

#19

Valley City State University

Annual Tuition

$6,915

#20

Eastern New Mexico University-Main Campus

Annual Tuition

$7,044

#21

University of Southern Mississippi

Annual Tuition

$7,065

#22

West Virginia University

Annual Tuition

$7,335

#23

University of Northern Iowa

Annual Tuition

$7,470

#24

University of South Alabama

Annual Tuition

$7,500

#25

(tie)

Eastern Kentucky University

Annual Tuition

$7,650

#25

(tie)

Slippery Rock University of Pennsylvania

Annual Tuition

$7,650