2020 Most Affordable Online Master's in Emergency Management Programs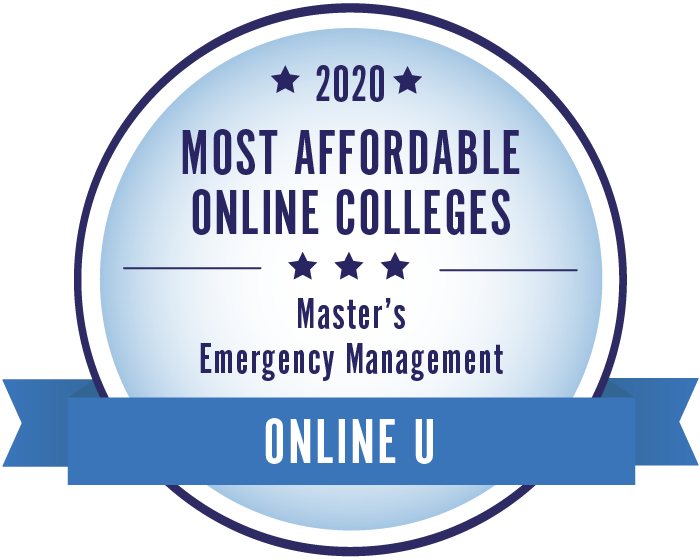 These 24 schools make up the most affordable options for obtaining an online master's degree in emergency management, with all of their annual tuition rates priced at less than $12,000. Arkansas State University, the #1 option, charges only $4,986 per year. Ranked #2, Columbia Southern University offers an annual tuition rate of just $5,670. Prospective students can choose from an M.S. in Emergency Services Management or a Master of Public Administration-Emergency Services Management.
You can read more about our ranked schools below or browse our rankings of the most affordable online bachelor's in emergency management degrees. View our methodology or learn more about OnlineU.
All tuition numbers were manually collected and verified
| Rank | School | Annual Tuition |
| --- | --- | --- |
| # 1 | Arkansas State University | $4,986 |
| # 2 | Columbia Southern University | $5,670 |
| # 3 | American Public University System | $7,000 |
| # 4 | California State University-Long Beach | $7,984 |
| # 5 | Auburn University at Montgomery | $8,100 |
| # 6 | Arizona State University | $8,512 |
| # 7 | Millersville University of Pennsylvania | $9,026 |
| # 8 | University of Alaska Fairbanks | $9,240 |
| # 9 | Sam Houston State University | $9,283 |
| # 10 | Excelsior College | $9,675 |
| # 11 | Park University | $9,860 |
| # 12 | University of Wisconsin-Oshkosh | $9,900 |
| # 13 | Upper Iowa University | $9,990 |
| # 14 | University of Central Florida | $10,422 |
| # 15 | Saint Leo University Online | $10,620 |
| # 16 | Nova Southeastern University | $10,692 |
| # 17 | Eastern Kentucky University | $10,998 |
| # 18 | Southern New Hampshire University Online | $11,286 |
| # 19 | University of Colorado Denver | $11,358 |
| # 20 | CUNY John Jay College of Criminal Justice | $11,445 |
| # 21 | Arkansas Tech University | $11,680 |
| # 22 | University of Maryland Global Campus | $11,862 |
| # 23 | National University | $11,934 |
| # 24 | University of Nebraska at Omaha | $12,000 |