2020 Most Affordable Online Colleges for Engineering Degrees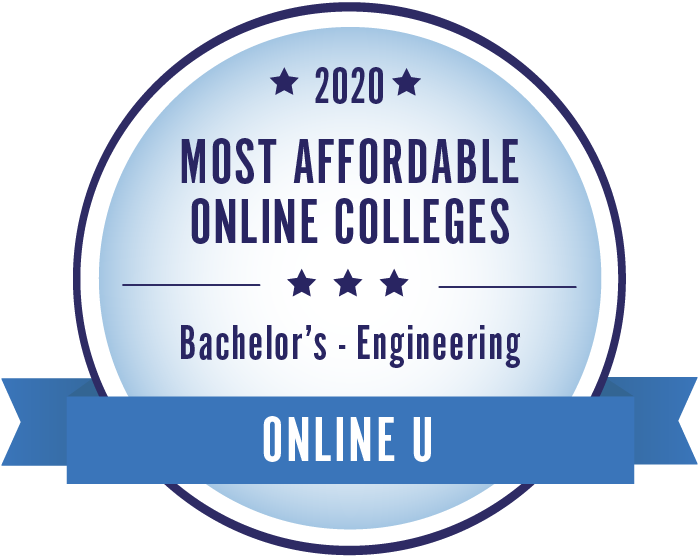 This page lists 25 accredited colleges with affordable online bachelor's degrees in engineering. A bachelor's degree provides an entry point into an engineering career, with prospects improving as professionals gain experience and further education. The Bureau of Labor Statistics (BLS) anticipates steady job growth in most engineering disciplines, and engineers make twice the median salary of all other occupations in the United States. Schools on this list offer many distinct engineering disciplines, so it's important to research the correct type of program during a school search. Below we've provided information about common engineering courses and answers to frequently asked questions.
You can read more about our ranked schools below or see our other engineering rankings. View our methodology or learn more about OnlineU.
All tuition numbers were manually collected and verified
Rank
School
Annual Tuition

#

1

Lamar University

$7,440

#

2

University of the Potomac

$7,785

#

3

American Public University System

$8,640

#

4

Middle Georgia State University

$8,670

#

5

Bemidji State University

$8,758

#

6

Southern New Hampshire University Online

$9,600

#

7

Southern Illinois University - Carbondale

$9,637

#

8

Stony Brook University

$10,590

#

9

Florida International University

$11,067

#

10

Saint Leo University Online

$11,100

#

11

University of Alabama

$12,000

#

12

Old Dominion University

$12,210

#

13

MidAmerica Nazarene University

$12,570

#

14

Regent University Online

$12,640

#

15

Embry-Riddle Aeronautical University-Worldwide

$13,216

#

16

Upper Iowa University

$14,130

#

17

University of North Dakota

$14,410

#

18

Pennsylvania State University-World Campus

$14,594

#

19

Arizona State University

$15,900

#

20

National University

$16,650

#

21

University of Arizona

$18,000

#

22

University of Advancing Technology

$18,900

#

23

Keiser University

$19,808

#

24

University of Alabama at Birmingham

$20,010

#

25

Cogswell College

$24,750
Most Affordable Engineering College Details
For each school ranked above, we conducted manual research to provide prospective students with more details about the schools' engineering programs. Explore engineering class offerings, degrees offered, and accreditation information below.
Common Engineering Courses
The following are examples of courses that engineering students might take in an online program. Many programs will offer coursework about these topics, though course names may vary.
Frequently Asked Questions About Affordable Online Engineering Degrees
What kind of engineering degree should I pursue?
Engineering is a broad discipline: OnlineU lists degree programs in nine different specializations, and the BLS notes 16 types of engineering careers. When deciding on an engineering degree program, consider how closely your interests and skills align with one of the career categories. Look into mechanical, industrial, aerospace, or electronics engineering if you like to build things or improve processes. If you're interested in energy use, you may want to study nuclear, petroleum, or environmental engineering. Each discipline listed in the BLS Occupational Outlook Handbook notes the important qualities needed to succeed.
What affordability factors should I consider during my school search?
You want to consider tuition, fees, and post-graduation debt, along with your likely return on investment (ROI). Our research has found that, on average, schools charge online students the same tuition or less compared to on-campus students. Notably, distance learning may come with additional technology fees, along with equipment rental or purchase considerations. Finally, consider the likely return on your investment: you may be comfortable with the risk of a costlier program (and more debt) if it improves your salary prospects later in your career. Our sister site, OnlineU.com, provides ROI scores in school rankings.
Are there financial aid options for online engineering programs?
Most students at all degree levels use some form of financial aid. Enrolling in an accredited degree program opens up federal financial aid options, so check that your preferred program is nationally or regionally accredited. Federal financial aid includes grants and scholarships, loans that accrue interest after graduation, and work-study or research-study plans that pay students to work for their schools or participating organizations. Scholarships and grants can be crucial to reducing future debt by lowering total tuition, and you don't need to repay them if you remain in good academic standing. The government offers a range of needs- and merit-based programs, as do individual schools, so you may consider these important options before turning to loans.