2018 Most Affordable Online Colleges for a Master's in Engineering Management
100%

of users found this page helpful
Was this page helpful?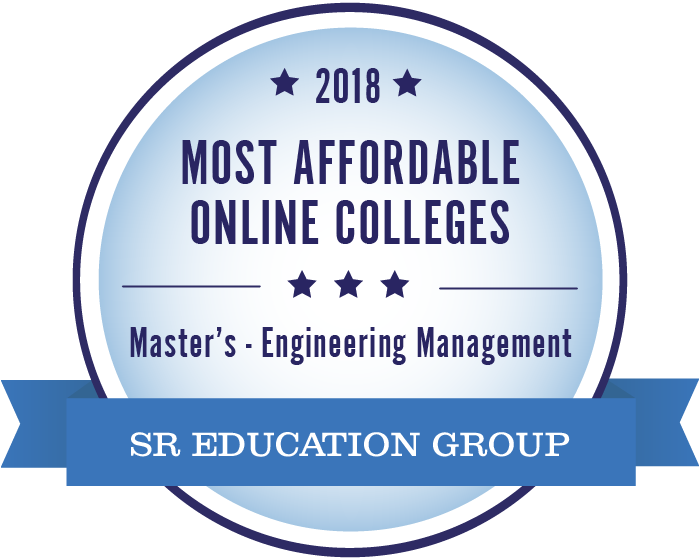 With tuition rates between $7,000 and $16,000 per year, these 25 schools offer affordable online master's degrees in computer engineering. The top-ranked school, Arkansas State University, offers a Master of Engineering Management for the low cost of $7,488 per year. At #2 on the list, University of Alabama at Birmingham offers a Master in Engineering Information Engineering and Management for a reasonable rate of $7,429 per year.
You can read more about our ranked schools below or browse our 2018 rankings of the most affordable online master's programs. View our methodology or learn more about SR Education Group.
All tuition numbers were manually collected and verified
Rank
College
Annual Tuition

#1

Arkansas State University

Annual Tuition

$7,488

#2

University of Alabama at Birmingham

Annual Tuition

$7,429

#3

Old Dominion University

Annual Tuition

$8,608

#4

Louisiana Tech University

Annual Tuition

$9,175

#5

Trine University Online

Annual Tuition

$9,225

#6

University of Nebraska-Lincoln

Annual Tuition

$9,450

#7

South Dakota School of Mines and Technology

Annual Tuition

$9,772

#8

Northern Illinois University

Annual Tuition

$10,050

#9

University of Louisville

Annual Tuition

$10,710

#10

Rowan University

Annual Tuition

$12,000

#11

Tarleton State University

Annual Tuition

$12,494

#12

Florida International University

Annual Tuition

$12,500

#13

Southern New Hampshire University Online

Annual Tuition

$12,540

#14

Kansas State University

Annual Tuition

$12,570

#15

The University of Texas at Tyler

Annual Tuition

$12,942

#16

Highlands College of Montana Tech

Annual Tuition

$13,200

#17

National University

Annual Tuition

$13,312

#18

Ohio University-Main Campus

Annual Tuition

$13,684

#19

Arizona State University

Annual Tuition

$13,710

#20

Salem University

Annual Tuition

$13,950

#21

Colorado State University-Fort Collins

Annual Tuition

$14,775

#22

LeTourneau University

Annual Tuition

$15,375

#23

Oakland University

Annual Tuition

$15,405

#24

George Washington University - Engineering

Annual Tuition

$15,480

#25

University of North Carolina at Charlotte

Annual Tuition

$15,694