2020 Most Affordable Master's in Engineering Management Online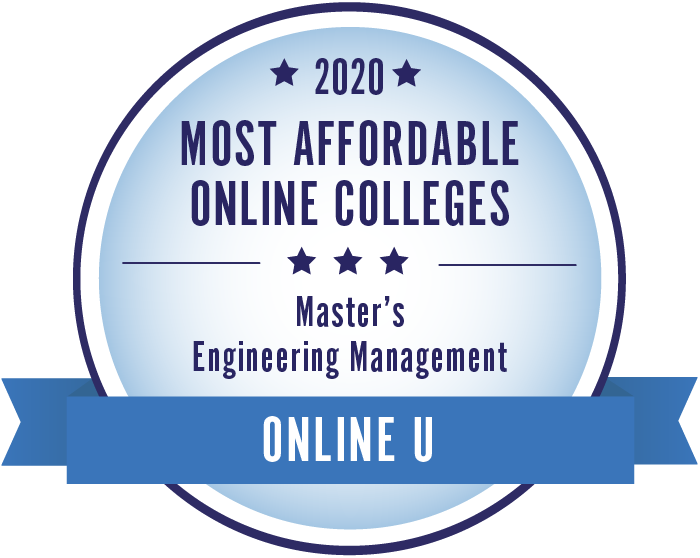 These 25 schools make up the most affordable options for obtaining an online master's degree in engineering management, with all of their annual tuition rates priced at less than $12,000. At #1, Montana Technological University offers an online Master of Science in Project Engineering and Management for only $3,921 per year. In the #2 spot is the University of New Orleans, offering a Master of Science in Engineering Management for $4,007 per academic year. Clasess for this program include Business Information System Analysis and Design, Innovation Concepts and Methodologies, Innovation Management, and Knowledge Management.
You can read more about our ranked schools below or browse our rankings of the most affordable online master's programs. View our methodology or learn more about OnlineU.
All tuition numbers were manually collected and verified
| Rank | School | Annual Tuition |
| --- | --- | --- |
| # 1 | Montana Technological University | $3,921 |
| # 2 | University of New Orleans | $4,007 |
| # 3 | University of Arkansas | $4,558 |
| # 4 | Texas Tech University | $5,670 |
| # 5 | Kennesaw State University | $5,745 |
| # 6 | American Public University System | $6,300 |
| # 8 | Saint Cloud State University | $7,200 |
| # 9 | Northern Illinois University | $8,185 |
| # 10 | University of Idaho | $8,235 |
| # 11 | Trine University Online | $8,475 |
| # 12 | Arizona State University | $8,512 |
| # 13 | The University of Tennessee - Chattanooga | $8,580 |
| # 14 | Old Dominion University | $8,925 |
| # 15 | University of South Carolina - Columbia | $8,583 |
| # 16 | University of Massachusetts - Amherst | $9,000 |
| # 17 | University of Alabama in Huntsville | $9,255 |
| # 18 | University of Nebraska - Lincoln | $9,450 |
| # 19 | Arkansas State University | $9,510 |
| # 20 | Indiana Institute of Technology | $10,026 |
| # 21 | University of Central Florida | $10,422 |
| # 22 | Iowa State University | $10,425 |
| # 23 | South Dakota School of Mines and Technology | $10,943 |
| # 24 | Southern New Hampshire University Online | $11,286 |
| # 25 | University of Louisville | $11,460 |