2018 Most Affordable Online Colleges for English Degrees
100%

of users found this page helpful
Was this page helpful?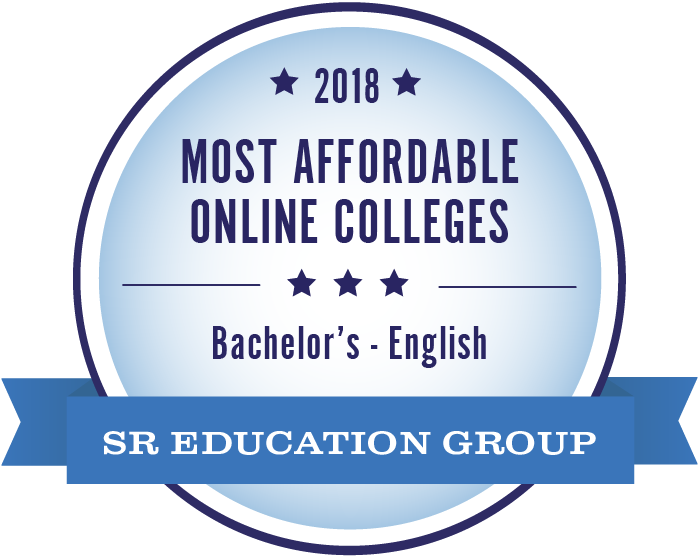 Offering online bachelor's degrees in English for under $13,000 a year, these 25 schools are the most affordable options for distance learners. Students can obtain an online Bachelor of Arts in English from #1-ranked Ohio Christian University for a yearly tuition of only $5,940. Available classes include History and Nature of the English Language, Literary Criticism, and Studies in Shakespeare. Clayton State University, ranked #2, offers an online bachelor's in English program for only $7,040 per year.
You can read more about our ranked schools below or browse our 2018 rankings of the most affordable online master's in english programs. View our methodology or learn more about SR Education Group.
All tuition numbers were manually collected and verified
Rank
College
Annual Tuition

#1

Ohio Christian University

Annual Tuition

$5,940

#2

Clayton State University

Annual Tuition

$7,040

#3

The Baptist College of Florida

Annual Tuition

$7,200

#4

Great Basin College

Annual Tuition

$7,282

#5

Clarion University

Annual Tuition

$8,092

#6

American Public University System

Annual Tuition

$8,100

#7

Nicholls State University

Annual Tuition

$8,250

#8

Columbia College

Annual Tuition

$9,150

#9

(tie)

Holy Apostles

Annual Tuition

$9,600

#9

(tie)

Southern New Hampshire University Online

Annual Tuition

$9,600

#11

Wichita State University

Annual Tuition

$9,612

#12

Troy University

Annual Tuition

$10,140

#13

Granite State College

Annual Tuition

$10,350

#14

Eastern Oregon University

Annual Tuition

$10,440

#15

Antioch University Online

Annual Tuition

$10,500

#16

Indiana University - East

Annual Tuition

$10,784

#17

University of Central Florida

Annual Tuition

$10,866

#18

King University

Annual Tuition

$10,980

#19

Assumption College

Annual Tuition

$11,130

#20

Washington State University

Annual Tuition

$11,335

#21

University of Massachusetts-Lowell

Annual Tuition

$11,400

#22

Regent University Online

Annual Tuition

$11,850

#23

University of Illinois at Springfield

Annual Tuition

$12,217

#24

Mercy College

Annual Tuition

$12,360

#25

Rogers State University

Annual Tuition

$12,670