2020 Most Affordable Master's in English Online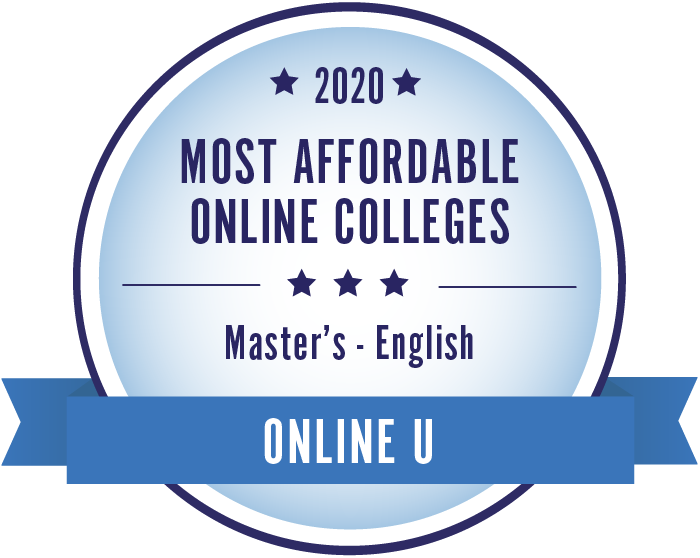 The 24 schools in this list represent the most affordable options for obtaining an online master's degree in English. The University of Wyoming, ranked #1, offers an online Master of Arts in English for only $4,185 per year. Fort Hays State University, ranked #2, has an annual tuition rate $4,604 for their Master of Liberal Studies in Literary Arts. Classes for this program include Film and Literature, Literary Visions, Literature and the Environment, Nineteenth Century Women Writers, The British Novel, and The Novella.
You can read more about our ranked schools below or browse our rankings of the most affordable online bachelor's in english degrees. View our methodology or learn more about OnlineU.
All tuition numbers were manually collected and verified
| Rank | School | Annual Tuition |
| --- | --- | --- |
| # 1 | University of Wyoming | $4,185 |
| # 2 | Fort Hays State University | $4,604 |
| # 3 | University of New Orleans | $4,938 |
| # 4 | Eastern Illinois University | $5,210 |
| # 5 | Valdosta State University | $5,274 |
| # 6 | University of North Alabama | $6,300 |
| # 7 | Minnesota State University at Mankato | $6,411 |
| # 8 | The University of Texas Permian Basin | $6,484 |
| # 9 | Eastern New Mexico University - Main Campus | $6,617 |
| # 10 | Texas Tech University | $6,785 |
| # 11 | Gardner Webb University | $7,035 |
| # 12 | Tiffin University | $7,875 |
| # 13 | Indiana University - Bloomington | $8,100 |
| # 14 | Murray State University | $8,160 |
| # 16 | University of Louisiana-Monroe | $8,500 |
| # 17 | Arizona State University | $8,512 |
| # 18 | University of Nebraska at Kearney | $8,892 |
| # 19 | Old Dominion University | $8,925 |
| # 20 | Wayland Baptist University | $9,272 |
| # 21 | National University | $10,166 |
| # 22 | Western New Mexico University | $10,334 |
| # 23 | South Dakota State University | $10,440 |
| # 24 | Southern New Hampshire University Online | $11,286 |