2018 Most Affordable Online Colleges for a Master's in Environmental Science
100%

of users found this page helpful
Was this page helpful?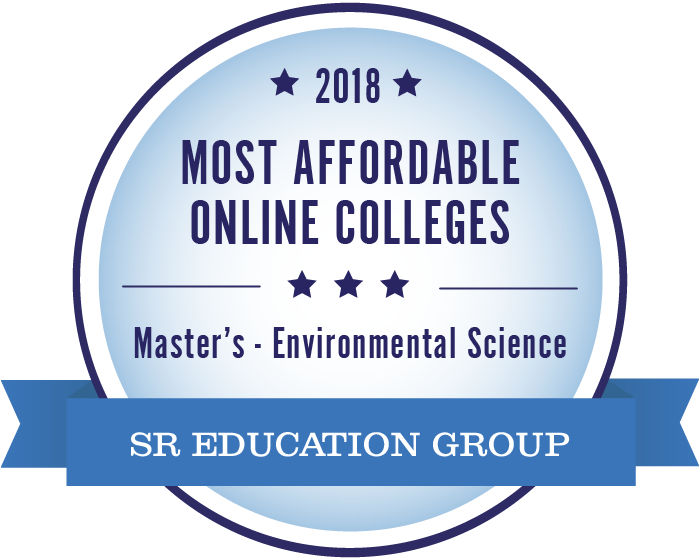 These 25 colleges rank among the most affordable online schools offering master's degrees in environmental science, with the average annual tuition for every school under $13,000. Washington State University ranks #1 with the lowest annual tuition of $5,842, and Arizona State University ranks #25 at $12,960. University of Idaho, a non-profit ranked #8, offers seven different environmental science master's programs, including degrees in Sustainable Science and Water Resource Management.
You can read more about our ranked schools below or browse our 2018 rankings of the most affordable online bachelor's in environmental science degrees. View our methodology or learn more about SR Education Group.
All tuition numbers were manually collected and verified
Rank
College
Annual Tuition

#1

Washington State University

Annual Tuition

$5,842

#2

Montana State University

Annual Tuition

$6,232

#3

American Public University System

Annual Tuition

$6,300

#4

Auburn University

Annual Tuition

$6,525

#5

Mississippi State University

Annual Tuition

$6,840

#6

Colorado State University-Fort Collins

Annual Tuition

$6,850

#7

University of Massachusetts - Amherst

Annual Tuition

$6,900

#8

University of Idaho

Annual Tuition

$7,635

#9

Slippery Rock University of Pennsylvania

Annual Tuition

$7,650

#10

Utah State University

Annual Tuition

$7,769

#11

California State University-Fresno

Annual Tuition

$7,875

#12

University of Illinois at Springfield

Annual Tuition

$8,145

#13

Wilmington University

Annual Tuition

$8,388

#14

University of Wisconsin-Stevens Point

Annual Tuition

$8,769

#15

University of Wisconsin-Whitewater

Annual Tuition

$9,561

#16

Nova Southeastern University

Annual Tuition

$10,080

#17

National University

Annual Tuition

$10,400

#18

University of Massachusetts-Dartmouth

Annual Tuition

$10,566

#19

University of Illinois Urbana - Champaign

Annual Tuition

$10,800

#20

Virginia Polytechnic Institute and State University

Annual Tuition

$11,250

#21

University of Wisconsin-Stout

Annual Tuition

$11,475

#22

University of Maryland University College

Annual Tuition

$11,862

#23

Oregon State University

Annual Tuition

$12,144

#24

Green Mountain College

Annual Tuition

$12,600

#25

Arizona State University

Annual Tuition

$12,960