2018 Most Affordable Online Colleges for a Master's in ESL
0%

of users found this page helpful
Was this page helpful?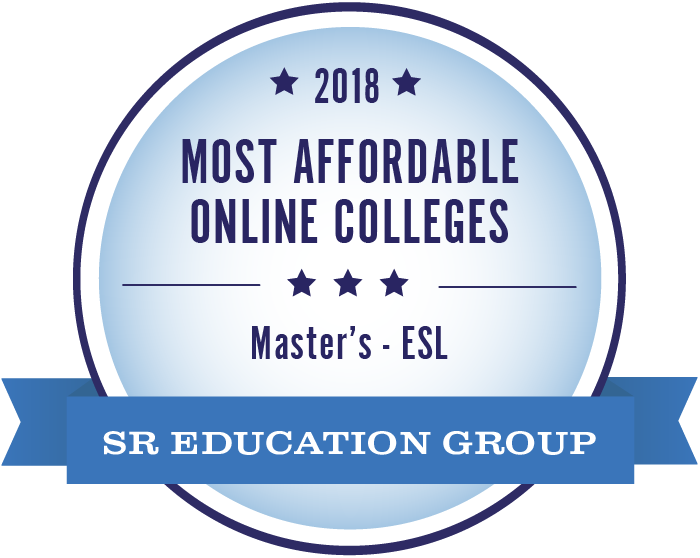 The annual tuition of all schools on this list is less than $8,500, representing the most affordable tuition for an online Master's in ESL. For lowest tuition of $3,760 a year, American College of Education is ranked #1 and offers a Master of Education in Teaching English Learners with classes such as Assessment of ESL and Bilingual Students, Linguistics for TESOL, and Curriculum and Instructional Design for Diversity. Southeast Missouri State University is ranked #7 and offers an MA in Teaching English to Speakers of Other Languages (TESOL) for a low tuition of $6,363 a year.
You can read more about our ranked schools below or browse our 2018 rankings of the most affordable online master's programs. View our methodology or learn more about SR Education Group.
All tuition numbers were manually collected and verified
Rank
College
Annual Tuition

#1

American College of Education

Annual Tuition

$3,760

#2

Fort Hays State University

Annual Tuition

$4,772

#3

Valdosta State University

Annual Tuition

$5,274

#4

University of Missouri

Annual Tuition

$6,120

#5

Roosevelt University

Annual Tuition

$6,225

#6

American Public University System

Annual Tuition

$6,300

#7

Southeast Missouri State University

Annual Tuition

$6,363

#8

Western Governors University

Annual Tuition

$6,380

#9

Union College - KY

Annual Tuition

$6,400

#10

Marshall University

Annual Tuition

$6,583

#11

Emporia State University

Annual Tuition

$6,716

#12

University of Alabama in Huntsville

Annual Tuition

$6,732

#13

Southeastern University

Annual Tuition

$6,750

#14

Kennesaw State University

Annual Tuition

$6,894

#15

Huntington University

Annual Tuition

$7,000

#16

Eastern New Mexico University-Main Campus

Annual Tuition

$7,044

#17

Campbellsville University

Annual Tuition

$7,182

#18

Sam Houston State University

Annual Tuition

$7,401

#19

Missouri Western State University

Annual Tuition

$7,488

#20

University of South Alabama

Annual Tuition

$7,500

#21

Wilmington University

Annual Tuition

$7,922

#22

University of Southern Mississippi

Annual Tuition

$8,007

#23

University of Southern Maine

Annual Tuition

$8,010

#24

Edinboro University of Pennsylvania

Annual Tuition

$8,250

#25

University of North Dakota

Annual Tuition

$8,422