2020 Most Affordable Online Colleges for a Master's in ESL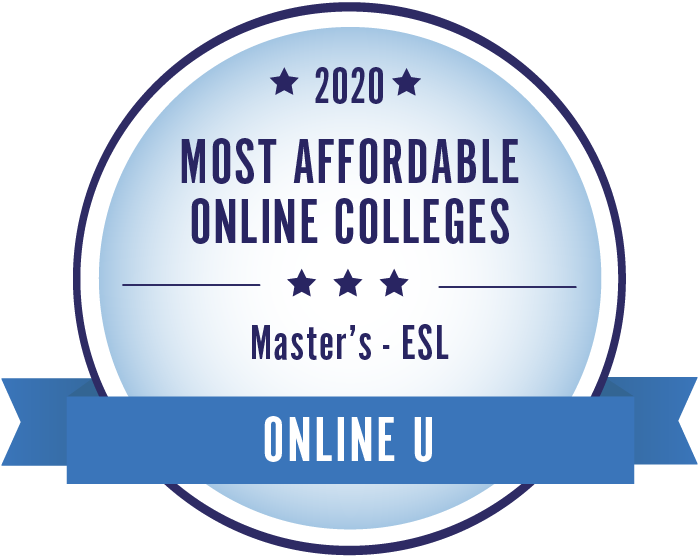 These 22 schools make up the most affordable options for obtaining an online master's degree in ESL, with all of their annual tuition rates priced at less than $8,000. Buena Vista University, our top-ranked school, has the lowest tuition on the list at only $3,750 per year. Classes at Buena Vista University include Applied Linguistics, Curriculum Development and Assessment in ESL, Differentiating Instruction for Diverse Learners, and Introduction to Second Language Acquisition. Ranked #2, Campbellsville University offers a tuition rate of $4,485 annually.
You can read more about our ranked schools below or browse our rankings of the most affordable online master's programs. View our methodology or learn more about OnlineU.
All tuition numbers were manually collected and verified
Rank
School
Annual Tuition

# 1
Buena Vista University

$3,750

# 2
Campbellsville University

$4,485

# 3
Wichita State University

$4,529

# 4
Eastern New Mexico University - Main Campus

$4,671

# 5
Fort Hays State University

$4,891

# 6
Valdosta State University

$5,274

# 7
Stephen F. Austin State University

$6,060

# 8

(tie)

American Public University System

$6,300

# 8

(tie)

University of Alabama

$6,300

# 10

(tie)

Huntington University

$6,400

# 10

(tie)

Union College - KY

$6,400

# 12
The University of Texas Permian Basin

$6,484

# 13
Trevecca Nazarene University

$6,525

# 14
University of Missouri

$6,562

# 15
Southeast Missouri State University

$6,570

# 16
Lamar University

$6,600

# 17
Pittsburg State University

$6,630

# 18
Quincy University

$6,750

# 19
Marshall University

$6,810

# 20
Saint Xavier University

$6,900

# 21
Western Governors University

$7,080

# 22
Newman University

$7,225