2020 Most Affordable Online Schools for Fashion Degrees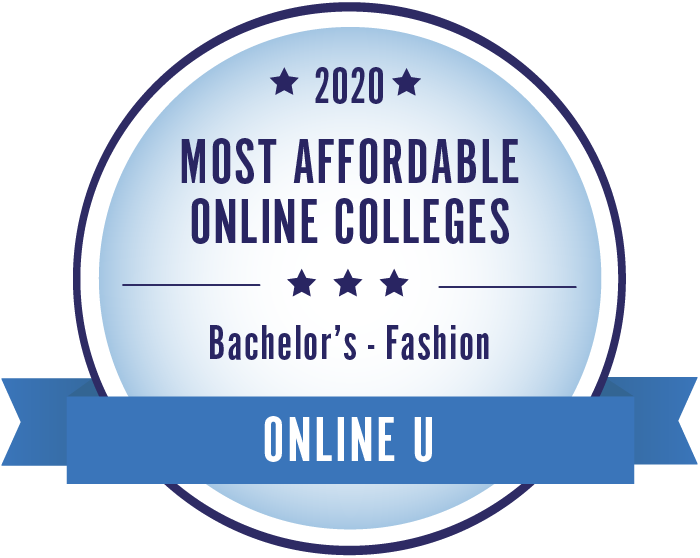 An online degree in fashion might be a good fit for someone who is passionate about the theory, techniques, and history behind current fashion trends and wants to break into the industry. Fashion design—with a median annual salary of $75,810—is one potential career choice for graduates of fashion degree programs. A degree may also open doors to careers in production, marketing, selling, and promotion.
The following is a list of the top 9 most affordable online degrees in fashion design and merchandising. We also provide information about what to expect when enrolling in an online fashion program, including common courses, options for funding, and career opportunities available to graduates.
You can read more about our ranked schools below or see our Overall Most Affordable Colleges. View our methodology or learn more about OnlineU.
All tuition numbers were manually collected and verified
Can You Get a Fashion Degree Online?
Yes, students can earn an online fashion bachelor's degree, and the number of schools offering this degree online is expected to increase in the future. Some degree programs focus on the artistic side of fashion design, others focus on the business side of fashion marketing and merchandising, and a third category of programs combine the two. You may also find schools offering additional design-oriented concentrations, such as knitwear, children's clothing, accessories, and textiles.
Fashion Degree Quick Facts
Average Credits: 120
Average Duration: 4 years
Which Degree Is Best for Fashion Designing?
If you're considering a career in the fashion industry, it can be helpful to have a bachelor's degree. Most schools that focus on fashion design will offer programs that lead to a Bachelor of Arts, Bachelor of Applied Arts, or Bachelor of Fine Arts. For those who are interested in the business side of the industry, fashion marketing and merchandising degree programs usually lead to a Bachelor of Science degree.
How Do You Become a Fashion Designer Online?
Studying fashion design online is similar to studying fashion on campus, except that you'll interact with your instructors and exchange feedback with peers via the internet. Using your own sewing machine and other creative materials at home, you'll take many hands-on courses that will help you develop your design skills and teach you about garment construction and manufacturing, known as fabrication. Other courses will provide you with an understanding of the fashion business and help develop essential communication, analytical, and problem-solving skills.
Online Fashion Courses
Online fashion design programs are designed to give students a solid foundation in the fashion industry. Often covering the entire process from design and production through distribution, programs may include many of the following:
Apparel Product Development: This course examines the creation and production of garments and other fashion products from start to finish. Students examine design trends and incorporate them into the design of their own products. Additionally, they learn how to choose and source the raw materials and plan for the manufacturing of their products.
CAD Fashion Design: In addition to courses on hand-drawn sketching and illustration, many programs teach students to use industry-standard technology—computer-aided design—in the design process. Coursework explains how to use CAD technology to turn design concepts into practical products, including digital specification sheets for their construction.
Fashion Buying, Merchandising, and Display: This course focuses on the retail end of the fashion industry. Students discover how to identify on-trend products that fit with their brands and gain a broad understanding of how to strategically promote and present these products to consumers.
History of Fashion: Many fashion design programs include a survey of fashion trends in Western history. Students learn about the types of garments that have been worn, why they were developed, and the terminology associated with fashion over the centuries.
Marketing and Promotion: A course on fashion marketing will explore all of the major aspects of promotion, pricing, and distribution, and will often use case studies to provide real-world examples. Students will learn how to develop and implement various types of media campaigns and other promotional strategies, such as fashion shows and product launches.
How Much Does a Fashion Degree Cost?
The most affordable online schools for aspiring fashion designers and marketers have an average annual tuition of $16,779. Several of them charge lower annual tuition fees for online programs than on-campus degrees, and some charge the same for both online and on-campus programs.
The most affordable online schools for aspiring fashion designers and marketers have an average annual tuition of $16,779.
Financial Aid for Fashion Students
Students aspiring to earn a fashion degree online have a number of options for paying for their education. In most cases, you'll start by submitting a Free Application for Federal Student Aid (FAFSA) form. After the school(s) you've applied to receive this information, they'll let you know which types of financial aid are available to you.
The best types of financial aid don't need to be paid back. These include scholarships and grants offered by the federal government, your state, or the college you attend. There are also a few private scholarships for fashion students, such as the FSF Case Study Scholarship and CBC Spouses Visual Arts Scholarship. Many students also qualify for federal or private loans, but these can add significantly to the overall cost of earning a degree. Both types need to be paid back with interest, although federal loans typically offer lower interest rates so they are preferable to private loans.
Fashion Careers
In a recent survey of fashion industry insiders, 74% of professionals described themselves as satisfied or very satisfied with their careers, so an online degree in fashion may be the first step toward a fulfilling career. Fashion designers typically find opportunities to work for apparel manufacturers or retailers, or they may opt to start their own fashion design businesses.
According to the Bureau of Labor Statistics, the median annual salary for fashion designers is $75,810. Another popular occupation in this field is fashion buyer, which involves predicting upcoming trends, purchasing desired items, and making them available at prices that align with customer expectations. Other possibilities in the fashion industry include fashion merchandising management, marketing, production management, and journalism.
Is an Online Degree in Fashion Design Worth It?
A degree is not always necessary in the fashion industry, but many professionals do hold a bachelor's degree. As job growth for fashion designers is projected to decline by 4% over the next decade, it may be more challenging to gain employment, and earning a degree could increase these odds. To decide if an online fashion degree will be worth it for you, you should consider these factors alongside your own circumstances, including your current financial situation, motivations for earning a degree, and future goals.