2020 Most Affordable Healthcare Administration Degrees Online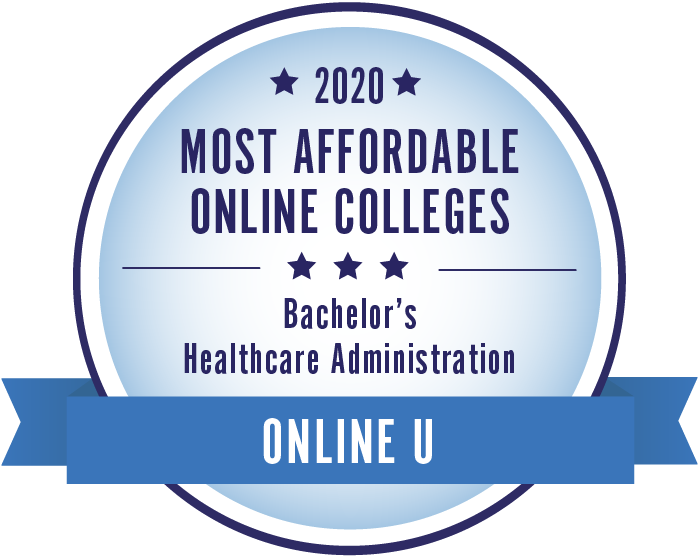 The 24 colleges listed below offer the most affordable online bachelor's in healthcare administration degrees. For example, Tennessee State University — ranked #1 — offers an online Bachelor of Science in Professional Studies - Health Administration for only $4,200 per year. Aspen University — ranked #2 — has an annual tuition rate of $4,500 for its B.S. in Health Care Administration. Classes for this program include Healthcare Policy and Economics, Healthcare Writing and Communications, HIPAA and Electronic Health Records, Insurance and Healthcare Reimbursement, Medical Terminology, and Principles of Health and Disease.
You can read more about our ranked schools below or browse our rankings of the most affordable online master's in healthcare administration. View our methodology or learn more about OnlineU.
All tuition numbers were manually collected and verified
| Rank | School | Annual Tuition |
| --- | --- | --- |
| # 1 | Tennessee State University | $4,200 |
| # 2 | Aspen University | $4,500 |
| # 3 | California Coast University | $4,725 |
| # 4 | Fort Valley State University | $5,190 |
| # 5 | Albany State University | $5,487 |
| # 6 | University of North Georgia | $6,090 |
| # 7 | Columbia Southern University | $6,900 |
| # 8 | Barry University | $7,410 |
| # 9 | Central Methodist University | $7,800 |
| # 10 | Louisiana State University-Alexandria | $8,060 |
| # 11 | American Public University System | $8,100 |
| # 12 | Weber State University | $8,340 |
| # 13 | Middle Georgia State University | $8,670 |
| # 14 | Purdue University Global | $8,800 |
| # 15 | Southeast Missouri State University | $9,000 |
| # 16 | Midwestern State University | $9,166 |
| # 17 | Champlain College | $9,540 |
| # 18 | Southern New Hampshire University Online | $9,600 |
| # 19 | Indiana University-Kokomo | $9,929 |
| # 20 | Florida International University | $10,376 |
| # 21 | Colorado State University Global | $10,500 |
| # 22 | Dakota State University | $10,537 |
| # 23 | King University | $10,980 |
| # 24 | Saint Leo University Online | $11,100 |
Is an Online Bachelor's in Healthcare Administration Worth It?
Healthcare managers with a few years of experience earn a median salary of $104,280 per year, while recent graduates with less experience can get jobs as administrators or managers in settings such as nursing homes, dental practices, and clinics.
Aside from future employment considerations, you should also consider your personal circumstances and financial situation. While an online bachelor's in healthcare administration can lead to a satisfying career in a growing industry, it's still important to weigh the pros and cons.
---
Advantages:
An online bachelor's is often sufficient to begin working in a fast-paced and growing field. Jobs for medical and health services managers are projected to grow by 32% between 2020 and 2030.
Rather than focusing on patient care, healthcare administration programs explore the health industry's operational, managerial, and financial aspects. The online format is an effective learning model for studying these subjects because they don't require hands-on learning. An online degree in this field may also be a cheaper alternative to a traditional degree.
Drawbacks:
Since it focuses on a single industry, a bachelor's in healthcare administration may not prepare you for working in a managerial capacity across other sectors. So, if you are considering this path, a bachelor's in management may be a more suitable option.
Only completing a bachelor's degree could limit your potential for career growth in the long run. If you hope to become a senior healthcare administrator, such as a hospital CEO, you may need a master's degree.
---
Common Bachelor's in Healthcare Administration Courses
Individuals interested in managerial careers in the healthcare industry need more than a general education in business. Healthcare administration programs focus specifically on the unique issues, policies, and laws regarding healthcare operations. Below are some of the courses commonly found in an online bachelor's degree program in healthcare administration.
Contemporary Issues in Healthcare: In this course, students discover many of the important and sometimes controversial issues in healthcare today. Case studies and real-world examples of healthcare providers, suppliers, insurers, and other related organizations allow students to examine all sides of the issues. In addition, class discussions enable students to develop soft skills, such as communication, sensitivity, and ethical thinking.
Healthcare Information Systems: This course provides a broad overview of computer technology for managing healthcare. Students learn about the various systems used to record patient information, provide patient care, and continuously educate healthcare practitioners. Coursework also covers data management and privacy policies, and it may also include cutting-edge technologies and trends.
Healthcare Policy and Economics: In this class, undergraduates study how the economy influences the healthcare industry and health-related policies. Students also learn how healthcare professionals, advocacy groups, and individuals can participate in the political process and influence policy on behalf of patients and communities, especially vulnerable populations.
Insurance and Managed Healthcare: To manage healthcare organizations and facilities effectively, students must have an in-depth knowledge of medical insurance policies and procedures. The coursework gives students hands-on experience with coding, billing, submitting claims, and appealing health insurance decisions. The course content also touches on the most common types of insurance coverage, including Medicare and Medicaid.
Medical Law and Ethics: Advances in medicine, technology, and medical research have raised ethical questions for many in the healthcare field. This course explores common ethical dilemmas and demonstrates how practitioners must consider their patients, patients' families, themselves, and employers when making decisions. Course content also addresses many of the laws and regulations related to medical science and treatment.
---
Funding an Online Bachelor's in Healthcare Administration
Online bachelor's students in healthcare administration have many financial aid opportunities. Since students don't have to repay grants, scholarships, and work-study earnings, these offer some of the best options for funding. After exhausting these opportunities, students can apply for loans. Applicants should prioritize federal loans because they have lower interest rates.
Applicants should prioritize federal loans because they have lower interest rates.
Most financial aid applications require students to fill out the Free Application for Student Financial Aid (FAFSA) to determine their financial need and eligibility for federal aid. Although undocumented students are ineligible for federal financial aid, they may qualify for state aid and in-state tuition but only in some states.
---
Where to Look for Additional Financial Aid
Online students may be interested in applying for scholarships intended for healthcare administration majors. Contact your college's financial aid office to find out about programs you may be eligible for. You may also consider applying for the scholarships listed below.
Student members are excluded from this award, but a dues-paying member of the American Association of Healthcare Administrative Management can apply to earn $2,500 annually to study for a bachelor's degree in healthcare administration. Spouses, children, and grandchildren of AAHAM members can also receive $1,000 awards. The association currently funds four of the $2,500 scholarships and eight of the $1,000 awards.
This professional organization sponsors nine scholarships, including regional and nationwide opportunities. Each award has slightly different requirements, and the award amounts range from $2,500 to $10,000. By filling out a single application, a student's eligibility is automatically considered for all awards.