2020 Most Affordable Online Master's in History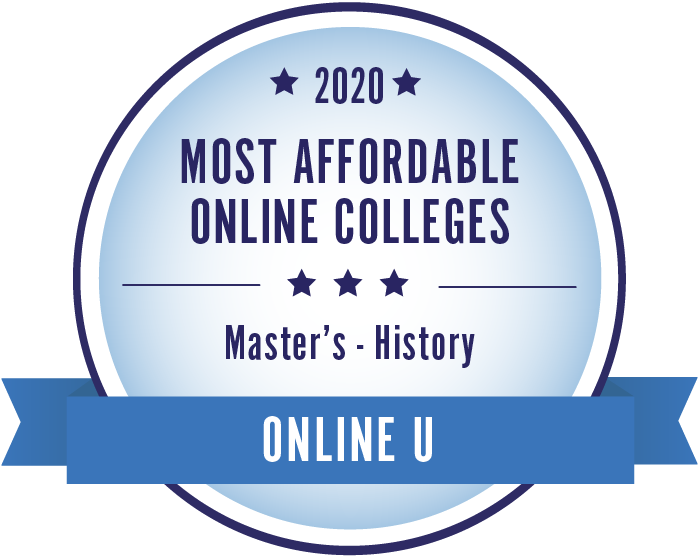 With annual tuitions under $12,000, these 25 online colleges offer the most affordable master's in history programs. In first place, Eastern Illinois University is the most affordable school, with a tuition rate of $3,371. Fort Hays State University, ranked #2, offers an annual tuition rate of $4,316 for its Master of Arts in History. Classes for this program include Constitutional History of the United States, Historiography, History of World Technology, Renaissance and Reformation, and The American Civil Rights Movement.
You can read more about our ranked schools below or browse our rankings of the most affordable online bachelor's in history degrees. View our methodology or learn more about OnlineU.
All tuition numbers were manually collected and verified
| Rank | School | Annual Tuition |
| --- | --- | --- |
| # 1 | Eastern Illinois University | $3,371 |
| # 2 | Fort Hays State University | $4,316 |
| # 3 | Fitchburg State University | $4,380 |
| # 4 | Northeastern State University | $4,518 |
| # 5 | Missouri State University | $5,310 |
| # 6 | Pittsburg State University | $5,850 |
| # 8 | University of North Alabama | $5,950 |
| # 9 | American Public University System | $6,300 |
| # 10 | Holy Apostles | $6,480 |
| # 12 | University of Louisiana-Monroe | $7,500 |
| # 13 | Louisiana Tech University | $7,704 |
| # 14 | Sam Houston State University | $7,769 |
| # 15 | Jackson State University | $8,316 |
| # 16 | University of Massachusetts-Boston | $8,625 |
| # 17 | University of Nebraska at Kearney | $8,892 |
| # 18 | Southwestern Assemblies of God University | $8,925 |
| # 19 | Wayland Baptist University | $9,272 |
| # 20 | Western New Mexico University | $10,334 |
| # 21 | Arizona State University | $10,640 |
| # 22 | Goucher College | $10,982 |
| # 23 | Southern New Hampshire University Online | $11,286 |
| # 24 | University of Memphis | $11,849 |
| # 25 | Jacksonville State University | $12,000 |