2020 Most Affordable Homeland Security Degrees Online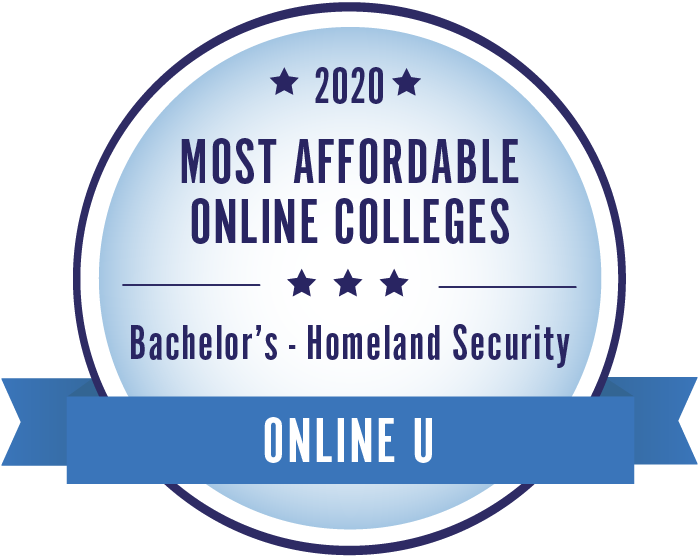 With annual tuitions under $13,000, these 23 online colleges offer the most affordable bachelor's in homeland security degrees. Ranked #1, Clayton State University charges $5,490 per year for its Bachelor of Applied Science in Homeland Security/Emergency Management. Available courses include Counter Terrorism, Cybercrime Law and Investigations, International Relations, and Legal Issues in Homeland Security. In the #2 spot is Wichita State University, offering a Bachelor of Science in Homeland Security for $6,708 per academic year.
You can read more about our ranked schools below or see our Overall Most Affordable Colleges. View our methodology or learn more about OnlineU.
All tuition numbers were manually collected and verified
Rank
School
Annual Tuition

# 2
Wichita State University

$6,708

# 3
Columbia Southern University

$6,900

# 4
Truckee Meadows Community College

$7,575

# 5
PennWest California

$7,870

# 6
American Public University System

$8,100

# 7
Southern New Hampshire University Online

$9,600

# 8
University of Alaska Fairbanks

$9,690

# 9
Thomas Edison State University

$9,856

# 10
Strayer University

$9,867

# 11
Colorado State University Global

$10,500

# 12

(tie)

SUNY College of Technology at Canton

$10,943

# 12

(tie)

SUNY Empire State College

$10,943

# 14
LeTourneau University

$11,005

# 15
Saint Leo University Online

$11,100

# 16
Norwich University

$11,250

# 17
Liberty University

$11,700

# 18
Indiana Wesleyan University Online

$11,760

# 19
Regent University Online

$11,850

# 20
Franklin University

$11,940

# 21
Touro University Worldwide

$12,000

# 22
Jacksonville State University

$12,064

# 23
New England College

$12,150