2020 Most Affordable Online Master's in Homeland Security Programs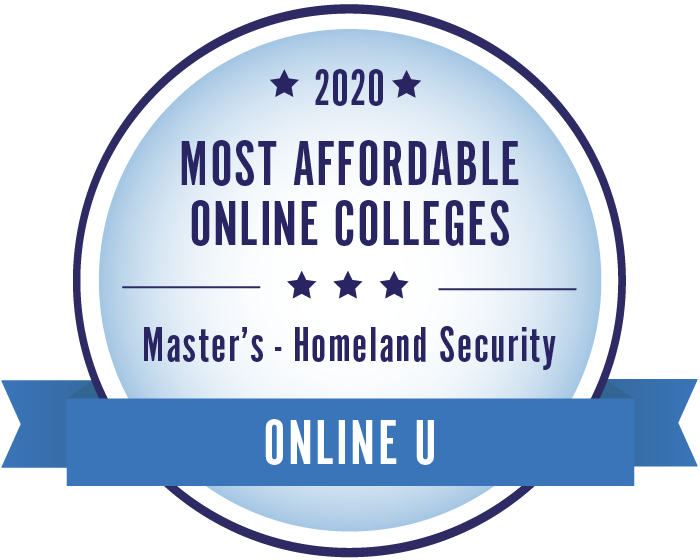 The 22 schools in this list represent the most affordable options for obtaining an online master's degree in homeland security. In first place, Missouri State University is the most affordable school, with a tuition rate of $5,015. American Public University System, ranked #2, has an annual tuition rate $7,000 for its Master of Arts in Homeland Security. Courses for this program include Intelligence & Homeland Security, Privacy & Civil Liberties in Homeland Security, and Resilience and Homeland Security.
You can read more about our ranked schools below or browse our rankings of the most affordable online bachelor's in homeland security degrees. View our methodology or learn more about OnlineU.
All tuition numbers were manually collected and verified
| Rank | School | Annual Tuition |
| --- | --- | --- |
| # 2 | American Public University System | $7,000 |
| # 3 | West Virginia University | $7,995 |
| # 4 | Auburn University at Montgomery | $8,100 |
| # 5 | Wilmington University | $8,296 |
| # 6 | Arizona State University | $8,512 |
| # 7 | Troy University | $8,892 |
| # 8 | University of Alaska Fairbanks | $9,240 |
| # 9 | Sam Houston State University | $9,283 |
| # 10 | Mississippi College | $9,375 |
| # 11 | Excelsior University | $9,675 |
| # 12 | Angelo State University | $9,712 |
| # 13 | Upper Iowa University | $9,990 |
| # 14 | The University of Texas at El Paso | $10,350 |
| # 16 | Arkansas Tech University | $10,512 |
| # 17 | Bellevue University | $10,530 |
| # 18 | Salve Regina University | $10,890 |
| # 19 | Notre Dame College | $11,210 |
| # 20 | Southern New Hampshire University Online | $11,286 |
| # 21 | University of Colorado Denver | $11,358 |
| # 22 | Central Michigan University | $11,466 |