2020 Most Affordable Online Human Resources Degrees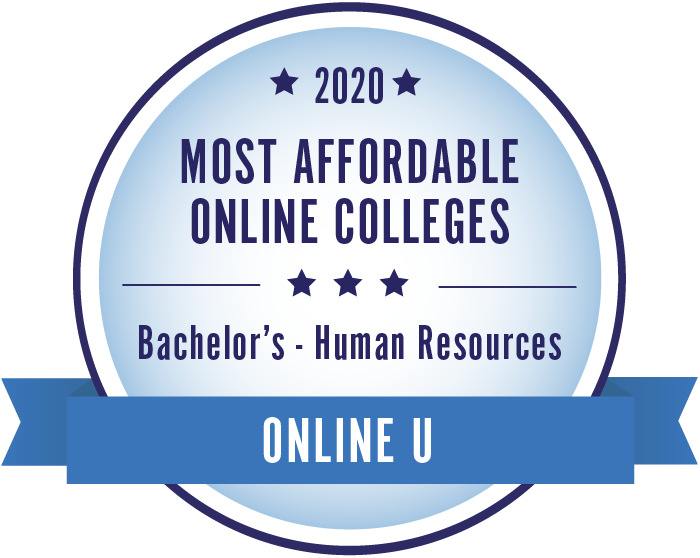 With annual tuitions under $10,000, these 24 online colleges offer the most affordable bachelor's in human resources degrees. Georgia Southwestern State University, our top-ranked school, has the lowest tuition on the list at only $5,970 per year. Courses at Georgia Southwestern State University include Current Issues in HR Management, Labor Relations, and Performance Management. In the #2 spot is United States University, offering a Bachelor of Arts in Management - Human Resources for $6,000 per academic year.
You can read more about our ranked schools below or browse our rankings of the most affordable online master's in human resources. View our methodology or learn more about OnlineU.
All tuition numbers were manually collected and verified
Rank
School
Annual Tuition

# 1
Georgia Southwestern State University

$5,970

# 2
United States University

$6,000

# 3
Western Governors University

$6,450

# 4
Wichita State University

$6,708

# 5
Fort Hays State University

$6,778

# 6
Columbia Southern University

$6,900

# 7
Dickinson State University

$6,947

# 8
Mississippi University for Women

$7,424

# 9
University of Arkansas

$7,568

# 10
Athens State University

$7,626

# 11
Amberton University

$7,950

# 12
American Public University System

$8,100

# 13
Louisiana State University - Shreveport

$8,520

# 14
University of Arkansas Grantham

$8,850

# 15

(tie)

Peru State College

$8,895

# 15

(tie)

Wayne State College

$8,895

# 17
Pittsburg State University

$9,060

# 18
Texas Tech University

$9,090

# 19
Midwestern State University

$9,166

# 20
Missouri Southern State University

$9,172

# 21
Hampton University

$9,300

# 22
Metropolitan State University

$9,316

# 23
Southern New Hampshire University Online

$9,600

# 24
Thomas Edison State University

$9,856
Is an Online Bachelor's Degree in Human Resources Worth It?
Whether a student studies online or in-person, pursuing a bachelor's degree in human resources is an investment of time and money. In addition to your career goals, it's important to consider your personal commitments and financial circumstances when deciding whether to pursue this degree.
An online degree can lead to HR roles in both the public and private sectors, where you may work as a headhunter or recruitment specialist. According to the Bureau of Labor Statistics (BLS), the median annual income for an HR specialist is $63,490, which is above the U.S. economy's median average of $41,950 per year.
If you're interested in helping companies find and train talented employees, an online bachelor's in HR may be a suitable fit. Consider the following pros and cons associated with pursuing this degree.
If you're interested in helping companies find and train talented employees, an online bachelor's in HR may be a suitable fit.
---
Advantages:
If you work part-time or care for family, learning at your own pace may be a preferable option. Online degrees in HR often offer students increased flexibility and autonomy.
Opting for a four-year degree — rather than an associate degree or a certificate — will often qualify you for higher-level HR positions and a more substantial salary. For example, a bachelor's degree is typically required for compensation and benefits managers, who earn a median annual salary of $125,130.
The job market appears steady for most graduates with a bachelor's degree in human resources. According to the BLS, career opportunities for human resources managers and human resources specialists are projected to grow by 9% and 10%, respectively, through 2030.
Drawbacks:
Even though HR managers earn a median annual salary of $121,220, some employers prefer to hire applicants with a master's degree for this role.
While the job market for HR professionals is generally projected to be strong over the next decade, those with certification or specialized training are expected to have the edge over other job candidates. Therefore, bachelor's graduates may need to obtain certification or additional training to remain competitive in the field.
The job outlook for some HR professions is expected to either be slower than average or decline through 2030. For example, labor relations specialists are projected to experience a 4% decline due to the decreasing number of union members. Students should research the job projections for different fields before committing to a specialization.
---
Common Bachelor's in Human Resources Courses
Human resource management programs offer courses that provide a thorough introduction to all aspects of hiring and managing an organization's workforce. They also require general business courses covering topics such as management, marketing, and finance. While taking these courses, undergraduates develop problem-solving, communication, and strategic-thinking skills. Students pursuing HR management degrees typically enroll in the following classes.
Compensation: Rather than simply determining how much to pay employees, this course explains how to produce a long-term compensation plan that includes a salary structure, benefits packages, and other incentives. Students also learn about regulations governing compensation.
Employment Law: This course explores the federal and state laws governing every aspect of employment. Topics covered also include workplace safety, taxation, and labor unions. The faculty may also discuss the appropriate questions to ask interviewees and the correct procedures to follow when employees leave an organization.
Introduction to Human Resource Management: This entry-level course provides a broad overview of the HR industry, typically covering the hiring process, disciplinary actions, payroll basics, and recordkeeping. Students should discover the specializations within HR management, such as compensation, recruitment, and training.
Organizational Behavior: Organizational behavior refers to how people interact in group settings. In this course, students examine interactions in the workplace from the perspective of HR managers to develop practical managerial skills. Topics include group dynamics, motivation, conflict resolution, diversity, leadership, and goal-setting theory.
Recruitment and Selection: This course guides students through the recruitment process, from identifying a job opening to writing a detailed description of the ideal candidate's qualifications. This procedure involves advertising, interviewing prospects, conducting background checks, and selecting the best candidate. The course material also touches on legal and ethical considerations.
Training and Development: After investing so much time and effort into the hiring process, organizations want to retain the best employees and help foster their professional growth. This course explores various training methods, including how to create an effective training program that allows employees to thrive.
---
Funding an Online Bachelor's in Human Resources
Students enrolled in an online human resources program at an accredited school can qualify for various financial aid opportunities. The most desirable forms of aid include grants, scholarships, and work-study earnings because these don't require repayment after graduation. Most college students, or their guardians, take out federal or private loans to finance a degree. Since students need to repay these loans with interest, it's helpful to keep in mind that the federal and state governments generally provide better interest rates than private lenders.
The most desirable forms of aid include grants, scholarships, and work-study earnings because these don't require repayment after graduation.
The financial aid process begins by filling out the Free Application for Student Financial Aid (FAFSA). Applicants send in their personal and financial information through this form to determine their eligibility for federal aid. Most states and colleges use it for the same purpose. Students with undocumented immigration status can't apply for federal aid, but they should check with their state's higher education agency for an alternate form. Once a college receives an overview of a student's finances, it can consider them for certain aid programs, such as grants and scholarships. Check with your school's financial aid office to see if they participate in programs related to your individual situation.
---
Where to Look for Additional Financial Assistance
In addition to government and school programs, human resources students can pursue private gift aid in the form of scholarship opportunities. Below are two examples of scholarships that are specific to an HR major.
Zonta International, a non-profit pursuing international gender equality, grants $2,000 awards to 32 women each year. Women studying for an online bachelor's degree in HR management are eligible for this award if they've completed at least one year of study.
Bachelor's students studying HR can receive a one-time award of $2,500 to cover tuition and fees. Recipients must be SHRM members with a minimum 3.0 GPA. This scholarship doesn't automatically renew, but winners are allowed to reapply.