2020 Most Affordable Online IT Associate Degrees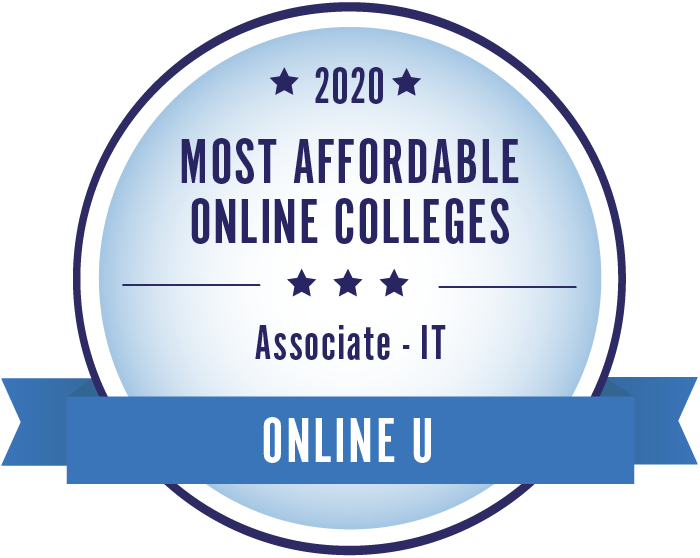 These 24 colleges offer the most affordable online associate in information technology degrees. In first place, Wharton County Junior College is the most affordable school, with a tuition rate of $2,520. Clovis Community College - NM, ranked #2, has an annual tuition rate of $2,664 for its Associate of Applied Science in Information Technology - Information Systems and Technology. Courses for this program include Configuring Cisco Devices for Internetworking Routing, Configuring WAN Connection Services, and Network Traffic Management.
You can read more about our ranked schools below or browse our rankings of the most affordable online bachelor's in information technology degrees View our methodology or learn more about OnlineU.
All tuition numbers were manually collected and verified
| Rank | School | Annual Tuition |
| --- | --- | --- |
| # 1 | Wharton County Junior College | $2,520 |
| # 2 | Clovis Community College - NM | $2,664 |
| # 3 | Western Nebraska Community College | $3,255 |
| # 5 | Albany State University | $3,675 |
| # 6 | Panola College | $3,930 |
| # 8 | San Juan College | $4,640 |
| # 9 | Southern Arkansas University Tech | $4,836 |
| # 10 | Central Community College | $4,860 |
| # 11 | Southwest Wisconsin Technical College | $4,914 |
| # 12 | Ivy Tech Community College-Central Indiana | $5,101 |
| # 13 | Minnesota State College Southeast | $5,169 |
| # 14 | Peninsula College | $5,174 |
| # 15 | University of Arkansas - Pulaski Technical College | $5,250 |
| # 16 | University of Cincinnati | $5,258 |
| # 17 | Albany Technical College | $5,340 |
| # 18 | Wallace State Community College - Hanceville | $5,764 |
| # 19 | Central Lakes College | $5,815 |
| # 20 | Ridgewater College | $5,919 |
| # 21 | University of the Cumberlands | $5,970 |
| # 22 | Hinds Community College | $6,250 |
| # 23 | Gateway Technical College | $6,347 |
| # 24 | Minnesota State Community and Technical College | $6,366 |