2018 Most Affordable Online Colleges for Information Technology Degrees
100%

of users found this page helpful
Was this page helpful?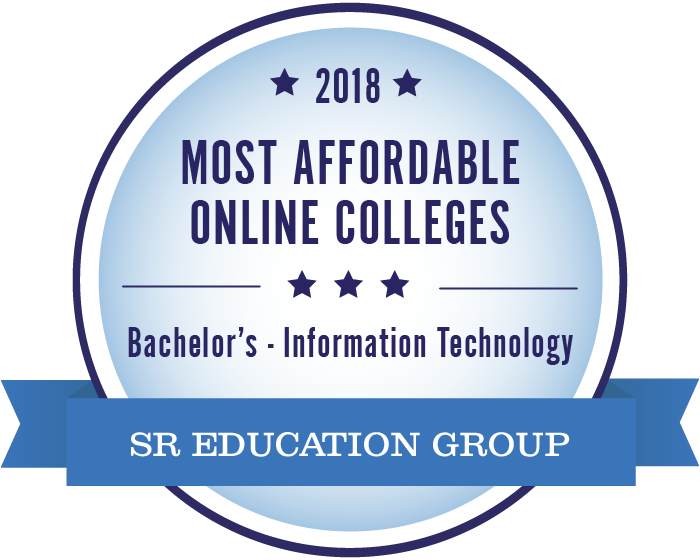 These 25 most affordable online schools offer bachelor's degrees in information technology for tuition less than $12,000 annually. Top ranked Middle Georgia State University offers the most affordable annual tuition at $5,070 with various classes such as Database Principles and Virtual Computing. Southern New Hampshire University Online is ranked at #12 and costs $9,600 a year, offering the largest number of programs such as both a BA and a BS in Information Technologies.
You can read more about our ranked schools below or browse our 2018 rankings of the most affordable online master's in information technology programs. View our methodology or learn more about SR Education Group.
All tuition numbers were manually collected and verified
Rank
College
Annual Tuition

#1

Middle Georgia State University

Annual Tuition

$5,070

#2

Western Governors University

Annual Tuition

$5,780

#3

Broward College

Annual Tuition

$5,850

#4

Kennesaw State University

Annual Tuition

$6,169

#5

South Texas College

Annual Tuition

$6,450

#6

Columbia Southern University

Annual Tuition

$6,600

#7

Fort Hays State University

Annual Tuition

$6,613

#8

Great Basin College

Annual Tuition

$6,997

#9

American Public University System

Annual Tuition

$8,370

#10

Missouri State University

Annual Tuition

$8,835

#11

King University

Annual Tuition

$9,455

#12

Southern New Hampshire University Online

Annual Tuition

$9,600

#13

Granite State College

Annual Tuition

$10,350

#14

Grantham University

Annual Tuition

$10,450

#15

Colorado State University-Global Campus

Annual Tuition

$10,500

#16

Columbus State University

Annual Tuition

$10,850

#17

Indiana University-Purdue University-Fort Wayne

Annual Tuition

$11,155

#18

Georgia Southern University

Annual Tuition

$11,200

#19

Southern Illinois University - Carbondale

Annual Tuition

$11,220

#20

(tie)

Trident University International

Annual Tuition

$11,250

#20

(tie)

University of Massachusetts-Lowell

Annual Tuition

$11,250

#22

(tie)

Liberty University

Annual Tuition

$11,700

#22

(tie)

University of Wisconsin-Stevens Point

Annual Tuition

$11,700

#24

Seminole State College of Florida

Annual Tuition

$11,722

#25

University of Wisconsin-Milwaukee

Annual Tuition

$11,760