2018 Most Affordable Online Colleges for Management Degrees
100%

of users found this page helpful
Was this page helpful?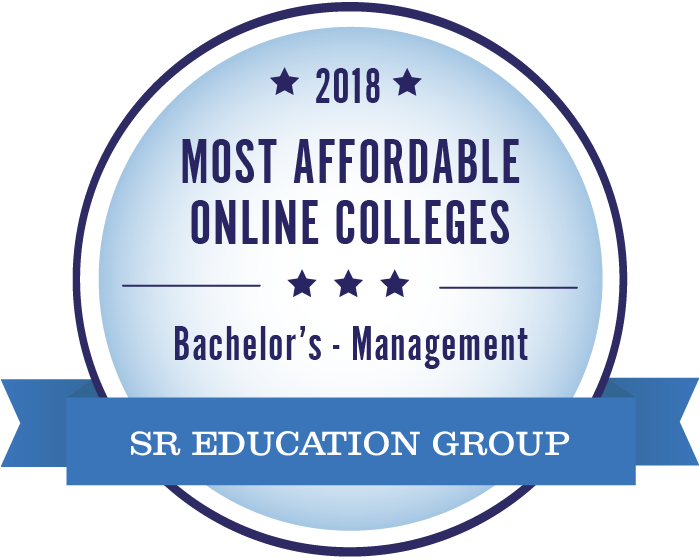 With annual tuition rates under $12,000, these 25 online schools provide prospective students the most affordable options for bachelor's in management degrees. Ranked #1, Western Governors University's B.S. in Business Management is only $5,780. Students at WGU can take classes in information systems management, marketing fundamentals, and quantitative analysis for business. Students seeking a specialized degree can choose from Clayton State University's four administrative management concentrations including emergency management and organizational leadership.
You can read more about our ranked schools below or browse our 2018 rankings of the most affordable online master's in management programs. View our methodology or learn more about SR Education Group.
All tuition numbers were manually collected and verified
Rank
College
Annual Tuition

#1

Western Governors University

Annual Tuition

$5,780

#2

Georgia Southwestern State University

Annual Tuition

$6,480

#3

Clayton State University

Annual Tuition

$6,950

#4

Lamar University

Annual Tuition

$7,440

#5

Union College - KY

Annual Tuition

$7,500

#6

Central Methodist University

Annual Tuition

$7,850

#7

SUNY College of Technology at Canton

Annual Tuition

$8,000

#8

Clarion University

Annual Tuition

$8,092

#9

University of Arkansas at Little Rock

Annual Tuition

$8,400

#10

Bemidji State University

Annual Tuition

$8,530

#11

University of Maine at Augusta

Annual Tuition

$8,910

#12

The University of Texas of the Permian Basin

Annual Tuition

$8,912

#13

Westfield State University

Annual Tuition

$9,180

#14

King University

Annual Tuition

$9,455

#15

(tie)

Northwestern State University of Louisiana

Annual Tuition

$9,600

#15

(tie)

Southern New Hampshire University Online

Annual Tuition

$9,600

#17

University of West Alabama

Annual Tuition

$9,750

#18

Florida International University

Annual Tuition

$9,893

#19

University of Southern Maine

Annual Tuition

$10,170

#20

Granite State College

Annual Tuition

$10,350

#21

Eastern Oregon University

Annual Tuition

$10,440

#22

Truett McConnell University

Annual Tuition

$10,675

#23

Fitchburg State University

Annual Tuition

$10,980

#24

Southern Arkansas University

Annual Tuition

$11,100

#25

Assumption College

Annual Tuition

$11,130