2020 Most Affordable Online Colleges for Marketing Degrees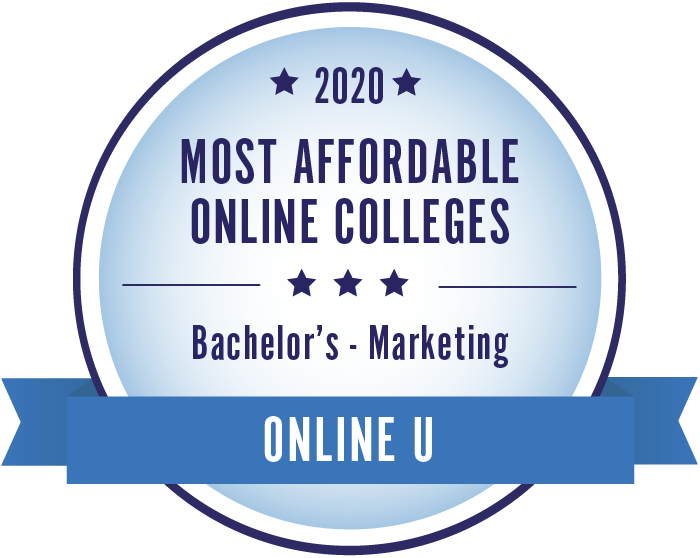 The 24 schools in this list represent the most affordable options for obtaining an online bachelor's degree in marketing. California Coast University, the #1 option, charges only $4,725 per year. Clayton State University, ranked #2, has an annual tuition rate of $5,490 for their Bachelor of Business Administration in Marketing, offering classes such as Global Business, Managerial Communications, and Professional Selling.
You can read more about our ranked schools below or browse our rankings of the most affordable online master's in marketing. View our methodology or learn more about OnlineU.
All tuition numbers were manually collected and verified
| Rank | School | Annual Tuition |
| --- | --- | --- |
| # 1 | California Coast University | $4,725 |
| # 2 | Clayton State University | $5,490 |
| # 3 | Georgia Southwestern State University | $5,970 |
| # 4 | United States University | $6,000 |
| # 5 | Minot State University | $6,087 |
| # 6 | Kennesaw State University | $6,180 |
| # 7 | Western Governors University | $6,450 |
| # 8 | University of North Carolina at Pembroke | $6,752 |
| # 9 | Fort Hays State University | $6,778 |
| # 10 | Columbia Southern University | $6,900 |
| # 11 | Eastern New Mexico University - Main Campus | $7,492 |
| # 12 | Arkansas State University | $7,740 |
| # 13 | University of the Potomac | $7,785 |
| # 14 | West Texas A&M University | $7,953 |
| # 15 | American Public University System | $8,100 |
| # 16 | University of Arkansas at Little Rock | $8,400 |
| # 17 | Louisiana State University - Shreveport | $8,520 |
| # 18 | Bemidji State University | $8,758 |
| # 19 | University of Central Missouri | $8,761 |
| # 20 | Southeastern Oklahoma State University | $8,835 |
| # 21 | University of Arkansas Grantham | $8,850 |
| # 22 | Peru State College | $8,895 |
| # 23 | Missouri Southern State University | $9,172 |
| # 24 | The University of Texas Permian Basin | $9,233 |