2018 Most Affordable Online Colleges for a Master's in Marketing
0%

of users found this page helpful
Was this page helpful?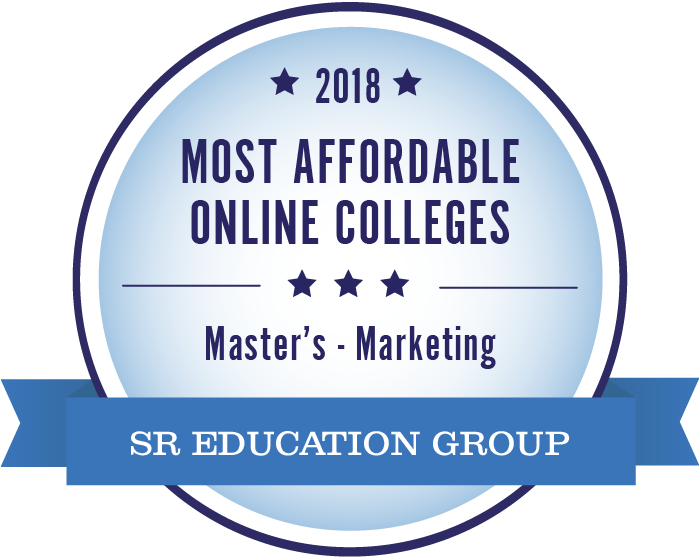 With tuition rates under $12,000 per year, the following 25 schools offer highly affordable online master's degrees in marketing. West Texas A & M University, the #1 most affordable school on the list, offers an MBA with a concentration in marketing for just $7,255 per year. At Campbellsville University, ranked #9, students can choose from either an MBA in marketing or a Master of Arts in Sports Management with a concentration in marketing. Tuition at Campbellsville University is $9,372 annually.
You can read more about our ranked schools below or browse our 2018 rankings of the most affordable online bachelor's in marketing degrees. View our methodology or learn more about SR Education Group.
All tuition numbers were manually collected and verified
Rank
College
Annual Tuition

#1

West Texas A & M University

Annual Tuition

$7,255

#2

California State University-Dominguez Hills

Annual Tuition

$7,820

#3

University of South Dakota

Annual Tuition

$7,996

#4

Anderson University - SC

Annual Tuition

$8,010

#5

Fayetteville State University

Annual Tuition

$8,239

#6

Wilmington University

Annual Tuition

$8,388

#7

Touro University Worldwide

Annual Tuition

$9,000

#8

Indiana Institute of Technology

Annual Tuition

$9,090

#9

Campbellsville University

Annual Tuition

$9,372

#10

Oklahoma Wesleyan University

Annual Tuition

$9,390

#11

University of Massachusetts-Lowell

Annual Tuition

$9,600

#12

Avila University

Annual Tuition

$9,660

#13

Hope International University

Annual Tuition

$9,900

#14

Concordia University - Nebraska

Annual Tuition

$9,990

#15

Gardner Webb University

Annual Tuition

$10,110

#16

(tie)

Bellevue University

Annual Tuition

$10,170

#16

(tie)

Oklahoma Christian University

Annual Tuition

$10,170

#18

Rivier University

Annual Tuition

$10,206

#19

Washington State University

Annual Tuition

$10,530

#20

University of the Southwest

Annual Tuition

$10,782

#21

Central Michigan University

Annual Tuition

$10,800

#22

Ottawa University Online

Annual Tuition

$11,430

#23

University of Wisconsin-Whitewater

Annual Tuition

$11,473

#24

University of Maryland University College

Annual Tuition

$11,862

#25

Southeastern Oklahoma State University

Annual Tuition

$11,880