2020 Most Affordable Online Master's in Public Administration Programs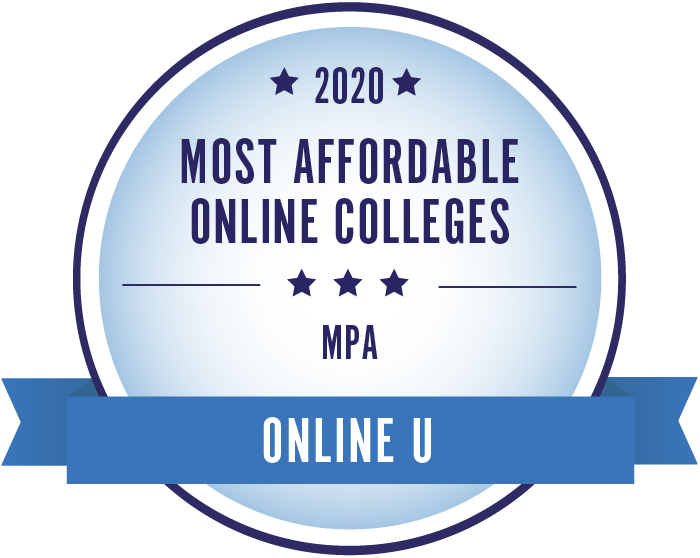 Our list of the most affordable online master's in public administration (MPA) programs features a variety of options for distance learners. Ranked #1, Strayer University's Master of Public Administration has the lowest annual tuition rate at $4,480. Students interested in tailoring their education to a specific area may be interested in the #10th ranked Master of Public Administration from American Public University System. With an annual tuition of $6,300, this program offers several concentrations in an areas such as Coaching and Conflict Resolution, Human Resources, National Security, and Environmental Policy.
You can read more about our ranked schools below or browse our rankings of the most affordable online master's programs. View our methodology or learn more about OnlineU.
All tuition numbers were manually collected and verified
| Rank | School | Annual Tuition |
| --- | --- | --- |
| # 1 | Strayer University | $4,480 |
| # 2 | Fort Hays State University | $4,604 |
| # 3 | Valdosta State University | $5,274 |
| # 4 | Columbus State University | $5,418 |
| # 5 | University of North Georgia | $5,454 |
| # 6 | Columbia Southern University | $5,670 |
| # 7 | Adams State University | $5,925 |
| # 8 | Wichita State University | $6,038 |
| # 9 | Georgia College & State University | $6,084 |
| # 10 | American Public University System | $6,300 |
| # 11 | The University of Texas Permian Basin | $6,484 |
| # 12 | University of Missouri | $6,562 |
| # 13 | Southeast Missouri State University | $6,570 |
| # 14 | University of South Dakota | $6,987 |
| # 15 | Stephen F. Austin State University | $7,272 |
| # 16 | Southern Utah University | $7,292 |
| # 17 | Texas Tech University | $7,413 |
| # 18 | Lamar University | $7,444 |
| # 19 | University of Louisiana-Monroe | $7,500 |
| # 20 | University of North Dakota | $7,599 |
| # 21 | Arkansas State University | $7,608 |
| # 22 | Southern Arkansas University | $7,920 |
| # 23 | University of Illinois at Springfield | $8,154 |
| # 24 | Wayland Baptist University | $8,784 |
| # 25 | Troy University | $8,892 |