2020 Most Affordable Online Master's in Mathematics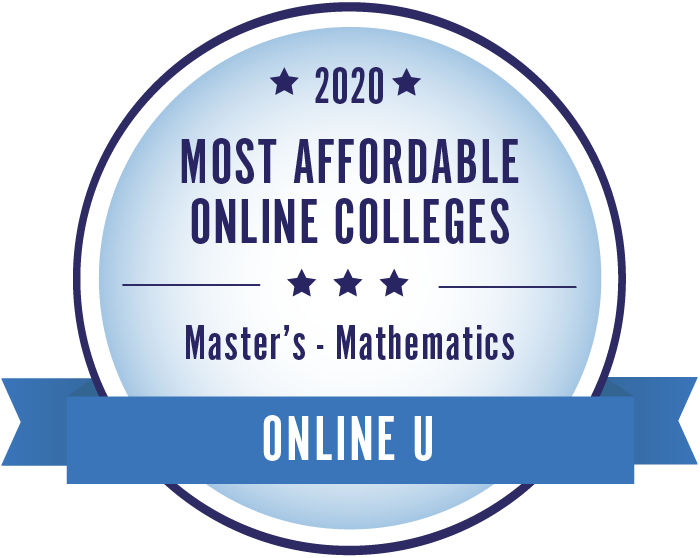 With annual tuitions under $20,000, these 18 online colleges offer the most affordable master's in mathematics programs. In first place, West Texas A&M University is the most affordable school, with a tuition rate of $4,723. Courses include Biomathematical Modeling, Ordinary Differential Equations, and Problem Solving in Mathematics for Diverse Learners. Ranked #2, the University of North Alabama offers an annual tuition rate of just $5,950 for its Master of Science in Mathematics.
You can read more about our ranked schools below or browse our rankings of the most affordable online bachelor's in mathematics degrees. View our methodology or learn more about OnlineU.
All tuition numbers were manually collected and verified
| Rank | School | Annual Tuition |
| --- | --- | --- |
| # 1 | West Texas A&M University | $4,723 |
| # 2 | University of North Alabama | $5,950 |
| # 3 | Indiana State University | $5,951 |
| # 4 | Central Methodist University | $6,080 |
| # 5 | Emporia State University | $6,393 |
| # 6 | Shawnee State University | $6,592 |
| # 7 | California University of Pennsylvania | $7,890 |
| # 8 | Sam Houston State University | $9,283 |
| # 9 | The University of Tennessee - Knoxville | $9,585 |
| # 10 | University of Idaho | $9,876 |
| # 11 | Western Kentucky University | $10,605 |
| # 12 | Fairleigh Dickinson University-Metropolitan Campus | $13,345 |
| # 13 | California State University-Fullerton | $13,374 |
| # 14 | The University of West Florida | $13,853 |
| # 15 | The University of Texas - Rio Grande Valley | $14,723 |
| # 16 | University of Houston | $15,648 |
| # 17 | Texas A&M University-College Station | $16,526 |
| # 18 | North Carolina State University | $19,425 |