2020 Most Affordable Online Colleges for MBA Programs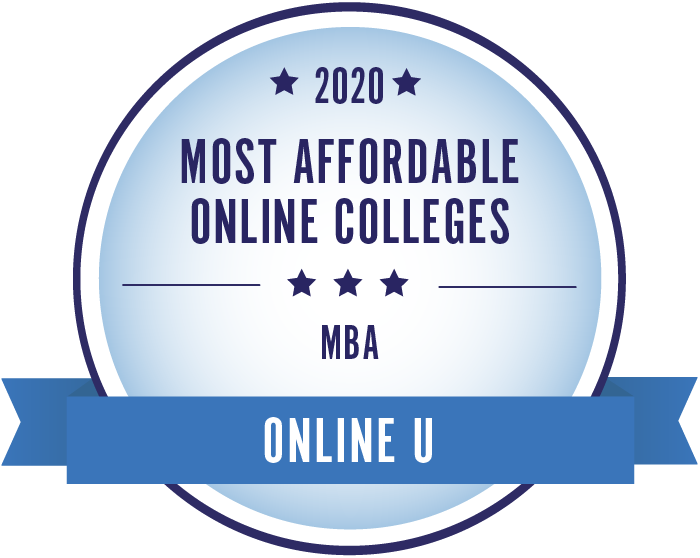 With a median annual tuition rate of $7,500, the 25 colleges listed on this page offer the most affordable online MBA programs. Graduates of these programs have the opportunity to enter a growing field with a high salary potential. Of all the major occupational groups tracked by the U.S. Bureau of Labor and Statistics, management occupations have the highest median annual wage at $105,660. The bureau also expects 505,000 new management positions to emerge over the next decade. On this page, we've included information about common courses and concentrations, answers to frequently asked questions about online MBA degrees, and funding options for students.
You can read more about our ranked schools below or browse our rankings of the most affordable online master's programs. View our methodology or learn more about OnlineU.
All tuition numbers were manually collected and verified
Rank
School

Annual Tuition

#

1

Georgia Southwestern State University

$3,855

#

2

Valdosta State University

$4,395

#

3

California Coast University

$4,485

#

4

Amberton University

$4,770

#

5

West Texas A & M University

$5,037

#

6

Union College - KY

$5,100

#

7

Albany State University

$5,400

#

8

Wichita State University

$5,434

#

9

Wayne State College

$5,561

#

10

(tie)

Missouri State University

$5,610

#

10

(tie)

University of Central Arkansas

$5,610

#

12

Columbia Southern University

$5,670

#

13

Western Illinois University

$5,776

#

14

Eastern New Mexico University-Main Campus

$5,838

#

15

(tie)

Aspen University

$5,850

#

15

(tie)

United States University

$5,850

#

17

Midwestern State University

$5,874

#

18

Alcorn State University

$6,075

#

19

Southeast Missouri State University

$6,205

#

20

(tie)

Abraham Lincoln University

$6,300

#

20

(tie)

Grantham University

$6,300

#

22

University of the Potomac

$6,412

#

23

William Woods University

$6,480

#

24

The University of Texas of the Permian Basin

$6,484

#

25

Clayton State University

$6,545
Common MBA Courses and Concentrations
The following are a list of common core courses for an online MBA degree. Many of these can be taken either as a standalone course or as a concentration.
Finance: Sometimes referred to as managerial finance, finance is a required course in most online MBA degree programs. Coursework focuses on the practical application of financial concepts, enabling future managers to make sound financial decisions. Topics covered include financial analysis, capital investment decisions, and the valuation of financial and real assets. The curriculum for an MBA with a concentration in finance might include core and elective courses in financial markets, quantitative modeling, and fintech (the application of technology to financial services).
Financial Accounting: At the master's degree level, students taking this course learn to interpret numbers, evaluate the financial health of an organization, and predict likely outcomes for financial decisions. The program curriculum for a specialization in financial accounting includes courses in managerial accounting, taxation, and auditing. In some cases, the curriculum is designed to prepare students to become Certified Public Accountants (CPAs). According to PayScale, CPAs earn anywhere from $56,000 to $140,000 annually.
International Business: International business provides a broad survey of key concepts such as cultural and political forces, world economics, theoretical frameworks, and government involvement in business. Students pursuing an MBA in international business will study management, economics, finance, and marketing from the perspective of global organizations. Some programs may offer elective courses in business law, supply chain management, cultural studies, or global operations, and may require a capstone project.
Management Information Systems: A class in management information systems covers IT hardware and software, network administration, database administration, and telecommunications. People interested in assuming leadership roles in the field of technology may consider a concentration in this topic. The curriculum combines many elements of a general MBA program with specialized IT courses. The median annual salary for IT managers in 2019 was $146,360, according to the Bureau of Labor Statistics.
Marketing Management: The fundamentals of marketing are intertwined with many other facets of an organization's operations, and this course offers students a broad overview of marketing management principles. Topics include strategic planning, buyer behavior, target markets, positioning, and pricing. Students pursuing an MBA in marketing may be required to take 12 or more credit hours of courses such as consumer behavior and market data analysis. According to the Bureau of Labor Statics, the current median annual salary for a marketing manager is about $136,000.
Operations Management: Operations management (OM) involves the systems and processes used to produce and deliver goods and services. Online OM courses focus on applying concepts like data analytics, lean management, and quality management to improving an organization's operations. Students pursuing an OM concentration will also study topics such as supply chain management, forecasting, process design, and strategy. According to the Bureau of Labor Statistics, operations managers typically earn six-figure incomes with median annual salaries near $123,000.
Organizational Behavior: Organizational behavior focuses on people—how they interact with each other and their work environments. In general, a class on organizational behavior will look at the impact individuals, groups, and organizational structures have on human behavior in the workplace. Among the many topics covered are motivation, conflict, leadership, and change management.
Funding an MBA Degree
Students returning to graduate school to enroll in online MBA programs typically have the same financial aid options available to them as students of other programs. Financial aid types that do not have to be repaid, such as grants, scholarships, fellowships, and work-study programs, are preferred. If necessary, however, online students enrolled in reputable schools can consider applying for low-interest federal or private loans.
Some MBA students may also be eligible for full or partial tuition reimbursement programs through their employers. These programs may entail meeting certain criteria, such as maintaining minimum GPA requirements or committing to remain with the organization for a specified amount of time after completing the MBA. Some individuals who are currently or were formerly employed by the U.S. armed forces may also qualify for financial aid through scholarships, such as Military MBA Scholarships, or tuition discounts in honor of their military service.
Among the many scholarships and fellowships available to applicants pursuing online MBA degrees are the Golden Key Graduate Scholar Award and the Mary Elizabeth Lockwood Beneventi MBA Scholarship, which are open to all MBA students. Some private and professional organizations also extend funding to applicants who fit a certain demographic profile. The Forte Foundation, for example, offers MBA scholarships to women, and the Paul and Daisy Soros Fellowships for New Americans provides funding to immigrants and children of immigrants. Many scholarships offer awards in the range of $1,500 to $5,000, and these can be combined with other scholarships or forms of financial aid to offset the total cost of online education.
Frequently Asked Questions About Affordable Online MBAs