2019 Most Affordable Military-Friendly Online Colleges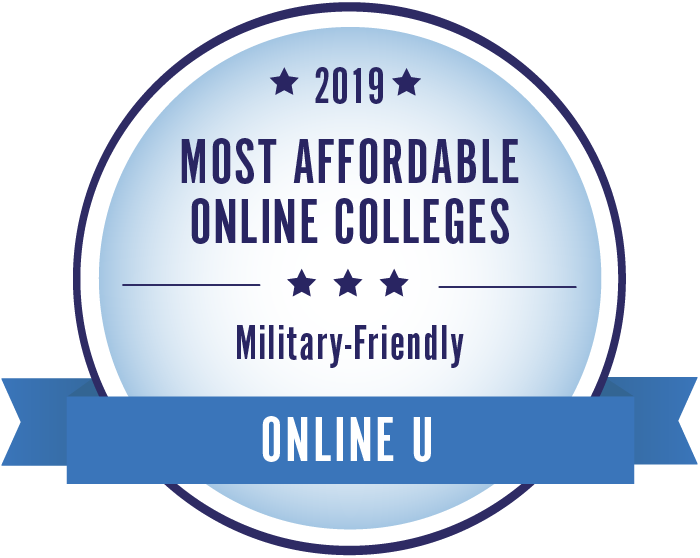 The 24 schools on this list represent the most affordable military-friendly online colleges of 2019. Schools were identified based on their participation in the government Tuition Assistance program, as well as by their presence of strong military communities, demonstrated commitment to supporting military-affiliated online students, and flexible learning requirements that are compatible with students' schedules. Ranked #1, Western Governors University offers a tuition rate of $6,380, and 23 of the schools have annual tuitions under $15,000.
We've provided information about our ranked schools below, in addition to answers to frequently asked questions. We've also compiled a list of the overall most affordable colleges. View our methodology or learn more about OnlineU.
All tuition numbers were manually collected and verified
Rank
School

Annual Tuition

Military-Friendly Score

#

1

Western Governors University

$6,380

90.85
#

2

Columbia Southern University

$6,750

96.76
#

3

American Public University System

$8,100

98.27
#

4

Grantham University

$8,215

86.48
#

5

Indiana University - Bloomington

$9,460

89.66
#

6

Thomas Edison State University

$9,967

86.07
#

7

Arizona State University

$10,104

99.37
#

8

Colorado State University Global

$10,500

85.33
#

9

Mississippi State University

$11,036

85.55
#

10

Norwich University

$11,250

92.10
#

11

University of Massachusetts-Lowell

$11,400

85.10
#

12

University of North Texas

$11,520

91.03
#

13

University of Kansas

$11,592

88.52
#

14

Old Dominion University

$11,670

97.88
#

15

(tie)

Embry-Riddle Aeronautical University-Worldwide

$11,700

88.63
#

15

(tie)

Liberty University

$11,700

99.46
#

17

University of Kentucky

$12,070

86.35
#

18

Eastern Kentucky University

$12,270

87.42
#

19

University of Alabama at Birmingham

$13,230

89.56
#

20

Bellevue University

$13,280

94.02
#

21

University of Colorado Denver

$14,940

92.38
#

22

University of Maryland Global Campus

$14,970

99.49
#

23

Excelsior College

$15,300

85.99
#

24

San Diego State University

$15,642

87.01
Frequently Asked Questions About Affordable Military-Friendly Schools
Can earning a degree affect promotion in the military?
Yes. In general, service members need a bachelor's degree to be commissioned as officers in the Army, Navy, Marine Corps, Air Force, Coast Guard, and National Guard. There are a few exceptions, including commissions for warrant officers, certain trained specialists, and (in the Navy) long-serving noncommissioned officers. The respective services may also encourage enlisted service members to continue their education to help them become more effective noncommissioned officers or to commission them as officers. Some services — such as the Army and Marine Corps — add extra points to a service member's promotion package for each college course they finish. The Air Force has recently made it easier for enlisted members to improve their performance ratings through civilian college credits.
Are there tuition benefits for military service members?
The Post-9/11 GI Bill (Chapter 33) is a major package of education benefits for people who served after September 11, 2001. The government will fully cover the cost of in-state public-university tuition and partially cover tuition at private and out-of-state institutions for up to 36 months. Students can also receive help with relocation, books, supplies, and housing. Students can find out more about the GI Bill and how to apply from the U.S. Department of Veterans Affairs. Further, each service of the Armed Forces provides tuition assistance for eligible active-duty members, although details and requirements differ by service.
Many of the military-friendly colleges on this page offer reduced tuition rates to service members, student veterans, and occasionally to military spouses and other family members. Schools often have a financial aid and resource center with additional information about tuition assistance.
What are the benefits of earning an online degree?
The Bureau of Labor Statistics has broken down the expected earnings and employment prospects by degree level in the U.S. With each degree, income rises and the chances of unemployment fall. Online learning in particular provides greater flexibility for active-duty service members and U.S. military veterans with busy schedules. Some may prefer more structured programs with synchronous elements, while others may need an asynchronous schedule to fit classes in with other responsibilities. For help with choosing a school to attend — including information about transfer credits, disability accommodations, and resources to assist students with their career goals — we've put together a military student's guide to the online school search.