2020 Most Affordable Online Nurse Practitioner Programs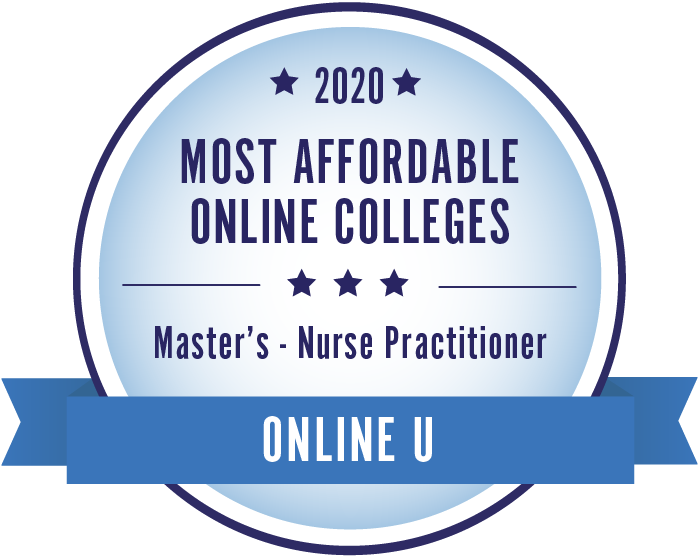 The 24 schools on this list offer the most affordable online Master of Science in Nursing (MSN) programs with nurse practitioner specializations. At #1, University of Southern Indiana offers an online Master of Science in Nursing - Psychiatric Mental Health Nurse Practitioner for $5,105 per year. Second-ranked Middle Georgia State University has an annual tuition of only $5,610, as compared to the $17,000 average for MSN programs. Online MSN students study patient care theories and techniques and apply their coursework during clinical experience in a field setting. These degree programs prepare students for further national certification exams after graduation so they can become advanced practice registered nurses (APRNs). Below, we provide information about courses, options for funding a degree, and answers to frequently asked questions.
You can read more about our ranked schools below or browse our rankings of the most affordable online master's programs. View our methodology or learn more about OnlineU.
All tuition numbers were manually collected and verified
Rank
School

Annual Tuition

#

1

University of Southern Indiana

$5,105

#

2

Middle Georgia State University

$5,610

#

3

Stephen F. Austin State University

$6,060

#

4

Purdue University Global

$6,300

#

5

Fairleigh Dickinson University-Metropolitan Campus

$6,600

#

6

Clayton State University

$6,930

#

7

University of South Carolina-Columbia

$7,345

#

8

Georgia College & State University

$7,460

#

9

Delta State University

$7,501

#

10

Albany State University

$7,800

#

11

University of Central Missouri

$8,049

#

12

Saint Francis Medical Center College of Nursing

$8,208

#

13

Midwestern State University

$8,293

#

14

United States University

$8,370

#

15

(tie)

Columbus State University

$8,470

#

15

(tie)

Georgia Southwestern State University

$8,470

#

17

The University of West Florida

$9,000

#

18

Houston Baptist University

$9,200

#

19

(tie)

Rivier University

$9,450

#

19

(tie)

University of North Alabama

$9,450

#

21

University of Louisiana-Lafayette

$9,617

#

22

Ohio University-Main Campus

$9,856

#

23

Clarkson College

$9,936

#

24

Gonzaga University

$10,200
Common Nurse Practitioner Courses
Students may take the following courses while pursuing their master's degrees. While course names will vary at different schools, the topics below are commonly covered in nurse practitioner programs.
Advanced Health Assessment and Diagnostic Reasoning: This course teaches experienced nurses advanced techniques for assessing and diagnosing patients beyond recording personal and family medical histories. Students will apply a reasoning process to the problems patients present in order to find the ultimate causes. These skills are crucial to any nurse practitioner, so assessment and diagnostic courses are required in all programs featured on our rankings list.
Advanced Healthcare Policy and Politics: This course outlines major trends in healthcare policy, including those affected by social demographics, politics and legislation, and the corporate and economic landscape. The nation's general health depends on a wide range of factors, and students will examine how these variables can impact their practice. They'll also discuss the effects of policy advocacy by professional nursing organizations such as the American Academy of Nurse Practitioners (AANP).
Advanced Pharmacology: This course teaches nurses about medications used to treat patients. Students learn pharmacological delivery methods, how drugs affect different systems in the body, and potential adverse effects of particular courses of treatment. Prescribing medications is an essential part of a nurse practitioner's job, and all advanced nurse practitioner tracks require a similar course.
Project Management in Healthcare: This course is designed to help advance practice registered nurse (APRN) managers run their projects efficiently and on budget. Professors apply research and methods from the business world to a healthcare context through discussions of strategic planning, process analysis, and quality assurance.
Research and Evidence-Based Practice: Good practice requires good data, along with trained analysts to interpret that data. In this course, students learn quantitative and qualitative techniques to analyze evidence from case studies, with the goal of improving nursing practice by identifying the best interventions for given situations.
Funding a Nurse Practitioner Program
The cost of an accredited MSN program doesn't need to be a barrier for students. Here are some ways to make a master's degree more affordable:
Frequently Asked Questions About Affordable Online Nurse Practitioner Degrees