2018 Most Affordable Online Colleges for Nursing Degrees
77%

of users found this page helpful
Was this page helpful?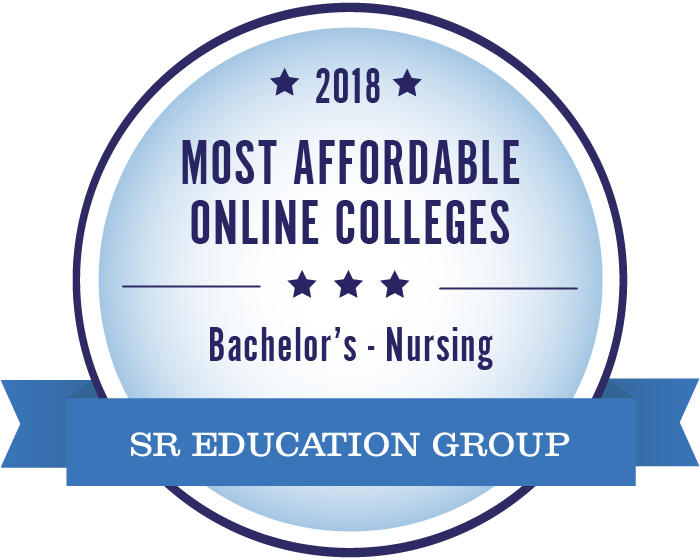 These 24 nursing schools stand out from the rest for their affordable online nursing bachelor's (BSN) degrees. Annual tuition rates at these schools range from $5,532 to $8,905, making them excellent opportunities for budget-conscious students. Second-ranked University of the Cumberlands offers an RN to BSN program with classes such as Community Healthcare and Statistics for $6,368 per year. Online nursing students at Cleveland State University can take courses in forensic nursing such as Introduction to Forensic Nursing: Crisis Theory.
You can read more about our ranked schools below or browse our 2018 rankings of the most affordable online master's in nursing programs. View our methodology or learn more about SR Education Group.
All tuition numbers were manually collected and verified
Rank
College
Annual Tuition

#1

University of Missouri at Saint Louis

Annual Tuition

$5,532

#2

University of the Cumberlands

Annual Tuition

$6,368

#3

Western Governors University

Annual Tuition

$6,500

#4

Cleveland State University

Annual Tuition

$6,561

#5

Auburn University at Montgomery

Annual Tuition

$6,916

#6

University of North Georgia

Annual Tuition

$7,350

#7

(tie)

Touro University Nevada

Annual Tuition

$7,500

#7

(tie)

Union College - KY

Annual Tuition

$7,500

#9

Fayetteville State University

Annual Tuition

$7,556

#10

Mayville State University

Annual Tuition

$7,756

#11

(tie)

SUNY College at Plattsburgh

Annual Tuition

$8,000

#11

(tie)

SUNY College of Technology at Alfred

Annual Tuition

$8,000

#11

(tie)

SUNY College of Technology at Canton

Annual Tuition

$8,000

#11

(tie)

SUNY College of Technology at Delhi

Annual Tuition

$8,000

#15

American Public University System

Annual Tuition

$8,100

#16

University of Central Missouri

Annual Tuition

$8,173

#17

Nicholls State University

Annual Tuition

$8,250

#18

Minot State University

Annual Tuition

$8,406

#19

University of North Florida

Annual Tuition

$8,550

#20

Colorado Mesa University

Annual Tuition

$8,665

#21

(tie)

Alderson Broaddus University

Annual Tuition

$8,850

#21

(tie)

Regent University Online

Annual Tuition

$8,850

#23

Nevada State College

Annual Tuition

$8,900

#24

Oklahoma Panhandle State University

Annual Tuition

$8,905