2018 Most Affordable Online Colleges for Master's in Nursing Degrees
100%

of users found this page helpful
Was this page helpful?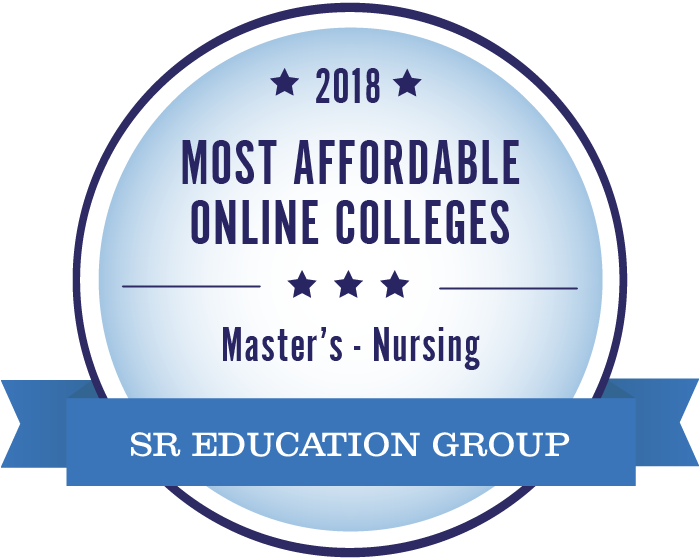 These online colleges are the 25 most affordable options for students pursuing online master's degrees in nursing. All of the schools included in the list have tuition rates under $11,000 per year. Fort Hays State University ranks first, with a low tuition rate of $5,053 annually. Students at Fort Hays State University can choose between master's level concentrations in nursing education and nursing administration. Multiple schools on the list, including William Carey University and California University of Pennsylvania, offer dual MBA/MSN degree programs.
You can read more about our ranked schools below or browse our 2018 rankings of the most affordable online bachelor's in nursing degrees. View our methodology or learn more about SR Education Group.
All tuition numbers were manually collected and verified
Rank
College
Annual Tuition

#1

Fort Hays State University

Annual Tuition

$5,053

#2

Middle Georgia State University

Annual Tuition

$5,610

#3

University of Central Missouri

Annual Tuition

$5,784

#4

Marshall University

Annual Tuition

$5,904

#5

Lamar University

Annual Tuition

$6,444

#6

(tie)

The University of Texas at Arlington

Annual Tuition

$6,500

#6

(tie)

Western Governors University

Annual Tuition

$6,500

#8

United States University

Annual Tuition

$7,125

#9

West Texas A & M University

Annual Tuition

$7,255

#10

American Public University System

Annual Tuition

$7,700

#11

William Carey University

Annual Tuition

$7,770

#12

Baker University

Annual Tuition

$8,000

#13

Tabor College

Annual Tuition

$8,709

#14

Oklahoma Wesleyan University

Annual Tuition

$8,875

#15

Cleveland State University

Annual Tuition

$9,062

#16

California University of Pennsylvania

Annual Tuition

$9,180

#17

Urbana University

Annual Tuition

$9,450

#18

Eastern New Mexico University-Main Campus

Annual Tuition

$9,612

#19

Liberty University

Annual Tuition

$9,660

#20

Queens University of Charlotte

Annual Tuition

$9,690

#21

Frostburg State University

Annual Tuition

$9,846

#22

Ohio University-Main Campus

Annual Tuition

$9,856

#23

McKendree University

Annual Tuition

$9,975

#24

University of Southern Mississippi

Annual Tuition

$10,254

#25

Rivier University

Annual Tuition

$10,260