2018 Most Affordable Online Colleges for Nutrition Master's Degrees
33%

of users found this page helpful
Was this page helpful?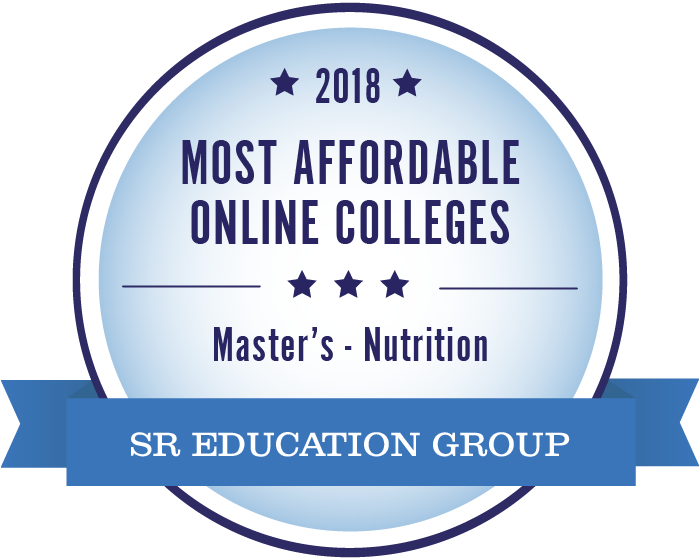 With tuition averaging just $11,300 per year, these 25 colleges are the most affordable options for students seeking online master's degrees in nutrition. University of North Dakota is the least expensive university and tops the list with an annual tuition of only $5,761. The Master of Science in Nutrition program curriculum at University of North Dakota includes classes such as Biochemical and Physiological Basis of Nutrition, Macronutrients, Nutrigenomics, and Nutrition Education & Program Planning.
You can read more about our ranked schools below or browse our 2018 rankings of the most affordable online master's programs. View our methodology or learn more about SR Education Group.
All tuition numbers were manually collected and verified
Rank
College
Annual Tuition

#1

University of North Dakota

Annual Tuition

$5,761

#2

Logan University

Annual Tuition

$8,100

#3

Central Michigan University

Annual Tuition

$9,200

#4

(tie)

North Dakota State University - Main Campus

Annual Tuition

$9,810

#4

(tie)

University of Kansas

Annual Tuition

$9,810

#6

Kansas State University

Annual Tuition

$10,139

#7

(tie)

South Dakota State University

Annual Tuition

$10,170

#7

(tie)

University of Nebraska-Lincoln

Annual Tuition

$10,170

#9

Arizona State University

Annual Tuition

$10,380

#10

University of Saint Joseph - CT

Annual Tuition

$10,485

#11

Eastern Michigan University

Annual Tuition

$10,680

#12

Bowling Green State University-Main Campus

Annual Tuition

$10,692

#13

Colorado State University-Fort Collins

Annual Tuition

$10,735

#14

University of Illinois Urbana - Champaign

Annual Tuition

$10,800

#15

Andrews University

Annual Tuition

$10,983

#16

Loma Linda University

Annual Tuition

$11,744

#17

Liberty University

Annual Tuition

$11,865

#18

Texas Woman's University

Annual Tuition

$12,142

#19

Mansfield University of Pennsylvania

Annual Tuition

$12,750

#20

Canisius College

Annual Tuition

$13,515

#21

(tie)

Auburn University

Annual Tuition

$13,530

#21

(tie)

University of Massachusetts - Amherst

Annual Tuition

$13,530

#23

Northeastern University Global Network

Annual Tuition

$14,535

#24

East Carolina University

Annual Tuition

$14,914

#25

College of Saint Elizabeth

Annual Tuition

$15,015