2020 Most Affordable Online Master's in Organizational Leadership Degrees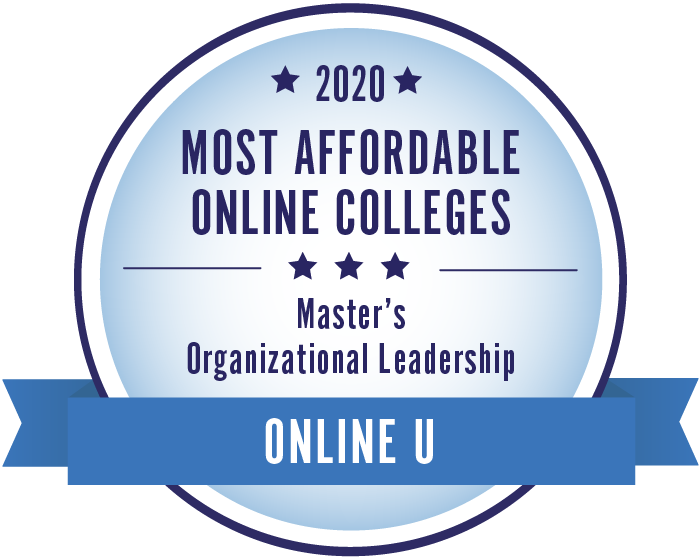 These 25 colleges offer the most affordable online master's in organizational leadership programs. Middle Georgia State University, the #1 option, charges only $3,825 per year. Classes for MGA'S program include Continuous Process Improvement, Decision Sciences, Human Resources Management, and Managing in a Global Environment. In the #2 spot is Tennessee State University, offering a Master of Professional Studies in Strategic Leadership for $3,842 per academic year.
You can read more about our ranked schools below or browse our rankings of the most affordable online master's programs. View our methodology or learn more about OnlineU.
All tuition numbers were manually collected and verified
Rank
School
Annual Tuition

# 1
Middle Georgia State University

$3,825

# 2
Tennessee State University

$3,842

# 3
California Coast University

$4,485

# 4
Wichita State University

$4,529

# 5
Columbia Southern University

$5,670

# 6

(tie)

American Public University System

$6,300

# 6

(tie)

University of Alabama

$6,300

# 6

(tie)

University of Arkansas Grantham

$6,300

# 9
Strayer University

$6,640

# 10

(tie)

Chadron State College

$6,673

# 10

(tie)

Peru State College

$6,673

# 10

(tie)

Wayne State College

$6,673

# 13
Oral Roberts University

$6,750

# 14
Lincoln Christian University

$6,795

# 15
Marshall University

$6,810

# 16
Northern Vermont University

$7,000

# 17
Trevecca Nazarene University

$7,140

# 18
Cameron University

$7,225

# 19
Spalding University

$7,310

# 20
Troy University

$7,410

# 21
Iowa Wesleyan University

$7,425

# 22
Western Governors University

$7,600

# 23

(tie)

Maranatha Baptist University

$7,650

# 23

(tie)

York College

$7,650

# 25
University of the Cumberlands

$7,750