2018 Most Affordable Online Colleges for Paralegal Associate Degrees
0%

of users found this page helpful
Was this page helpful?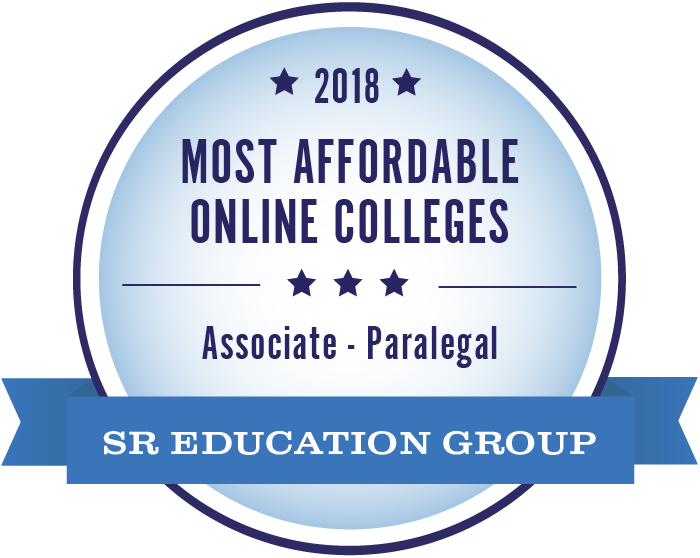 With annual tuition rates under $12,000, these 24 online colleges and universities offer the most affordable paralegal programs at the associate level. Albany State University tops the list with their Associate of Applied Science in Legal Assistant/Paralegal. Annual tuition for ASU's online associate program is $4,030. Hutchinson Community College comes in a close second place with its online Associate of Applied Science in Paralegal at an annual tuition rate of $4,928 per year.
You can read more about our ranked schools below or browse our 2018 rankings of the most affordable online associate degrees. View our methodology or learn more about SR Education Group.
All tuition numbers were manually collected and verified
Rank
College
Annual Tuition

#1

Albany State University

Annual Tuition

$4,030

#2

Hutchinson Community College

Annual Tuition

$4,928

#3

Clayton State University

Annual Tuition

$4,929

#4

Lake Superior College

Annual Tuition

$5,521

#5

Marshalltown Community College

Annual Tuition

$5,824

#6

Minnesota State Community and Technical College

Annual Tuition

$5,968

#7

Tompkins Cortland Community College

Annual Tuition

$5,984

#8

Iowa Lakes Community College

Annual Tuition

$6,195

#9

Alexandria Technical & Community College

Annual Tuition

$6,368

#10

Southern Utah University

Annual Tuition

$6,488

#11

Rio Salado College

Annual Tuition

$6,880

#12

University of Alaska Fairbanks

Annual Tuition

$7,037

#13

Central Texas College

Annual Tuition

$7,050

#14

Massachusetts Bay Community College

Annual Tuition

$7,360

#15

Cerro Coso Community College

Annual Tuition

$7,740

#16

Mountain Empire Community College

Annual Tuition

$7,896

#17

American Public University System

Annual Tuition

$8,100

#18

Kansas City Kansas Community College

Annual Tuition

$8,610

#19

Mohave Community College

Annual Tuition

$8,788

#20

Prince George's Community College

Annual Tuition

$9,120

#21

Drury University

Annual Tuition

$9,269

#22

Community College of Allegheny County

Annual Tuition

$10,120

#23

Anne Arundel Community College

Annual Tuition

$11,220

#24

Yavapai College

Annual Tuition

$11,346