2020 Most Affordable Online Master's in Physical Education Programs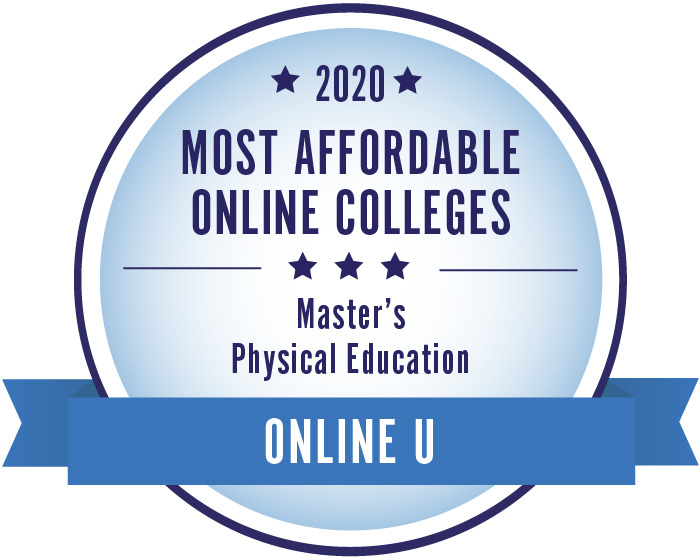 This list highlights 23 schools, all of which offer affordable online master's in physical education programs. Ranked #1, the University of North Georgia charges $4,545 per year for their Master of Science in Kinesiology - Health and Physical Education. Available courses include Advanced Exercise Prescription & Program Design, Analysis of Motor Skills, Applications of Qualitative Research in Physical Education, and Trends and Issues in Health & Physical Education. The University of the Cumberlands, ranked #2, has an annual tuition rate $4,725 for their Master of Arts in Education - Teacher Leader: Health & Physical Education.
You can read more about our ranked schools below or browse our rankings of the most affordable online master's programs. View our methodology or learn more about OnlineU.
All tuition numbers were manually collected and verified
| Rank | School | Annual Tuition |
| --- | --- | --- |
| # 1 | University of North Georgia | $4,545 |
| # 2 | University of the Cumberlands | $4,725 |
| # 3 | Valdosta State University | $4,981 |
| # 4 | Southern Illinois University - Edwardsville | $5,097 |
| # 5 | Northwest Missouri State University | $5,525 |
| # 6 | North Dakota State University - Main Campus | $5,993 |
| # 7 | Emporia State University | $6,393 |
| # 8 | Georgia Southern University | $6,444 |
| # 9 | Eastern New Mexico University-Main Campus | $7,006 |
| # 10 | Gardner Webb University | $7,035 |
| # 11 | University of Arkansas | $7,321 |
| # 12 | West Virginia University | $7,635 |
| # 13 | Auburn University at Montgomery | $7,650 |
| # 14 | University of Wyoming | $7,776 |
| # 15 | University of Arkansas at Monticello | $7,819 |
| # 16 | Jackson State University | $8,316 |
| # 17 | SUNY College at Brockport | $8,475 |
| # 18 | University of South Carolina-Columbia | $8,583 |
| # 19 | University of Southern Mississippi | $8,624 |
| # 20 | University of Nebraska at Kearney | $8,892 |
| # 21 | University of Idaho | $9,876 |
| # 22 | University of Memphis | $10,455 |
| # 23 | University of South Florida Online | $11,586 |