2020 Most Affordable Master's in Political Science Online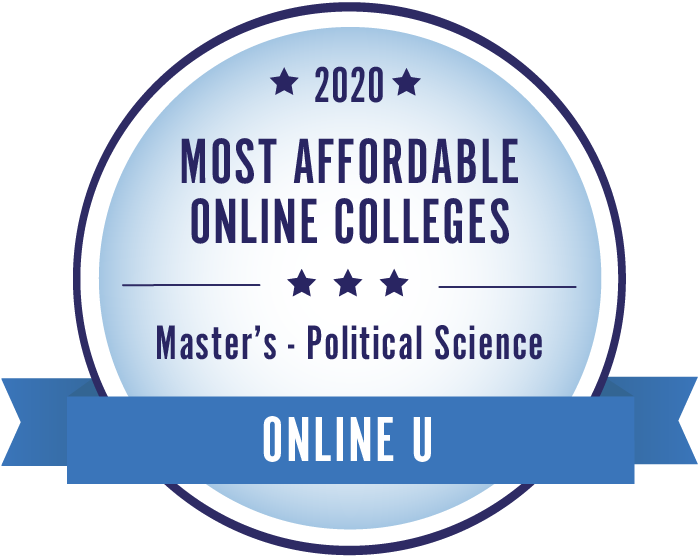 These schools represent the least expensive options for obtaining an online master's degree in political science. At #1, Northeastern State University offers an online M.A. in American Studies - American Politics for only $4,518 per year. Ranked #2, the Fort Hays State University offers a Master of Liberal Studies (MLS) - Political Science at a tuition rate of $4,604 annually. Classes for this program include American Civil Liberties, American Foreign Policy, Political Behavior, and Public Personnel Management.
You can read more about our ranked schools below or browse our rankings of the most affordable online master's programs. View our methodology or learn more about OnlineU.
All tuition numbers were manually collected and verified
| Rank | School | Annual Tuition |
| --- | --- | --- |
| # 1 | Northeastern State University | $4,518 |
| # 2 | Fort Hays State University | $4,604 |
| # 3 | American Public University System | $6,300 |
| # 4 | Sam Houston State University | $7,769 |
| # 5 | University of Illinois at Springfield | $8,145 |
| # 6 | University of Nebraska at Omaha | $9,000 |
| # 7 | Western New Mexico University | $10,334 |
| # 8 | Bellevue University | $10,530 |
| # 9 | Eastern Illinois University | $11,216 |
| # 10 | Sul Ross State University | $11,643 |
| # 11 | Liberty University | $13,560 |
| # 12 | The George Washington University | $15,030 |
| # 13 | The University of West Florida | $15,700 |
| # 14 | Jacksonville State University | $16,000 |
| # 15 | Rutgers University-Camden | $29,232 |
| # 16 | Virginia Polytechnic Institute and State University | $29,559 |